You know, sometimes I really believe that things happen for a reason. During my January visit to Paris, I decided to stay at The Best Western Premiere Opera Diamond, only to discover that, just next door, a new burger place had just opened 7 days ago. I was excited to check-in fast to quickly go, and discover what's hidden behind their nice green logo. I immediately felt it; this is one of those places I'll definitely like.
Opened in 2011,
231 East st.
is a new Burger franchise inspired by the American diners all by maintaining a French touch and culture. Perfectly lit, simple and clear, this street restaurant welcomes you in a special way. Everyone's smiling in here, everyone's happy and everyone's prepared to serve you with the best ingredients available on the market.
(Paris St Lazare 2 rue de la pépinière 75008 PARIS)
Welcomed by a young cashier, she carefully took my order with a smile. What would you like to have, she asked. As a first-time customer, I wanted to try the simplest, a cheeseburger, which I ordered with double meat, some cheddar cheese, ketchup and mayo, sauce and asked for the onions to be removed. She made sure to repeat the order making sure I wanted all the vegetables and then asked me how I liked my meat cooked, to which I replied medium. I added their signature cheddar cheese fries and a Coca-Cola.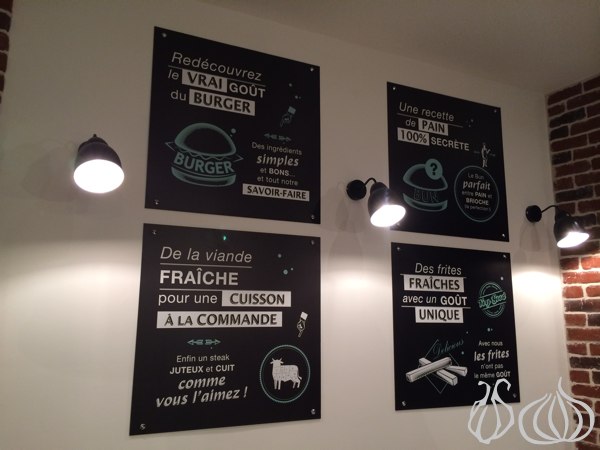 Walking towards the end of this small eatery, I sat and waited to be served. That took less than five minutes, enough for me to appreciate the details that make up this beautiful space:
A real American diner style with a popup culture feel. Simple and noninvasive
A general black and white ambiance decorated with colorful pictures
An open kitchen welcomes you to the right where the menu is displayed over the cashier
Brick covered walls with white squares filled with animated posters
Black lamps pend for the ceiling lighting the place in style
At the end is a small seating area with the map of Manhattan displayed on the black wall
The space hosts four square tables, a black leather bench and few chairs
High metallic black stools can host up to 10 guests
Sentences written on the walls and are very true:
"The real burger taste"
"A secret bun recipe kept 100% secret"
"Fresh meat for last minute cooking the way you like it"
"Fresh fries with a unique taste"
Anthony, I heard someone calling. And before even having time to move, the tray was delivered to the table. What caught my attention is the special burger wrapping. An innovative approach towards packaging -which in my opinion will be copied by the world very soon. It unfolds automatically keeping your hands clean while stopping the content of the burger from spilling.
The food was great... I was positively shocked to eat something that good:
A simple and easy to grab bun, emptied from the inside and filled with fresh ingredients. Two slices of non oily adequately cooked meat, cooked from the outside yet juicy at heart. Crunchy lettuce and a thin slice of red tomato tops the meat and beneath it you'll enjoy the sauces and you can choose between ketchup, mustard, mayo, BBQ or honey mustard. Hidden inside are a few American pickles, which add just the right taste of sweetness needed. Every bite oozes freshness, innovation, taste and enjoyment.
The ingredients of the burgers are richly enjoyed. Here, only the outer envelop of the bun is used. I enjoyed the quantity of ketchup and mayonnaise used; Just right. I adored the quality of the meat that noncommercial taste; Superb. Fresh vegetables, the feeling of melted cheddar cheese... It's a simple burger that's up to the standards of fine dining establishments.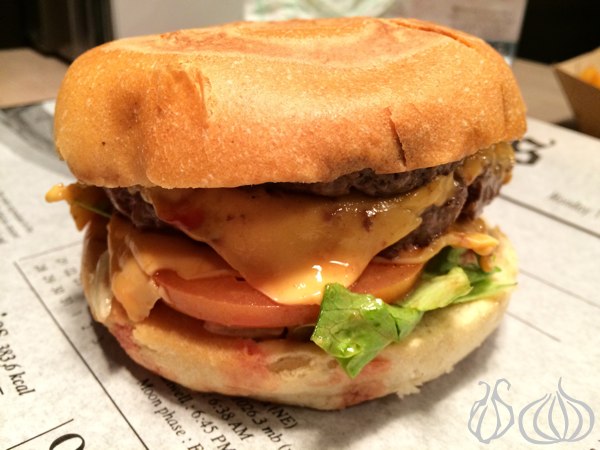 The fries are just as special as the burger. Thick crunchy and golden fries which I've been craving for a long time. These fries feel like they are homemade, mastered to perfection with love and passion. Order them with cheddar cheese: They are awesome!
The best part is that I left without feeling heavy and more so, my hands where not oily. I enjoyed my dinner.
For 15€ only and in less than 15 minutes, I enjoyed a premium burger experience I've been dreaming to live since I first started my journey to find "my favorite burger in Paris" almost a year ago.
Unpretentious, 231 East St. has a bright future and will be part of the Top10 list of 2014.