The world's best Mont-Blanc cake makers has recently landed in Beirut. We're talking about none other than Angelina Paris. After opening up a few outlets in the French capital, Angelina has spread it's exclusive taste around the world and has recently chose Beirut as their next destination. I have been to Angelina in a Paris a few times and now was time for me to try the one in my country.
Nestled in the heart of Downtown Beirut, near Aishti and Adidas, Angelina showcases a true know how felt in every single detail. Seated on the terrace, customers come here for an experience that would take them on a journey around Paris. The place proposes a large variety of coffee, desserts, breakfast and lunch as well as their famous hot chocolate.
You'll find a cafe trottoir, an indoors seating area as well as a pastry shop showcasing the French feel. Beautiful cakes displayed for the pleasure of your senses will make you want to have sweets for lunch. Down the stairs is a wide restaurant set with the Angelina placemats, napkins and plates as well as their signature silverware.
Choosing to sit in an inside corner table, I was given the menu. A bit complicated, the menu is a close copy to the one in Paris. Breakfast, brunch, sur le pouce, salads, starters, main courses, pastries, macarons, ice cream and drinks.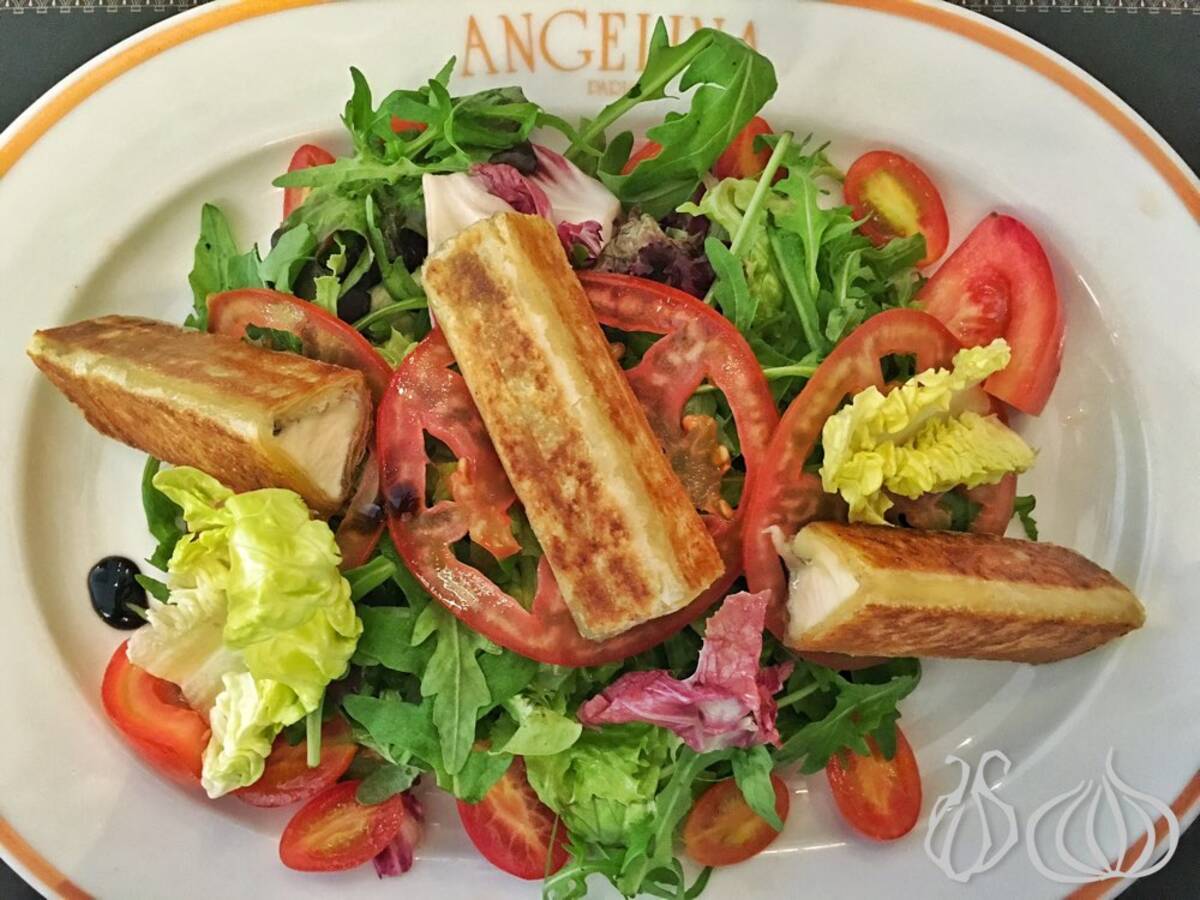 Lunch was served:
Salade Rivoli: This yummy and fresh salad is served in a large oval plate came. A fresh looking salad which includes a couple of paper thin sliced tomatoes, cherry tomatoes and a mix of greens. An attractive looking plate with three triangular fingers of puff pastry filled with molten cheese, baked to perfection with a crispy envelope.
Shrimp risotto: Where shall I start to express myself properly. The beautiful presentation, the rice cooked al dente, the green rice, the shellfish juice and flavors... lots of them. A small portion but enough to appreciate the passion poured within and know how invested into this plate. It's so rich, so juicy, so creamy and enjoyable. I loved it.
The club sandwich is a must try. I previously had it Paris and still remember it to date. The Lebanese version is as good if not better. A interesting kind of fluffy bread, so airy and light, three layers of it stuffed with marinated chicken shredded lettuce, tomatoes, a hard boiled egg and lots of mayonnaise which adds taste and flavor. Four triangular sandwiches served on a round plate with a mountain of salad in the middle. Fries on another hand are cold and not crispy enough.
Today we were served by Maroun. Smiling yet shy, he couldn't understand why plates were sent back almost full to the kitchen. I was eating alone and tasting, that's why. He helped, explained, proposed and did his job professionally.
After lunch came dessert. You can't come here and not try their desserts. LBP13,500 for a Mont Blanc cake is worth every single penny. I recommend this place to all my friends. I also had the special edition framboise Mont Blanc... A ticket to dreamland.
The Mont Blanc: The first words I said were "Oh My God", the first expression I made is "scream and whistle". A fairy tale, a mouthwatering cake, a superb, tasty and real extravaganza. Creamy yet light, fresh and airy the full bodied macaron cream is so good! Crunchy meringue, a certain madness, equilibrium... I don't know what to say or how to say it.
Chocolate eclair indeed is made from premium chocolate, covered with dark chocolate and stuffed with rich cream. The dough on another hand is not as tender as it should be. It's too bready for a fine eclair.
I finally tried it, Angelina Beirut is not your usual coffee shop, it's an experience one must try. I'm proud and happy that Angelina is contributing to the revival of Beirut; I'll be back for more soon.