Le Marais is a new French restaurant which quickly entered into my top 10 favorite list. Let's see why?
Located in Rue Du Liban in Achrafieh, where the previous Le Grey restaurant used to be, Le Marais is not your ordinary restaurant, Le Marais is more of what I would call a delicatessen haven. With a close friend of mine, we decided to try the latest of what Beirut has to offer with regards to fine dining cuisines. Le Marais is a restaurant managed by Mr. Georges Batal, the man behind the famous Lutecia previously opened in Saifi Village.
Le Marais, a trendy yet simple French restaurant, is an architectural creation of Zeina and Walid Sfeir with paintings all over the place executed by Rima EL-Yafi. Arriving at the restaurant, you are welcome by a very professional valet service. The minute you step out of your car, you are handed a small remote control system which you will be using five minutes before finishing up your meal. This way, your car will be readily waiting for you as you leave the restaurant outside without any delays: This I found ingenious! A premiere. A trendy white interior, finished with wood and beige fabrics all under a high ceiling embracing a couple of round tables is an ideal setting where customers can enjoy a pleasant business lunch or dinner. Every detail is taken care of from the fine cutlery to the clean white table covers.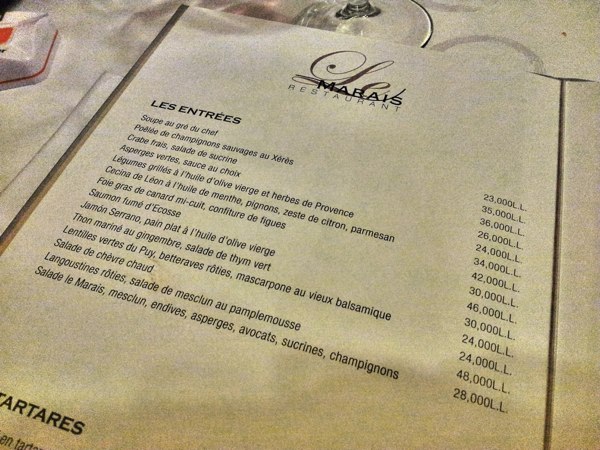 The menu, a two pages leather leaflet, is very simple yet contains a large selection to please all needs: Les Entrees, Les Tartares, Les Pates et Riz, Les Grillades, Les Poissons and Les Desserts have all the choices you dream of, from many choices of meat, Risotto, Fish, Salads, Tartares and more.
We ordered some appetizers to share:
Salade de Chevre Chaud
Risotto aux Cepes
Thon rouge en Tartare
Crabe Frais, Salade de sucrine
Followed by individual main dishes:
Coeur de Filet Back Angus, Pomme puree, Haricots Vert avec Sauce Voronoff
Cote de Boeuf U.S Prime et Pommes Frites
Roulade de Saumon, Sauce Champagne, Lentilles Vertes
The verdict: A simple admiration from my side.
The goat cheese salad is delicious, the risotto is perfectly cooked and amazingly seasoned, the tuna tartare is so tasty and the fresh crab is yummy. The 1200g Cote de Boeuf portion is generous and tender, presented on a wooden chopping board and served with one of the best Voronoff sauces I have ever tasted. It was much better than the one at Cocteau. And the best tonight, was the the U.S Prime Beef. It was just a dream. So well prepared, so perfectly cooked, so tender and so pleasant to eat. Unfortunately, the plate we liked the least is the Salmon, which came a bit too dry. During dinner, the staff, relaxed and happy all by being very professional, made our dinner a unique experience. Maitre Abdo and the team enjoy every single detail of their job, and you can feel it.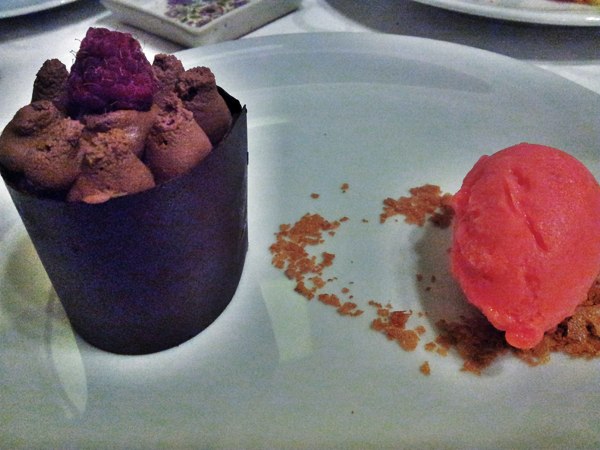 As for dessert, and as a last impression before we leave, they were all mouthwatering:
Tarte Feuilletee aux Pommes
Mille Feuille a la Vanille
Pain Perdu Caramel
Mousse au Chocolat en Cylindre
Mmmm! Yes, that was the feeling. Crunchy fresh, adequately sweetened and beautifully decorated.
Everything tonight was extraordinary. Chef Stephan deserves a thank you hand shake.
I would change: The decoration is too white and feels a bit too cold. Needs some added life. This is what we need in Lebanon, affordable fine dining restaurants, where you can go and enjoy a very pleasant meal and leave with a smile.
I welcome Le Marais in my next Top 10 French restaurants in Lebanon and advise you to try it as soon as possible.