In a recent article in AFP, "Lebanon is reeling from the spillover of war in neighbouring Syria, with deadly sectarian clashes, elections postponed, the absence of a government and the influx of half a million refugees."
Here's the article:
Dia's restaurant in the Lebanese resort village of Aley is deserted. Most years, he caters to thousands of rich Gulf Arab tourists and to visiting expats, but this year no one has come. "Usually, there's so many people here that even finding a parking spot is hard. Now, there's so few people that we let them park right outside the entrance," complained the 27-year-old.
His neighbour, a cake shop owner, said sales are down by 50 percent compared with June last year. "In other years, we had clients coming in every 15 minutes. Now, it's a miracle if someone enters," he said, hiding his worry behind a smile. Lebanon is reeling from the spillover of war in neighbouring Syria, with deadly sectarian clashes, elections postponed, the absence of a government and the influx of half a million refugees. The Mediterranean country's beaches, superb Roman and Phoenician sites and legendary nightlife are barren. Early this summer, the six oil-producing Gulf monarchies sounded the death knell for this season's tourism when they told their citizens to avoid Lebanon for security reasons. Well-heeled visitors from the Gulf normally account for 65 percent of the country's tourists, but the number of Saudis, Kuwaitis and other Gulf tourists this June is 80 percent lower than in June last year. An already bad situation grew even worse last weekend when news bulletins carried footage of a major 24-hour firefight in southern Lebanon's city of Sidon, pitting the army against radical Islamists. Eighteen soldiers were killed. The port city of Sidon is home to a beautiful old district, fish restaurants, souks (traditional markets) and even a soap museum. "As soon as you even utter the word 'weapons' you've killed tourism," Paul Achkar, head of the Lebanese hotel association, told AFP. "Three hundred tourism establishments have closed down since the start of the year," he said. Although confident that the industry will recover, Tourism Minister Fadi Abboud said the figures for the start of the season were pitiable. "The occupancy rate at hotels in Beirut is barely 35 percent this month, half of the usual at this time of year. "Outside Beirut, it's catastrophic. We're talking about five percent compared to the usual 35 percent," Abboud told AFP.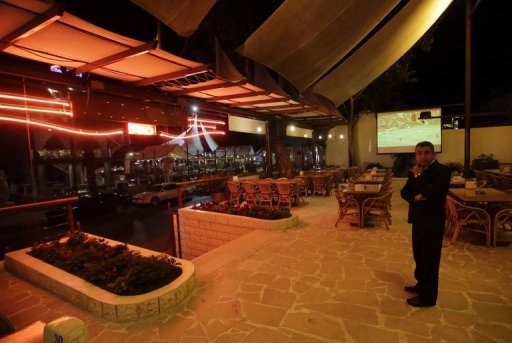 The atmosphere in Beirut, dubbed party capital of the Middle East, is not so morose, and Christian areas such as Byblos or Jounieh have also fared better than other areas. But Hezbollah bastion Baalbek, home to one of the world's most beautiful and best preserved Roman sites, has been hit hard. It has been targeted by rockets fired by rebels fighting Syria's President Bashar al-Assad, after the Lebanese Shiite group Hezbollah joined the war fighting alongside regime forces. The rocket attacks' only but noted victim was the famed international music festival, traditionally held in the temple of Bacchus, and headline act American soprano Renee Fleming cancelling her trip to Lebanon. It is now expected to be held at a different venue, but without Fleming. For now, other music festivals at Byblos and Beiteddine remain on schedule. Elsewhere, in northern Lebanon the port city of Tripoli is home to an old souk and a crusader castle. But today, it is also the scene of frequent sectarian battles between supporters of opposite sides in Syria's raging conflict -- Sunni Muslims and Alawites, the Shiite offshoot sect to which Assad belongs. Many Lebanese living abroad are accustomed to crises afflicting their home country but even they have decided to stay away this summer, fearing they may become trapped. "Nobody in his right mind would go to Lebanon right now," said Elvira Hawwa, a Lebanese living in Madrid who generally visits relatives every year. "I won't come this year, and I've also advised my children against going," she said. US-based Leila agreed. "The country is going down the drain," she told AFP by phone from Michigan. "I was planning on going in June, but I cancelled. We didn't want to go through the hell we suffered during the civil war," she said of the conflict that scourged Lebanon from 1975 to 1990. "Before you could escape through Syria. Now, we'd be trapped." Tourism Minister Abboud said 200 weddings that had been planned for the summer have been cancelled. "This means a $100-million (77-million-euro) loss," he said. The restaurant and nightclub businesses have been hit hard, suffering a 50 percent drop in sales since 2013 began, their union said. Fashion brands have all started their sales early this year, with some slashing prices by as much as 90 percent. The tourism industry is now looking elsewhere to drum up business, and travellers from Iraq, Jordan and Egypt have begun to arrive. "They aren't as worried by the violence," Abboud said.
Source: AFP