SAI, located on the Mtayleb highway next to photo Nubar and L'Univers d'Albert might not grab your attention at first glance. As I live in the region, where a good Japanese restaurant is next to none, I couldn't help but notice it tucked in one of the many centers in the area.
A couple of months ago, when my wife and I visited Sai for the first time, we were amazed by the professionalism and great taste this restaurant has to offer so we decided to come back again and make sure it's still serving the same quality. Because unfortunately in this country, good things don't last too long. But I was happy. The first impression is still the same: A fresh breath of sea aroma welcomes you. We were seated by the pleasant staff at the table, and here, the owner Mr. Elie Tawile came to welcome us with a nice smile, making sure we feel relaxed like home. It's order time. We browsed through the thick yet easy menu of endless choices where a mix of traditional and new signature dishes awaits you. I advise you to try a bit of both.
We Ordered:
Jail Break salad
Lady V Salad
Special Sai
Tuna Tataki
California Futo Maki, Salmon Skin Temaki, Sunset Temaki, Crispy Crazy Ura Maki, Crispy Smoked Tuna, Shrimp Tempura Crsispy, Unagi Wrap Ura Maki, Lazy spicy shrimp Ura Maki, Smoked Salmon Wrap, Mango Wrap Ura Maki, Avocado Spicy Shrimp, Lucky salmon Ura Maki, Special Sai Ura Maki, Smoked Salmon Rock
Seafood soup
Biscuit au Chocolat
While waiting for our order which was served very quickly, I enjoyed the simple details of architecture that are relaxing for the eyes:
A long bar with the high wooden chairs with a back support each
Light color wooden tables
White leather chairs
Red shelves covering the bar walls
Plexi-glass white sticks separating the side tables one from the other
A dragon painted piece of art on one side and Japanese writings on the other
Wooden floor
A large LCD screen broadcasting the latest MTV Arabia video clips
The Pluses:
Porcelain plates for a cleaner touch, different from other restaurant using wooden ones
Crispy and ginger served on the table in front of each
I loved the porcelain soft drinks cups which transports the freeze effect out to your fingers
Order the soup, you'll like the bowl and its spoon
Sai's salmon skin is unique; not crunchy, not chewy and not mixed with Teriyaki sauce. Two thumbs up!
I like their thick delivery menu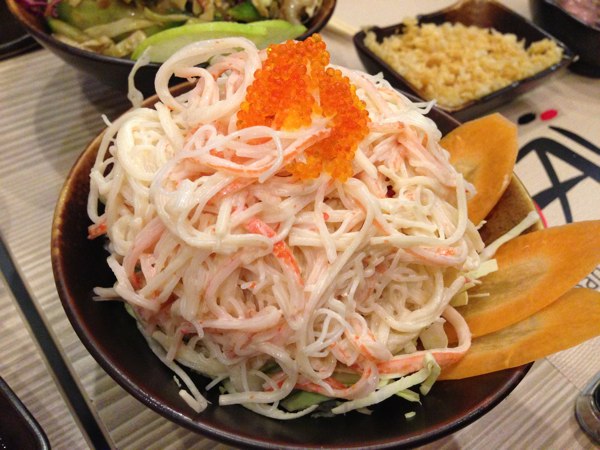 The delicious food:
In simple words: BRAVO.
The Makis are perfectly rolled, fresh and tasty with adequate taste and a perfectly cooked rice, not sweet and not crunchy. All the ingredients make you want to eat one bite after the other. The crunchy pieces are crunchy enough and the soft ones melt as it should under your teeth.
My favorite plates that I urge you to try:
The Special SAI: is a large thick circular piece of Tuna, salmon and mango serving four bites of a unique preparation. It calls you to taste it.
The Tuna Tataki: is a long mi-cuit tuna squared cylinder, served warm, pink on the inside and brownish on the outside, covered with coriander sauce and sesame seeds and served on avocado slices. That is a premiere! Yummy!
Shrimps Tempura: (4 pieces, one has the tail, very hot, crunchy and mouthwatering)
Seafood Soup: is very generous, filled with seafood ingredients and not only liquid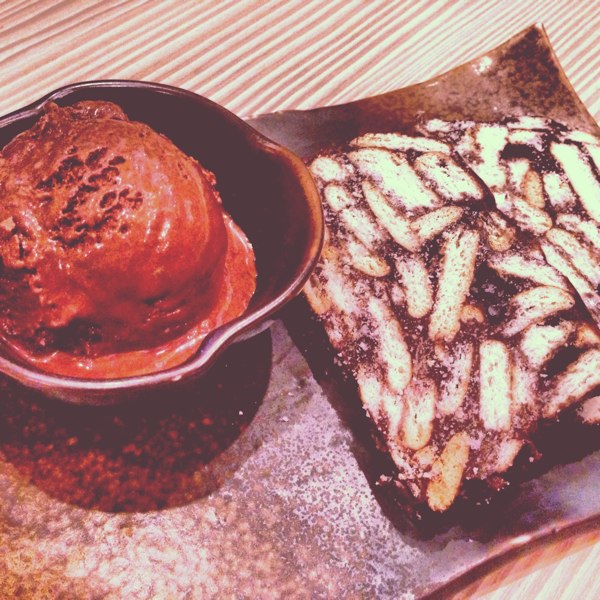 The minuses... "Just to say we found something":
I liked their wet towel dispenser but unfortunately they forgot to get us some at the end of our dinner
I would remove the average, conventional, cheap stainless trays and put something without the cigarette support since smoking is not allowed
As a good and affordable Japanese restaurant, SAI is part of the medium range class of sushi restaurants in town and I can safely say that it will be entering my 2013 top 10 list, serving high-end preparations in a pleasant and cozy restaurant owned and managed by professionals.