One of London's newest street food markets is on Rupert St in Soho, between Shaftesbury Avenue and Berwick St. On Fridays and Saturdays, street food traders line the whole area, offering a large selection of local and international creations from meat, poultry, burgers, chorizo, waffles, crab, seafood, cheese, bacon and cakes.
You cannot miss this market where colorful kiosks occupies the middle of street, adding fun and action to the neighborhood. Red, yellow, green, white, brown and black tents, as well as one stainless steel caravan, welcome you from 11am until 6pm in the evening, just before sunset. A pure coincidence led us here and despite the fact that we had just eaten breakfast, I couldn't help but taste some of the Street Food Union's specialties.
Handled by a young crowd, each stand has one or two people running it and serving their clientele with a smile. They come at 10am, start preparing before the big opening that happens some time between 11 and 12, depending on the menu. I remember standing lusting over a pork shoulder that seemed to take forever to cook.
The day we visited, 14 kiosks were grilling and preparing wonderful food, perfuming central London with their aromas.
The Food Kiosks:
Somboon Thai food
Freebies Burritos
Dixie Soul Food Union
The Red Gingham Bakery
The Burger Shop
Sambal Shiok
London Cheese Mongers
The Crabbieshack
Spanish Lab
Rare Street
Bad Brownie
Yogiyo Korean Street Kitchen
Pyrlandia or Potato Land, The Polish Street Food
The Panini Shop
We stopped at the Polish guys " Pyrlandia or Potato Land, The Polish Street Food" and asked for the sausage kebab with potatoes for £5. We also tasted some Polish cabbage called bigos, it was very good indeed.
Bigos, known as a hunter's stew, is a traditional meat and cabbage stew typical of Polish, Lithuanian, Belarusians and Ukrainian cuisine, and is a Polish national dish. Typical ingredients include white cabbage, sauerkraut, various cuts of meat and sausages, often whole or puréed tomatoes, honey and mushrooms. The meats may include pork (often smoked), ham, bacon, sausage, veal, beef, and, as bigos is considered a hunter's stew, venison, rabbit, or other game; leftover cuts find their way into the pot as well. It may be seasoned with pepper, caraway, juniper berries, bay leaf, marjoram, pimento, dried or smoked plums, and other ingredients. The kebab mix can be enjoyed with bread or potatoes, a rich mix of a hundred flavors.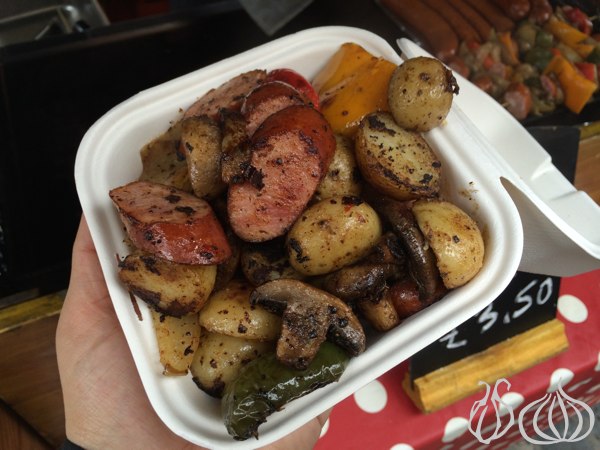 We continued with a cheese sandwich at London Cheese Mongers using Montgomery cheddar on cathedral oath bread for £4.50. Simply toasted, then filled with chopped onions and it was good to go. The process takes a bit of time as the cook waits to hear the cheese melting and grilling before going it. It's a connoisseur's sandwich after all.
Crunchy bread filled with fat from the melting cheese and the onions, which add some flavors, it was incredible. Cheddar cheese is a relatively hard, pale-yellow-to-off-white, sometimes "sharp" acidic-tasting, natural cheese. Originating in the English village of Cheddar in Somerset. This cheese is very fatty and oily.
The capital's street food scene is buzzing right now. Weekend food markets are taking over the city, serving tasty sandwiches to be enjoyed on the run. I've been to "The Real Food Market" as well as "The Borough Market" and now "The Street Food Union" and each time is a new discovery that educates my taste buds.
Open: Friday & Saturday 11am–6pm
Address: Rupert St, W1
Transport: Piccadilly Circus tube