Last May, a new kind of course started in Lebanon. Organized by Chateau Ksara, Wine and Spirit Education Trust (WSET), is a four day course that will enlighten you about the world of wines. o learn all I could about the world of wines.
I wasn't unable to attend the first one in May, due to a pre-organized trip I had, but I could not resist joining its second edition, which took place this September, at the Sagesse University, Faculty of Hospitality Management.
WSET is a course divided into four levels, two of which took part in one week and of course I attended. Our instructor came all the way from London and dedicated his week to introducing us to the world of wines, including Ksara and other international names.
WSET is one of the world's most respected academies for wine and spirit education. Organized under the auspices of Chateau Ksara, this course is given by a master in wines and spirits.
Very serious and professional, the course is divided into four levels of which two are now being given in Lebanon. Level one took a full day crowned by an exam, followed by level two which includes three days learning, testing and tasting a selection of more than 35 wines from all over the world.
What you'll learn:
How wine is made and other factors influencing the style of wine
Key white grape varieties
Key black grape varieties
Wine-producing regions of the world
Sparkling wines
Sweet wines and fortified wines
Spirits and liqueurs
Label terminology
Food and wine pairing
To gain the qualification students need to pass a multiple-choice paper of 50 questions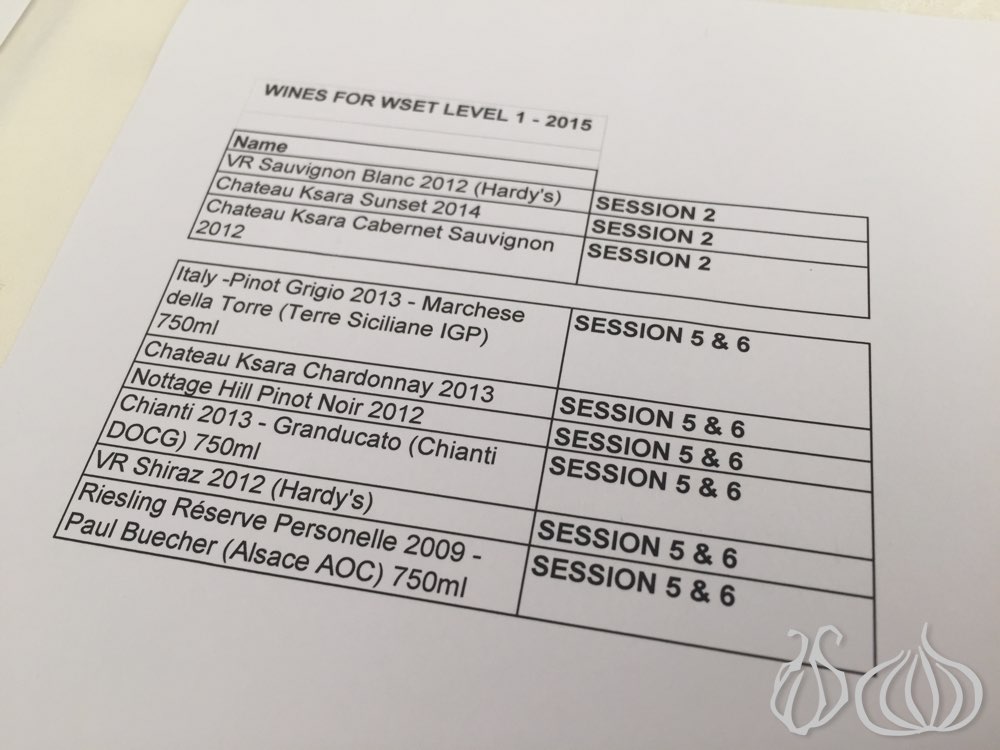 The interesting part is the location. The Hospitality and Management Faculty of La Sagesse University hosted the four day course. During the course, I was introduced to their unique concept: the university has a restaurant and a hotel in the heart of Achrafieh.
Up on the third floor is the university restaurant. A revolving door opens to the dining area which takes you to the ballroom. Facing you is a bar, a set of round and square tables fills in the space. Two forks, two knives, a plate, a glass of water, a bread basket, black olives and butter with salt and pepper shakers. The table was finely setup, showing the work of some connoisseurs.
Meeting the staff, three gentlemen introduced themselves, and I was given the operation manager's business card if I wanted to make a future reservation.
The bread was fresh and flavorful. The black olives were tender, the butter was Lurpak. Lunch started with a feta cheese salad. Four triangles of feta cheese with some Lolo Verde and Lolo Rosso lettuce, four quarters of tomatoes and romaine lettuce. Simple it was, but well seasoned and tasty. I loved the quality and texture as well as the freshness of ingredients with their lemon sauce.
The chicken plate was also good, very good and I wasn't expecting it. Layers of chicken breast in its creamy sauce, pan-cooked cherry tomatoes, green beans and a bowl of mashed potato purée with decorative chips. It was tasty, well cooked, moist, crispy skin and the sauce adds flavor and taste to the plate. Well done.
The service was indeed professional and well synchronized, respecting the sides of serving, making sure the cutlery was changed and preparing to serve dessert. Tasty salad, juicy chicken and now for the dessert.
Excellent dessert: A rectangular piece of chocolate cake molten inside, topped with chocolate cream and decorated with a sheet of dark chocolate; strawberry confit, bitter orange and orange couli. This lovely and super juicy chocolate cake melts in style under the palate while the sauce adds a tangy flavor. I'm really positively amazed.
Music playing in the background transports you out of the university spirit and makes you think you're in an actual restaurant down in the capital.
Every morning the course would start at 9am and end at 5pm in the afternoon.
I really learned a lot and I now look at wine differently and enjoy it more i a different perspective.
What are you waiting for? Register for the next course before it's too late.