After last year's experience at the Mövenpick, I decided to come back this year to check it out how it is this year... what they are offering... and what changes have been made. Last year's Iftar was proposed in a tent down at the beach, which was in my opinion a strategic mistake. This year as I entered the Mediterranee restaurant, I felt relaxed.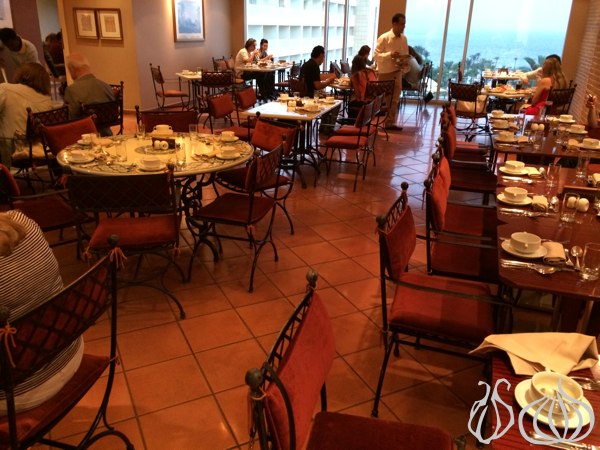 At the Movenpick, more than10 stations welcome you for Iftar. Over a hundred choices of food is available to satisfy everyone's craving.
Smiling and welcoming, the staff walked us to our table. The table setting was complete and perfectly set with a full set of cutlery and table napkins while we awaited the canon to announce the time for Iftar..
Iftar started with a choice of lentil soup and chicken soup while drinks proposed are jellab and amareddine. A good first impression while we moved on to fill our plates.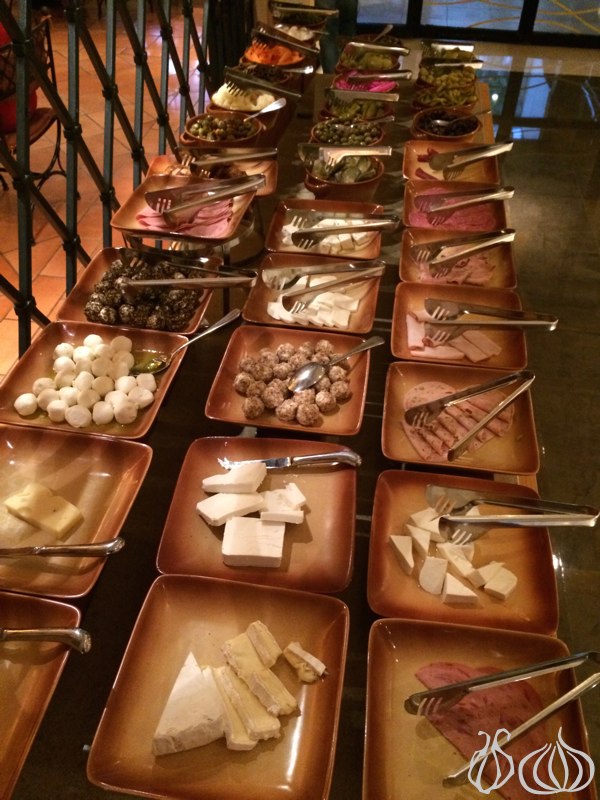 The cold cuts, cheese and pickles station:
7 kinds of cheese
A variety of six ham choices
All kinds of pickles
Green and black olives
The salad bar:
Coleslaw salad
Pasta salad
Couscous salad
Shrimps salad
Asian chicken salad
Crab slices
Tuna salad
Caesar salad, do it yourself
Fresh greenery
Dried fruits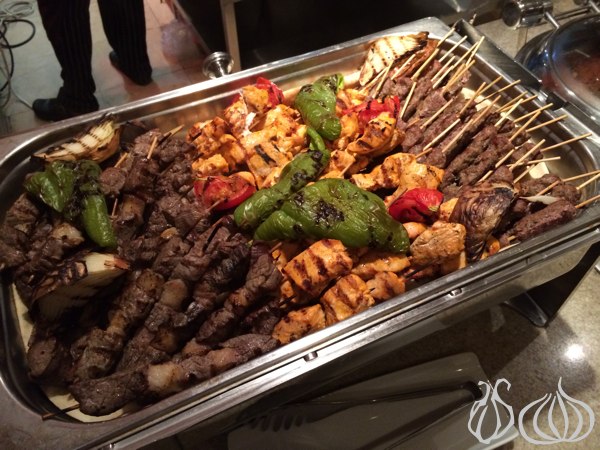 Cold selection:
Artichoke salad
Labneh with garlic
Mousakaa
Stuffed eggplant and zucchini
Fasoulia bel Zeit
Hummus
Basterma
Moudardara
Hendbeh
Shanklish
Moutabal
Fattouch
Tabbouleh
Faso ilia
Kibbeh nayyeh
Potato moutabal
Dolma
Tajen
Samneh Harra
Hot dishes:
Moughrabiyeh
Malfouf mehche
Whole roasted lamb on oriental rice
Hammour fish
Gnocchi potato
Mixed grill
Sheikh mehche
Potato boulangere
Ratatouille Provençal
Steamed basmati rice
Live stations:
Kafta arayess
Falafel
Shawarma
Desserts:
Fresh fruits
Feuillantine chocolate cake
Opera
Cheese cake
Creme brûlée
Assorted mini French pastries stuffed with fruits
Kellogg ramadan
Maamoul mad bi joz
Mabrouk I
Halawet el Jeben
Katayef ashta
Aish el Saraya
Sfouf
Fried katayef
Halabino
After a selection of salads came the main meal. The stuffed cabbage is juicy and tender while the rice has an interesting crunch to it. The roast lamb, one of my favorite dishes is excellent, well sliced, well cooked - tender meat and a fine rice. My second favorite Lebanese dish, the moughrabiyeh is as well great. It reminded me of my last visit to Tripoli where I tried for the first time the moughrabiyeh sandwich. This is the Movempick quality, this is what I expect to eat when I come here.
Small loafs of bread are first covered with Kafta then toasted in front of you: that's Kafta Arayess. Tasty and interesting, take one, spread hummus on top and enjoy. What caught my attention is "Sheikh el Mehchi". I love this plate but have always eaten it in a way that was different then tonight. Usually sheikh el mihshi is a opened eggplant filled wi meat and cooked but the Movenpick chefs revisited this recipe rolling sliced of grilled eggplant like cheese rolls. Bravo!
I tried to have a bite of falafel which has way too much garlic and I couldn't swallow the bite, the meat is good and tender but lacks seasoning, the mouhammara is very good while the moudardara is deceiving, hard and crunchy.
A quick note about the chicken shawarma that's not always a success around town. The chicken shawarma here is tender, juicy and most importantly all made from chicken breast.
Overall, Iftar at the Mövenpick is very good and I recommend you try it before the month ends.
For desserts: The halabino, which is mafrouket festok with ashta has a bizarre sandy texture. You have to try the Daoukieh to understand how does have to taste like. The Halawet el Jeben is too soggy and lack body and consistency. As for the jellab, a hard chewy envelop with dull filling. The oriental pastry section needs some work.
As for the occidental cakes, all are as good as they should be, just correct. As for the ice cream, a fresh sorbet that's more cold than flavorful...
Two dozen days left for you to come have a look at the Iftar here at the Movenpick. The staff is ready to welcome you with a big smile on their faces while an army of chefs prepares some fine innovations for you to enjoy.