How about a rich and yummy Lebanese breakfast, or let's say brunch, since that's the trend nowadays... We often go to places where croissants, pancakes... are served. Well, how about some labneh scooped onto some freshly baked bread, topped with a single olive and a slice of cut tomatoes... Amazingly tasty... Sometimes the simplest things in life are often the best... Let's start our day early gathering everyone around on a Sunday morning... to enjoy a new approach towards how we enjoy early morning Lebanese bites.
Al Balad,
a restaurant I really like,
were the first to introduce the concept of "Lebanese food with a twist" idea to Lebanon. They are now lifting the bar even higher by reinventing the way we eat the "Lebanese breakfast". Yes, you heard right, now you can have a rich Lebanese breakfast in a Lebanese restaurant - the modern way, while enjoying the sea view.
What is our vision of a Lebanese breakfast? Is it only a Zaatar man2oushe?
You know it's not. A real Lebanese breakfast is a full fledged mezze including a selection of local cheeses, labneh, homemade jams, olives, freshly baked bread, vegetables and so much more.
I often crave these bites during summer time, as I head up to the mountains to enjoy locals prepare a culinary experience that's next to none.
The good news is that we can enjoy this now in one of the restaurants in the city... Al Balad, located in Blueberry Square in Dbayeh, has introduced a delicious breakfast menu that can be enjoyed near the Mediterranean sea.
Fresh labneh, luscious extra virgin olive oil nestled in its fold, juicy tomatoes, always a bowl of olives and of course fresh mint and some pita bread…
On the menu:
Fresh Orange Juice, coffee or tea
A plate of white cheese
Labneh
Zaatar dip
Fresh vegetables
Green olives
Fried eggs or Foulna
Homemade fresh and warm Lebanese bread
All of this for only $10... yes, only 15,000L.L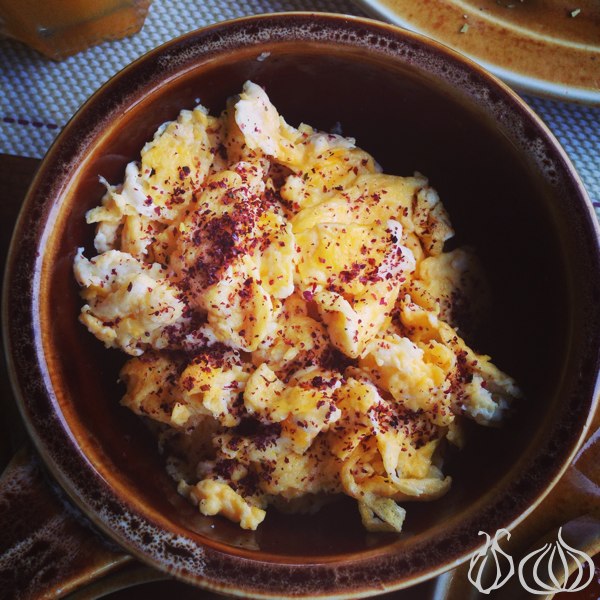 Breakfast started with a basket of toasted bread and two french buns served with a plate of green olives to enjoy while waiting for the interesting things to be prepared. Coffee or tea, asked the waiter, as he also made sure to know if we prefer eggs or cooked fava beans.
Facing the Mediterranean sea on this beautiful sunny day, we sat there from 9am, enjoying Lebanese bites peacefully...
The food:
I loved the quality of labneh and taste. It is provided by a local producer called Deeb. A rich and authentic flavor with an interesting texture and a pleasant lemony aftertaste.
Three kinds of fetta cheese, one covered with sumac, another with thyme and a normal one. Smooth and fresh
Dip into every labneh bite inside the bowl of zaatar mixed with olive oil and sesame seeds for a richer finish
Homemade fig jam, apricot and strawberry served with Lurpak butter
The vegetables are so fresh and crunchy: tomatoes, cucumber, mint, radish and green onions
The best of all is "Foulna": A plate covered with a thin layer of hummus and filled with fresh foul. The photo says it all
Simple, tasty and non oily eggs served in a clay pot
So now... Cut a piece of bread and scoop up some labneh, then direct your wrist to the bowl of olives and scoop one up, then cover it all with a slice of tomato, a slice of cucumber, a mint leaf and open your mouth wide and immediately experience content and joy, am exquisite breakfast experience, the modern Lebanese-style.
If you're craving a rich Lebanese breakfast... Now you know where to go.