In 1881, the Lebanese city of Tripoli, renowned for its ancestral history and great heritage, witnessed the rise of a new dawn in the world of traditional oriental sweets. Exquisite, tasty, rich and incomparably delicious, Abdul Rahman Hallab's wide range of oriental sweets soon became the most famous in the whole region, seducing refined palates and winning the hearts of millions of authentic sweets lovers. The success story continued with Abdul Rahman Hallab's sons, in the home of their grandfather who founded the famous Abdul Rahman Hallab & Sons' "Kasr el Helou" which is considered today as one of Tripoli's most renowned tourist sites, visited by hundreds of people from all over the world.
The restaurant is divided into two distinctive parts: the palace where sweets and coffee are served and the castle where take away ordered are delivered and Plat Du Jour is served on the upper floor. We Ordered:
A portion of five Znoud El Sett
A portion of four Halawet El Jeben
A portion of Lahm Bi Aajine served with tomatoes, mint, cucumber and lemon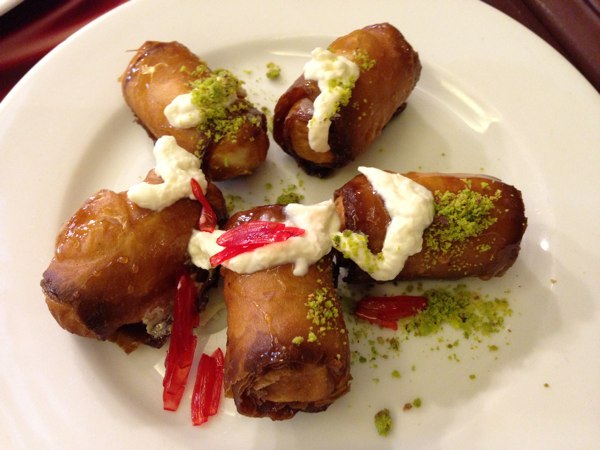 The food is simply the best:
They have the best ever Lahme Beaajine with its thick dough and generous filling. Two 15cm square pieces in each order is filled with concentrated lamb meat mixed with pine nuts and grenadine molasses. Simply perfect. The only thing is that they are heavy and filled with fat. But this is what adds to its flavor. But its not an everyday choice.
AbelRahman's Znoud El Sett are to die for. Yes, I come from Beirut to eat these rich delights. A 90 minutes trip just for the couple of pieces of Znoud El Sett is worth it. Perfectly rolled pieces of puff pastry filled with warm and creamy kachta and decorated with red rose and a touch of white kachta. Every bite transports you into another dimension. Believe me, other than the Bahamas cake of Pate A Choux in Achrafieh, this is the only thing that makes me close my eyes with every bite until the last taste.
AbelRahman's Halawet el Jeben, is one of the best as well. Not too sweet, not too warm, not too fluffy, not too heavy... Simply perfect.
I loved the details, not available even in Beirut:
The stainless cutlery is presented in wrapped nylon bags
They have Coca-Cola: youppi!!!
A soft oriental musical background accompanies you into your 1001 nights journey
The waiter offers you an half opened wet napkin at the end of your meal
From the famous Moushakal, Kaak Knefeh, Knefeh Kashta, Knefeh Chocolate, Halawet el Jebn, Znoud el Sitt, Mafroukeh, Ward el Cham, and many others, each sweet is a piece of art. AR Hallab & Sons 1881 is also renowned for its unique savoury pastries, offering crispy and rich Lahmeh bi Ajin, Chicken Lahmeh bi Ajin, Soya Lahmeh bi Ajin, and a variety of Mouajjanat.
I won't be needing to dwell more on the subject: visiting AbdelRahman in Tripoli, Kasr El Helou is a must - at least once a month as their preparations are out of this world. No one else on earth provides the same quality and taste of Lebanese Sweets. No need to search, you won't find! Believe me they are finger licking good!