There a certain aspects of dinning that make my experience memorable.
Throughout my travels and dining experiences I have come across some food accessories, as I might call them, that have given each bite that extra 'pleasure' while eating. These are called condiments. But not all condiments are the same, and not all brands provide that extra power to enhance the taste of your food. Condiments- whether homemade or mass-produced- are used throughout the world to complement or alter the taste of foods. They can bring out the sweetness in a dish, or add spiciness, saltiness or a sour component to the food. The purpose of condiments is to improve or accent the flavors of various foods. The list of condiments goes beyond ketchup, salt or black pepper; it can include sauces, chutneys, relishes and spices. They are typically served alongside a food so that they can be added to the dish throughout the meal. I would love to share with you the items and brands that I have discovered with you; in hope that you discover them yourself enjoy the extra pleasure while eating... I will start with Jack Daniel's Barbecue Sauces made famous by T.G.I Friday's.
Just like Jack Daniel's Whiskey, Jack Daniel's barbecue sauces are crafted with pride. They are smooth and mellow flavored sauce. The spices and flavorings are blended in a way that complements your meat rather than covering it up. Just perfect and just how that extra ingredient on food should be.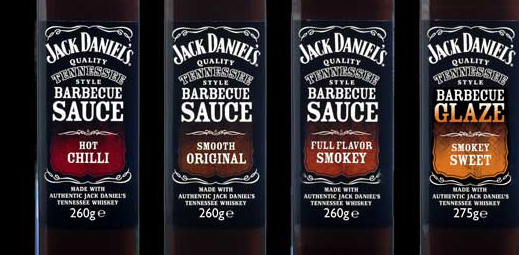 When Mr. Jack Daniel created his famous mellow Tennessee whiskey, he said "Everyday we make it, we'll make it the best we can." For Mr. Jack that meant using only the finest ingredients and devoting extra care and attention to the whiskey making process. We feel it's only right that our range of Jack Daniel's Barbecue Sauce is made in the exact same way. Our secret recipe sauces are blended with the distinctive traditional Tennessee whiskey to create a unique mellow sauce perfect for any meal."
But don't take our word for it, try it yourself and see why we're confident this steak sauce is deserving to be your favorite.