I don't know why a lot of people don't like Al Balad and many of these people are actually my close friends. Is it because they have had bad experiences at their Sahel Alma branch or maybe their Downtown Beirut branch? I really am not sure and personally like it a lot. I have visited Al Balad twice in the last six months and have enjoyed tasty Lebanese food in a pleasant ambiance with professional and welcoming waiters who are here to make you smile. Tasty food at a good price, isn't this what we all ask for?
Enter the atrium of Blueberry Square and find Al Balad occupying the corner of the back area on your right. A large squared space with high ceiling welcomes you. A smiling staff stands by as you walk into an oriental ambiance with soft musical tunes playing in the background. We decided to sit outside as the majority wanted to smoke. Dinner started with black olives and a basket of bread: Zaatar toasted bread and a bag of round Lebanese pita bread especially made for Al Balad. The place:
A squarish restaurant with an outside terrace
A bar on the right side of the place welcomes you
Glass lamps pending from the ceiling
Couches on the sides and wooden tables in the middle surrounded by violet tissue relaxing chairs
Mirrors here and there make the place look bigger
Super ugly cheap plastic tables on the outside that rock like a boat during a hurricane: I didn't like them at all
Fayrouz tunes play softly in the background
An oil bottle as well as salt and pepper shakers are placed on every table
One of the things I never do, usually, is order the formula in Lebanese restaurants. A formula where you are charged a fixed amount of money and get served with small and stingy plates chosen by the management. Usually half of these plates are vegetables among other cheap things - maximizing their profit. After experiencing a rich fulfilling and generous dinner at Al Balad Blueberry Square for only $33TTC, I was proven wrong. We were served and ate all of the below:
Open soft drink: 48,000L.L
Open regular bar: 58,000L.L
Open premium bar: 68,000L.L
Cold appetizers:
Vegetables Platter
Labneh Al Balad
Hommos Al Balad
Hommos
Mutabal Aubergine
Tabouleh
Fattouch
Samkeh Harra
Tomato Garlic
Warak Aarich
Hot mezze:
Mix Rkakat
Lame Beajine
Chicken Liver
Potato Coriander
Halloum Al Balad
Soujouk Tomato
Potato Chicken Al Balad
From the Grill:
Kbeibet
Kebbeh Al Balad
Kebbeh Festok
Kebbeh Awarma
Chicken Kabab
Mix Grill:
Desserts:
Al Balad Homemade Ismalieh
Seasonal Fruits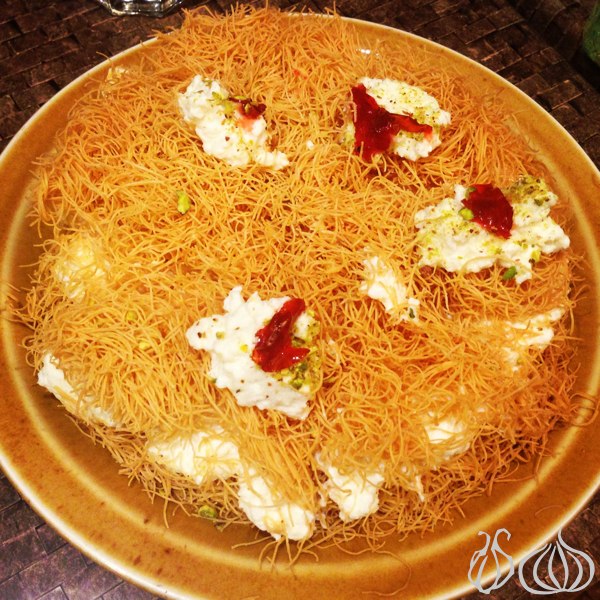 Yes, all of the above, one plate for every six persons for only $33/person. I won't go into much details since Al Balad has been reviewed before, but be assured that the food today was very, very good. The hummus, labneh, fattouch, makanek, soujok, rakakat, meat, chicken, lame beajine, moutabbal and all the others were all delicious. I really enjoyed my dinner to the max. My favorite plates:
Tajen is exceptional
The cheese rolls are crunchy and rich
The fried halloumi with almonds is simply awesome
The makanek are unique
The mashed potato with chicken is majestic
The meat is tender and tasty
What I didn't like: The "From the Grill" section is not my favorite - especially the kebbe selection. They did not look appetizing to start with and their taste is dull. To make the night memorable we were offered the Al Balad Homemade Ismalieh: Ouf! That's something WOW! I haven't eaten a tasty and crunchy Ismalieh like this one for years. All the ones served around town are chewy and lack the freshness expected. Today's was super crunchy, light and full of taste. Bravo.
As I previously said, I have always loved Al Balad since the beginning. This place has excelled tremendously. A bigger menu and better service that will make any customer happy.
If you want to inviting a group out, I would suggest Al Balad for sure. A nice place, good food, pleasant ambiance, at a reasonable price. See you there.