I read a 'tweet' saying that Al Hallab has introduced a number of new desserts to their menu. Of course I rushed to check it out… My sweet tooth was craving for something new and one of the mouthwatering items "Hallab Bassma" caught my attention.
Called Oriental Sweets with Ice Cream, these seven new items can now be enjoyed in all their branches, where people can come and try a new selection of sweets revisited by integrating ashta ice cream into some, while adding interesting ingredients to others. Something funny happened as I walked into their Jounieh branch to enjoy an extensive tasting, No one at the counter knew what I was talking about, until I described what I was looking and also showed them an image of the products on my phone… It's new afterall, but a bit of training before hand is important. I was then given a special menu where the new items have been added. I asked for them all… The waiter thought I was joking... Twenty minutes later, was the moment of truth as the plates started landing in front of me...
The items available:
Wared of Tripoli (Kashta ice cream with pistachios and puff pastry). The famous chewy and sweet puff pastry is filled with ashta ice cream like a sandwich. Three pieces you'll have to indulge with your hands because they're not easy to handle with a fork. I found this plate to be a bit too sweet. Puff pastry soaked in sugar syrup, adding to that the sweet ashta... Tasty but my least favorite.
Arij of Tripoli (Kashta ice cream with pistachio, mafroukeh): Mafroukeh, served warm topped with ice cream and generously covered with pistachio. A combination of hot and cold that's so enjoyable and I rank this plate one of my favorites. The richness of the mafroukeh is no enjoyable adding to that the freshness of the ice creame without forgetting the crunchy pistachio... Two biscuits decorate the plate.
Tarbouch 1881 (Kashta ice cream with pistachio and kashta maamoul). This is my second favorite. A tender piece of cake that crumbles under your teeth like a sable biscuit is topped with ice cream. An adequate consistency creating a dessert that will put a smile on your face. I loved the original maamoul on its own and adding ice cream to it makes it even better.
Hallab Bassma (Bassma, kashta, pistachio, mafroukeh festok). Just imagine! a piece of cake made of two layers of crispy vermicelli filled with fresh ashta and a thick condensed piece of pistachio mafroukeh. A crunch, followed by a smoothness and by now I can hear you asking why isn't it sweet enough... Wait, until your teeth reach the mafroukeh which explodes into flavorful sweetness that adds the needed touches to the combination. No added sugar syrup is needed. What an awesome lovely piece of heavenly creation. The textures, the feelings, the classical philharmonic orchestra that happened around my palatal buds made me drool.
Halawat el Kasser (Kashta ice cream with pistachio, halawet al jeben). Halawet el Jeben chunks topped with two balls of ice cream. I love the combination but I would have enjoyed it better if they were rolled in a sandwich like I've did before. I like the rose water aroma and the different textures of this amazing combination.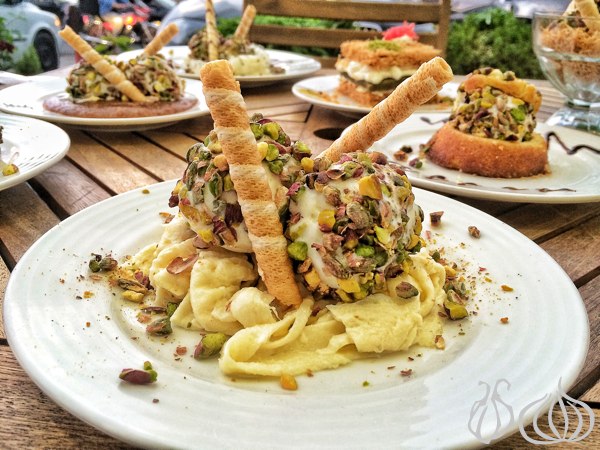 Ghazel el Ahbeb (Kashta ice cream with pistachio, ghazel). White cotton candy topped with two scoops of ashta ice cream, two decorative biscuits and some chocolate syrup sauce. This is surely a plate I recommend. The mix of ice cream with cotton candy was simply heaven.
Aish el Kaser (Kashta ice cream with pistachios, Bassma crumbs). Served in a cup, the simplicity of this dessert is what makes it unique. A bed of crunchy vermicelli topped with rich and tasteful ice cream. You'll enjoy the crunch of crumbs as an after note.
Some things you have to know:
Hallab Basma can be ordered in one big piece that looks so finger licking good. Order one for your next birthday celebration
All desserts are prepared on demand
Pistachio is used abundantly
I'll change to make them perfect:
Achta ice cream melts very quickly. There should be a special version created for those desserts and kept at -17 degrees Celsius
I found the Ashta ice cream to be a bit too sweet. Mixing achta with sweet pastry can sometimes be too much. A good example would be the Wared of Tripoli
I would roll the Halawa into sandwiches. It would be better than to serve them in chunks…
French biscuits? Why! We are proud of our oriental culture that should not be altered by using biscuits the French themselves stopped using. Find another alternative…
If you want to order just one, which would choose?
Hallab Basma
Tarboosh
Arij
Ghazel
Aish
Halawa
Wared
So far, it seems to me that 2014 is shaping up to be the year of desserts in Lebanon. Some fine pieces of sweet art are being created every month up to international standards; and with every creation the bar is being raised higher and higher… Today, I realized and want all the foodies of the world to know, that we have taken the basics from the Turks and perfected them to the highest levels possible. Book your ticket to Lebanon and come experience magic.