Al Mandaloun is a place I love. I often come here for their signature ice creams or spend time with my family on Sundays or come with friends for dinner. And now they have introduced new items to the menu including Steak-Frites. You won't miss it, as the item is mentioned in the blue section on the menu with a reminder on the table banners they have with "Notre nouvelle spécialité" written on it.
Al Mandaloun cafe, which I already reviewed more than once, venting its professionalism and food taste is still maintaining a high standard from breakfast to dinner.
Part of my Top10 list Al Mandaloun is a place that's unique in structure and architecture. The details that make up this stand alone restaurant, in the heart of Dbayeh, are outstanding. The big garden terrace, the high ceiling with their huge red chandelier shades, big leather sofas - are some of the things that make this place a favorite for me and many others. Of course add to that to their tasty food and professional service and you'll be back again for sure.
The menu is printed on nine different sheets of colored paper showing the varieties they have from viennoiseries, the permanent buffet, their sandwiches, their specials, their Japanese selection, their desserts, their Tea choices, juices and beverages…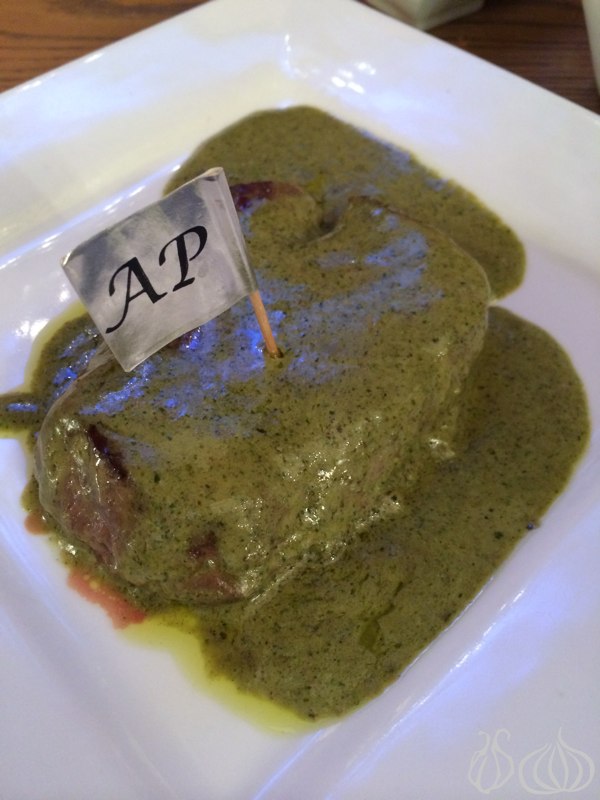 Today's choice: Steak Frites
Steak-frites, meaning "steak and fries" in French, is a very common and popular dish served in Brasseries throughout Europe. It is considered by some to be the national dish of Belgium and France, which both claim to be the places of its invention. Historically, the rump steak was commonly used for this dish. More typically at the present time, the steak is an entrecôte also called rib eye, or scotch fillet (in Australia), pan-fried rare ("saignant" - literally "bloody"), in a pan reduction sauce, although hollandaise orbéarnaise sauce are not uncommon, served with deep-fried potatoes (French fries).
Steak frites façon café (Bœuf Australien Prime, sauce Al Mandaloun Cafe)
Exactly like the ones served at Relais de l'Entrecôte, only this one has less fat. A prime 200g meat is adequately cooked and served covered with a green sauce. Just cut into each piece and watch it separate gently and softly.
Biting into it is even better... It's like butter. Superbly tender and served with a special sauce made from thyme and herbs; Delicious!
A unique taste in every bite. Yum! I loved it. Of course, a bowl of American fries that are better enjoyed with the sauce.
As mentioned in my previous review, it is indeed one of my favorite cafe-restaurants around for the complete package it offers:
A wonderful ambiance
A welcoming staff
A beautiful decoration
A variety and complete menu
Delicious food
Nice music
After dinner, what else than the one-and-only chocolate ice cream, known in Lebanon as "Merry Cream". Mmmm... If you didn't have one of those yet, know that you're missing a lot. Served in a glass bowl and decorated with three fresh crunching cones, the ice cream is a favorite during summer and winter times. I love its real chocolate flavor and low sugar levels. A pleasant night that I'll be repeating soon...