Al Saraya restaurant is the main dining area at the Movenpick resort, Dead Sea. Located in the main resort building, AL Saraya offers a Mediterranean country kitchen ambiance with garden terrace, warm stonework, arched windows and tiled floors. The restaurant offers an all-day à la carte or buffet dining. Enjoy their sumptuous dinner buffet, with Oriental carved market carts and live cooking stations. Both indoor and outdoor seating are available.
On the first night spent at the Movenpick resort, we decided to try this restaurant located under the Lobby of the main building. The week-end's buffet had a wide choice of Middle Eastern specialties all distributed in eight different stations serving cold and hot preparations until 10:30pm. The main attraction, situated in the middle of the buffet area, is the local Jordanian specialty known as the "Stuffed baby Lamb" - a chef serves you with a cooked stuffed sheep with rice. I love it! Stuffed Baby Lamb is a popular dish in Jordan, which people enjoy as a big and heavy meal. It consists of roasted lamb, stuffed with rice, chopped onions, nuts and raisins.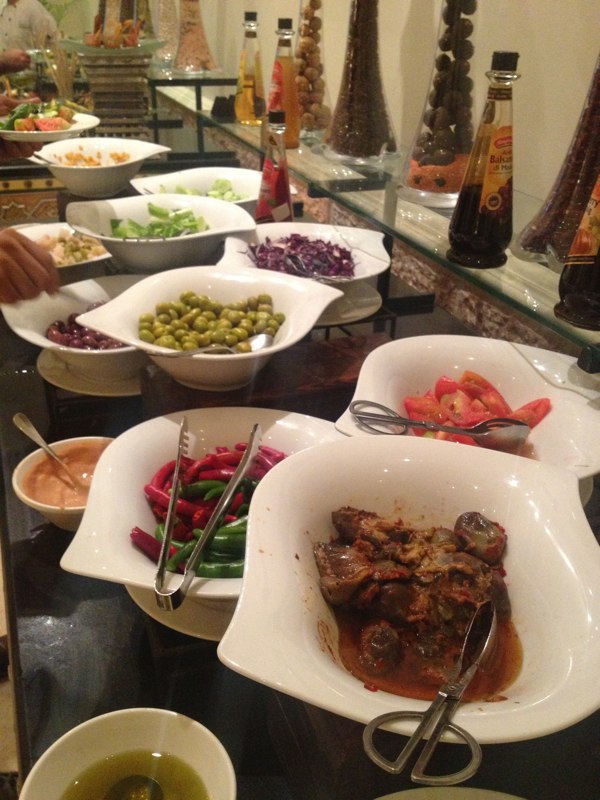 On the sides a large variety you'll surely like awaits you:
Hummus, Moutbbal, Rice, Sambousik, Cheese Rolls, Salads, Pickles, Potatoes, Shawarma, Pasta and more...
The minuses:
The staff needs more training and should learn to be more welcoming
The beverage service needs much more professionalism
The dishes presentation is not up to the standard of a 5 star hotel
The ambiance looks like a giant cafeteria. It lacks a certain finesse a 5 star hotel demands
Food is good, but not perfect
It's a nice stop for a night.