SUD, located in the heart of Mar Mikhael, recently welcomed Adrien Trouilloud, a renowned Michelin starred chef all the way from Paris. For two exclusive nights, SUD played host to a lucky few who came to enjoy a special four

course meal that included

the finest seafood specialties prepared by one of Paris's most talented chefs.
The menu:
Fines lamelles de thon marinées. Carottes, gingembre
Petit farcis de homard, jus de la presse infuse à la citronnelle
Filet de rouget barbet juste saisi, courgettes, sucs safrané
Figues rôtis au miel, noisette torréfié, sorbet cassis
Before starting this culinary journey, I couldn't help but notice the table cloths set on all the tables at SUD. That's a first at SUD and something I have been hoping for since day one. I am not sure whether the table clothes were placed just for the occasion or were they here to stay... Please make them stay!
Back to the food...Individual plates containing a tear shaped piece of butter was distributed to every guest along with baskets of bread to share.
Let's enjoy some fine seafood:
Six slices of marinated red tuna were served on rectangular plates. Covered with shredded carrots and ginger, the tuna slices come with two fingers of toasted bread. The ginger and pepper add a subtle spicy taste. As a second note, the crunchy carrots give off a sweet touch. Don't think that the experience is over. As you lick your lips you'll feel the taste of olive oil and carrot juice. A great start preparing you for the next culinary innovations.
On a round plate a perfectly cooked lobster was served, beautifully and proportionally cut. On the side, you'll find a full rounded tomato, emptied yet filled with shredded pieces of juicy and tasteful lobster. Add some lemon juice served on the side and enjoy the cocktail of flavors - the rich five star sauce, combined with the sweetness of the tomato and the lobster - this dish is to be enjoyed thoroughly. I would have preferred that they peeled the tomato, as the skin was a bit hard for such a smooth and refined dish.
An eye candy! Three pieces of red fish on a bed of grilled vegetables and topped with fried fleur de courgette. Perfectly cooked vegetables that crunch with a certain finesse alongside an amazingly cooked fish, seasoned with saffron sauce. I personally loved the fried zucchini flower and the juiciness of the fish but the plate lacked some seasoning - some pepper and maybe salt for strength in flavor... When I added salt and pepper the whole experience changed...
Five figs, hazelnuts crumble and black currant sorbet served on fig leaves. Honestly, the desserts left me unimpressed. To start, the plate doesn't look too appetizing considering that the dessert experience is always partly enjoyed with its presentation. Roasted figs in honey? I didn't feel the roasting feel or the honey. Plus the ice cream was way too sweet. It saddened me to have to end a good dinner that way.
On the roof, the menu was different. One single plate was filled with a choice of six appetizers along side a dessert:
Roll de l'obstétrique et mangue
Roll de canard confit et fumet, figue fraîche
Roll de calamar grillé et légumes croquants
Verrine de bœuf mariné
Verrine de poulpe au pistou
Gaspacho de tomates
Éclairs façon sud
The roof menu was fine but could have surely been better. The rolls were too heavy and too chewy and the Verrine de bœuf mariné lacked some seasoning. As for the eclair, a fine one like always, at SUD.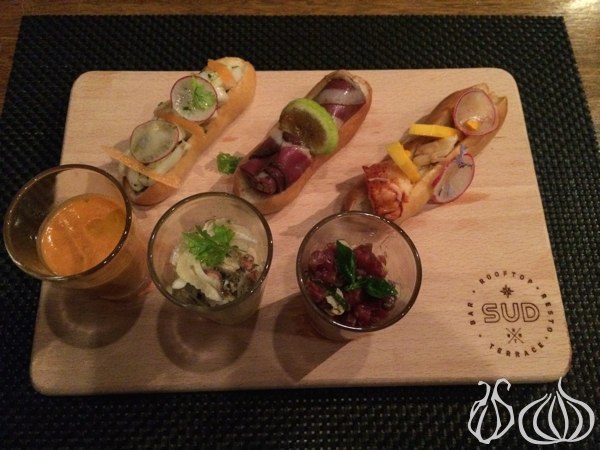 I sat at the bar and enjoyed the bartenders action while having a panoramic view of the restaurant where everyone looked happy.
The experience may not have been up to Michelin standards, but dinner was excellent served in a pleasant ambiance in a sophisticated spirit, especially for the price paid at $80/person . It was a great and simple dinner served in a casual restaurant like SUD.
I only wish that more international chefs will come visit Lebanon more often, bringing with them some international spirit, good food and new ideas to quench our ongoing thirst for good food.