In a majestic hotel like Banyan Tree, Al Wadi you would expect a majestic breakfast. To tell you the truth I wasn't expecting the best since dinner the night before was very average, but still I couldn't help but imagine a wide choice of breakfast items that will make my eyes water and taste buds tickle.
Located off the resort's main block, Al Waha, meaning Oasis in Arabic, welcomes you for breakfast every morning while the first sunny spells emerge from behind the dessert sands. This same restaurant serves popular international food and local Arabic specialties during the night. With a spectacular display of modern yet Arabseque interior design, one can choose dine indoor where floor-to-ceiling windows sets the stage for meters-high sand dunes, or on the terrace outdoors. I chose to sit outside to enjoy the nice weather.
As you enter, you are welcomed with a table that offers fresh juices before moving a bit more forward to the dried fruits and cereals island. At the end is where the ceremony takes place proposing a wide selection of breakfast and lunch items. A choice of six different freshly squeezed juices, a dozen French pastry items, meat, chicken and turkey, sushi... Breakfast and lunch combined.
The wide choices of possibilities:
Orange, pineapple, lemon and mint juices at the entrance
Dried fruits selection, dried dates, dried apricots, pecan nuts, dried bananas, dates, raisins
Six bowls of corn flakes
Soya milk, fruit cream milk, low fat, chocolate milk
Bee honey, date syrup, maple syrup, chocolate syrup
Kit royal, champagne
Cucumber juice, carrot, tomato, orange, pineapple, mango smoothie, lemon mint, strawberry
Sparkling water
Assorted French pastry (donuts, croissants, muffins, tarts)
A wide selection of bread
Boiled eggs
Paratha
Congee
Bhindi masala
Baked tomato slices and cheese
Veal bacon
Chicken sausage
Grilled beef in thyme
Baked beans
Foul mdammas
Assorted cold cuts (ham, salmon)
Sushi plate
Fresh fruits salad
Cheese platters
Green salad
Selection of mezze
Natural and flavoured yogurt
Fruit platters
The food on the buffet was not that impressive at all:
Croissant was extremely chewy and the donuts were extremely spongy
Labneh was the worst I've ever tasted in my life
Arabic bread was too thick and sticky
Sushi is rolled the night before and stored in the fridge: served very cold and crunchy
Salmon was the lowest quality out there: sticky and tears apart like broken filaments
Cheese slices have been cut the night before and stored in the fridge. They were served stuck to each other
Chocolate croissant was acceptable but not great
Almond croissant was empty and dull
Apple tart was too sweet for my taste
Things changed when we were proposed a menu to choose form. A selection of eggs, pancakes, waffles and French toast that can be ordered without moderation. Beautifully presented and tasty, the eggs are a must try.
Hollandaise Eggs or eggs Benedict are good: An English muffin with turkey ham or smoked salmon, truffle scented Hollandaise sauce. Finally something tasty. A fresh English muffin topped with poached eggs and covered with a lemony Hollandaise egg. It's very good.
Huevo Ranchero: Rancher style egg of sunny side up egg on sautéed potato, chorizo sausages bits, tomato cilantro, melted Mexican cheese and crispy tortilla. Two delicious fried eggs, full of life, juicy and enjoyable. I ordered this plate to taste but ended up finishing the whole portion.
Pancakes are served in a round plate with some red fruits. It comes with no syrup. You will have to go and pour some maple syrup from the buffet. It should have been served with some maple syrup on the side. A thin and crusty pancake is decorated with powder sugar. It's not a bad choice, but thicker pancakes are more enjoyable
French Toast is not the usual pain perdu. They use brown bread with red fruits and powder sugar. Moist bread with an interesting taste, but it's not close to the taste I was expecting.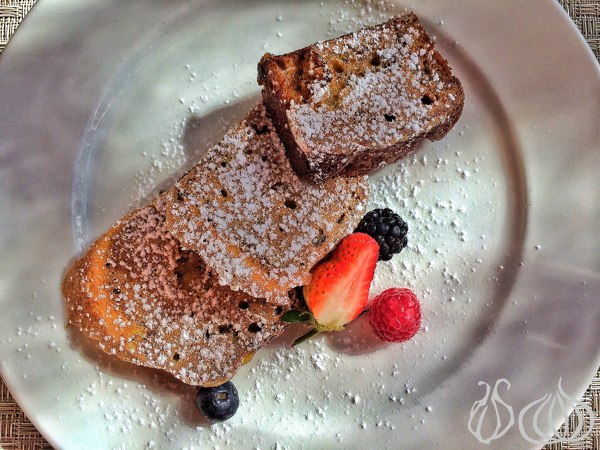 Like I said, I opted to sit outdoors, but I think that was a bad decision, Sadly I had to share my breakfast with hundreds of flies, and we are still in April. I don't even want to know what will happen when the heat wave increases in the summer. For next time, I'll definitely swap the good weather and beautiful sunny spells for a calmer flies free indoors.
Despite all, I personally enjoyed my breakfast and its ambiance.