At the door, a large A4 paper clearly states: "Please wait to be seated by our associate. We thank you for your patience." Waiting in a civilized way, a girl approaches me to take my room number and then tells me to sit wherever I want. Confused, I chose a table and waited for something to happen. 15 minutes after, I decided to ask personally for coffee. Another waiter, with the same cold and neutral attitude, served me coffee. Breakfast. A person traveling alone. A nice sunny morning. The waiter is the first person you see... What least expected in a luxury hotel like this one:
Good morning sir, hope you had a great night
Coffee or tea this morning?
Would you like me to get you something from the kitchen?
A smiling who should make you feel right at home...
Like last night, four kids from different nationalities this time, are running around lost . "Hey, I am leaving now and will close my tables accounts, will you handle my section" shouts the oldest woman to the blond kid. The buffet breakfast:
A tea machine
A bread section with different baskets and a toaster
A cook, cooking lively fresh eggs
Bacon and hot dogs
Potatoes and boiled eggs
Beans and cooked tomatoes
Scrambled eggs and sausages
Waffles
Pancakes
Chocolate croissant
Butter croissant
Danish rolls
Three choices of Kellogg's corn flakes
Ketchup, mustard
Honey and jam
Different kinds of fresh juices
Six different kinds of fruits cut in cubes
Five different choices of fruits cut in slices
Three choices of ham
A plate of salami and cold cuts
Two plates of cheese
Smoked salmon and shrimps
On the table: Four different kinds of jams in individual small pots
While eating, and especially in the morning... The last thing you need is to have your beautiful morning spoiled the annoying sounds. The annoying sounds of cutlery thrown on top of each other by waiters cleaning - He creates a symphony of sounds with the highest sounds imaginable, throwing the cutlery in a mountain created on the tray. An orchestra of metal jamming into each other and porcelain scratching one on another that activates all the rage and anger and put you in a bad mood. This is not to be missed: This orchestra conductor will make your day! Now that he removed the dirty plates, he smiles, goes in and gets the clean cutlery and you will enjoy the sound of another annoying tunes...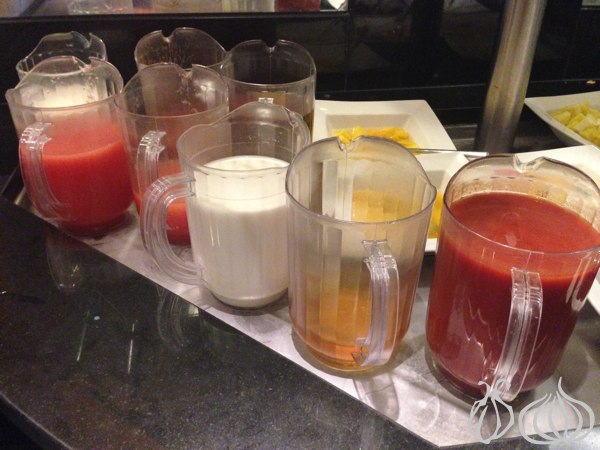 The food:
I noticed that the quantity of food they put in the morning is not renewed
It was only 09am and the bread corner had already perished. They replaced what's left of the bread next to the croissants
The cheese plates are almost empty
Couple of fruits leftover are here and there
The bread is brought in last night: chewy and hard
Croissant are not as fresh as I imagined them to be. Not crunchy, oily and chewy
Still waiting for a coffee refill that never came...
Plates on the buffet are not too appetizing
Anyway, breakfast is acceptable
The problem, yesterday and today is clear: People come and go. The hotel is always booked, focusing on customer satisfaction is not a priority. They see so many nationalities and travelers in this hotel, people who just come for a night and don't care about service. Visitors who pass by for a night inside at the airport and rush to travel the next day. For this, a team of untrained and unprofessional staff of kids, which cost a third of what a professional staff would cost, will suffice in their opinion.
I was expecting so much from this place... I was hoping to discover a new hidden secret where I can come and have breakfast while passing through this airport. I was hoping to find a nice place at the airport but unfortunately nothing was good. For 23€, the experience was not worth it. I had to hear the sounds of cutlery ding donging inside my ears all day long.