The fabulous Cappuccino Grand Cafe franchise has just opened another fine establishment in Antelias. This place is known for it's elegant décor, it's premium service as well as its fine food and drinks always served with a certain style.
Cappuccino Antelias opens early morning, serving sumptuous breakfast to a variety deliciously fresh bites throughout the day until late hours. The food include breakfast made of natural products, to crunchy sandwiches, fresh salads, delicious pastas, appetizing hamburgers, meats, home-made baked goods, an extensive selection of coffees and infusions, as well as a wide variety of delicious cocktails. Did you know that Cappuccino have their own radio-station? As usual with this brand comes a soothing selection of music. Perfect relaxing music relaxes you amidst timelessly classic club style furniture and décor. After visiting Cappuccino a couple of weeks ago, I decided to come back and indulge in their unique club sandwich. Whether its chicken or salmon, both are sumptuous.
California club sandwich: Chicken, cheese, tomato, crispy bacon, boiled eggs, lettuce and mayonnaise. 25,000 L.L
Salmon club sandwich with capers: Bread, lettuce, tomato, mayonnaise, capers puree, lemon and boiled eggs. 25,500 L.L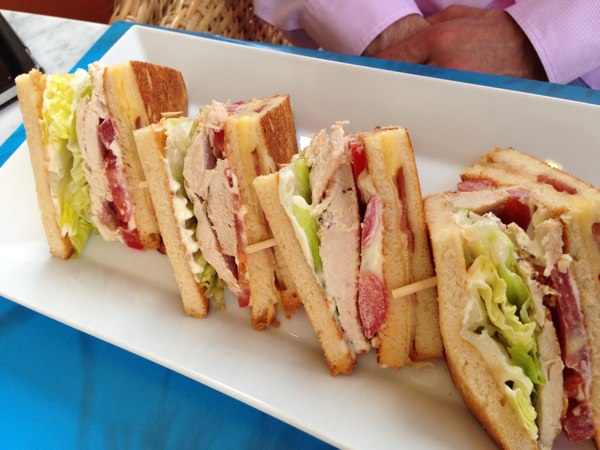 The California Club Sandwich: Three distinctive layers of soft and tender bread that's not chewy and most importantly doesn't cover all taste by filling your palate. Soft and tender adequately cooked chicken, melted cheese and thin slices of local tomatoes. Add to that some crispy bacon chunks that dissolve in the overall mix, a couple slices of boiled eggs, French lettuce and premium light mayonnaise. A simple yet tasty preparation and on top of that very generous.
The Salmon Club Sandwich: This sandwich is something you have never tasted before. The dressing is enough to make you come back for more. Mayonnaise mixed with capers puree and lemon which looks like pesto sauce and tastes like something out of this world. Add to that some French lettuce, tomato slices, lemon and boiled eggs. Layer all the ingredients inside a soft and tender bread and you will enjoy a perfect sandwich that's generous and tasty.
Professional welcoming atmosphere, beautiful decoration, nice looking waiters, trendy ambiance, no arguile and more importantly generous and tasty food - is all and more of what you would expect from an international franchise. All are available at Cappuccino, a place I strongly recommend you try.