I have always thought that Deek Duke wouldn't be able to compete with other diners in town. The menu concentrates on chicken based specialties and the name insures this further. But surprisingly, this year Deek Duke has evolved to become one of the popular diners around. Their new look along with a wider menu plays a role in making Deek Duke one of this year's favorites.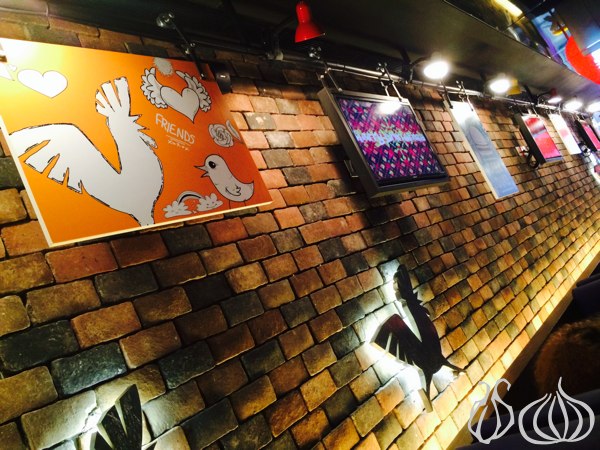 Located on the restaurant floor of Le Mall Dbayeh, Deek Duke welcomes you in a new innovative architecture. An upscaled concept where everything has been changed to follow the latest dining trends. Dimmed lighting, rich colors and different materials used, all blend together to welcome clientele from all ages and tastes. Their logo "Deek" or rooster reminds you that this restaurant is dedicated to chicken specialties. Handed their new menus, you can't help but enjoy the new concept, layout and details that this place boasts. But before looking around, you'll notice that the menus come in two different colors each with a unique variety of pictures. Same food content in the red and yellow menus. While the delivery menu is printed in green. It's a premiere for me.
I loved this place:
Everything is personalized with Deek Duke's logo and graffiti style messages
Their menu is fresh, big, colorful and makes you

drool

Facing the entrance on the long wall is a moving hen that looks like a huge clock ticking
Books and shelves are all around
White and black ceiling with red and white modern wall details
Pending yellow industrial style lights create an interesting feel
Grey square tiles cover the floor
The ceiling is decorated with black and white reflective surface that goes well with the red details around
The right side has a very long wall covered with fresh red bricks decorated with LCD screens and colorful posters
The Menu Sections:
Starters
Wings
Pasta
Salads and Soups
Sandwiches
Burgers
Platters
Deserts
Hot Beverages
We ordered:
Philly Cheese Balls 9,750L.L: (Breaded cheese balls, served with Thousand, Island dip) Inside an oval plate are six cheese balls around a cocktail sauce dip. Deep fried balls covered in a layer of thick and crunchy crust and filled with rich cheese. Three kinds of cheese, blend perfectly well one with the other combining richness, bitterness, sweetness and flavor. Just dip in the sauce and enjoy. I liked the non oiliness of the final product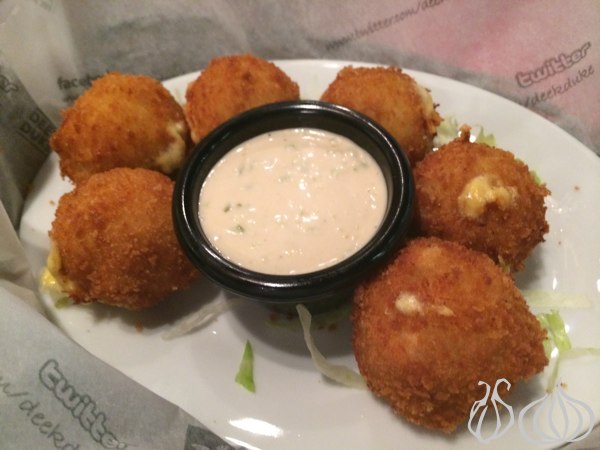 NY Wings 12,750L.L: (Battered chicken wings dipped in Deek Duke's hot NY sauce) Served with nylon gloves on the side, you won't have to bother dirtying your hands. These wings are well cooked well and covered in a nice crunchy and pleasant envelop. A gentle spicy aftertaste follows to complete the experience
Romano Bread 7,250L.L: (Toasted slices of bread with diced tomatoes and olives topped with melted cheese). The flavors are here and the idea behind these bread slices are nice. You can enjoy the feel of garlic bread without the garlic. I would personally make the bread slices thinner to enjoy the filling even more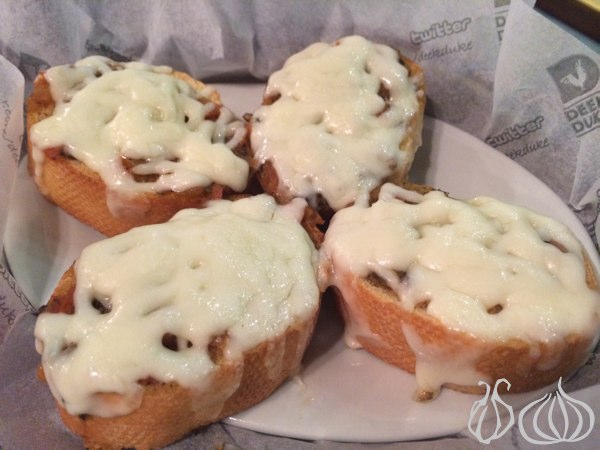 Cheesy 9,250L.L: (Chicken in a crispy bread roll with melted cheddar cheese, lettuce, pickles, BBQ and mayo) An interesting Lebanese style sandwich using French toasted bread filled with with cheese, crunchy pickles and chicken. This is yummy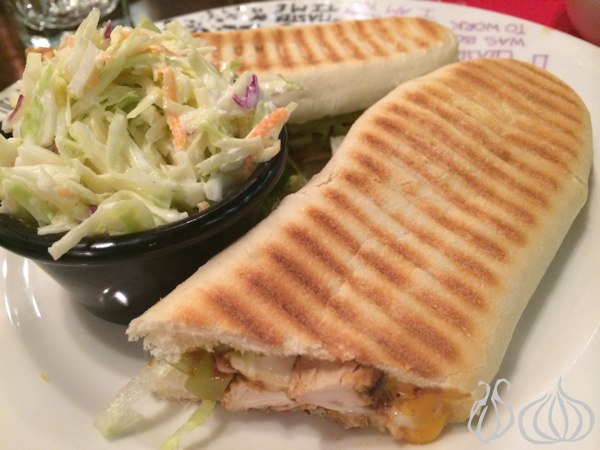 Steaky 10,250L.L: (Prime grilled beef filet slices with sautéed onions and mushrooms, lettuce, mayo and DD steak sauce topped with melted cheddar cheese in a crispy bread roll) For the non chicken lovers, Deek Duke introduced meat sandwiches to their menu. The same cheesy feel with a meat filling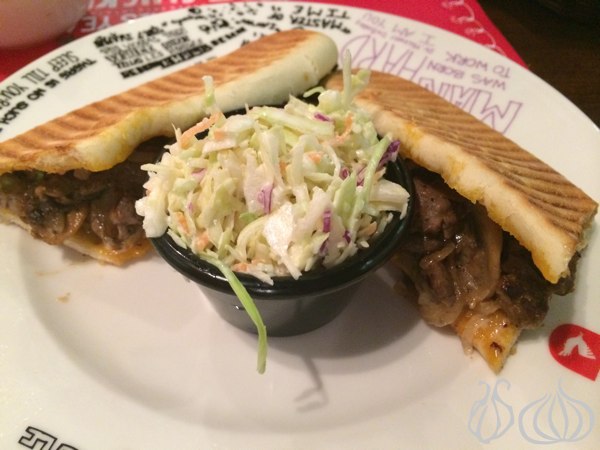 Duke Burger 16,500L.L: (Your choice of beef patty or grilled chicken breast, topped with grilled halloumi, fresh mushrooms, rocket leaves, mayo and DD's cheese mix) This is a tasty yet simple burger filled with premium ingredients and rich fillings. Remember, Deek Duke uses a signature square bun and it works
Fries 6,750L.L: (Imported Coated Fries) Imported, those fries are crunchy, non oily and tasty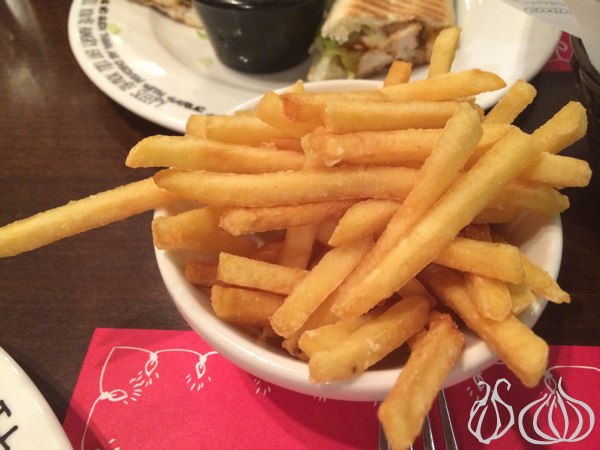 Curly Fries 7,750L.L As good as they look... good
Chick N' Co 21,750L.L: (Half or whole broasted chicken, served with garlic and pickles on the side ) Yum! Broasted chicken. It's been a while since I've had a plate like this. What KFC is known for is available at Deek Duke without the oil and the excess fat. Battered chicken fried to perfection and served with side salad and hummus. This is a fulfilling plate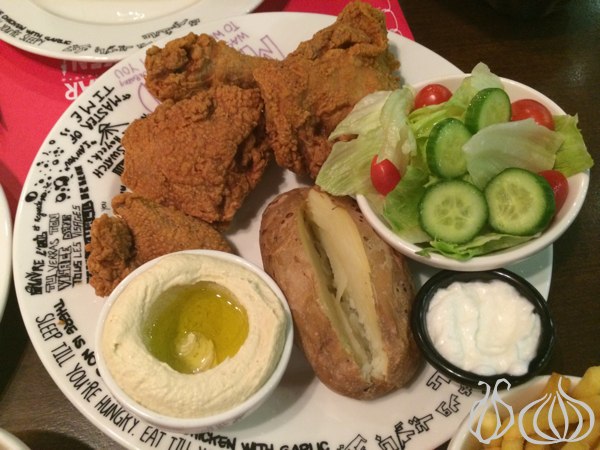 Oreo Delight 8,500L.L: (Chunks of Oreo biscuits in ice cream cake, topped with chocolate sauce and caramel syrup) No Comment! Doesn't the photo say it all? One of my favorite desserts in town
Snow Biskey 8,500L.L: (Supple cheese snow white cake on a chunky layer of chocolate cream and biscuit crumbs) newly introduced on the menu, this snowy dessert is not to be missed. A light airy dessert full of authentic flavors. You have to give it a try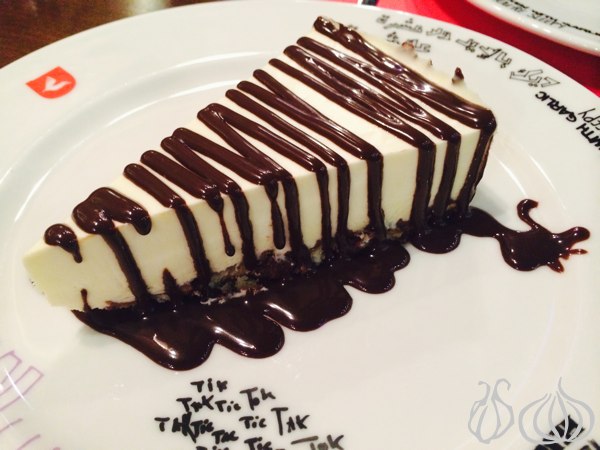 I enjoyed today's experience on all fronts. Tasty food and professional waiters. I hope it stays this way PS: All the prices have increased by 10%, exactly as it happened at Roadster, I suggest you change the old menu on the website, as well as update the Facebook page with the new locations. There are eateries in town that made a come back. A strong one! Deek Duke is one of them. Great job guys.