Here's a dedicated well lit terminal with high ceiling and fresh paint, a space for Skyteam priority classes and another for economy, smiling staff and a couple of shops - Delta Airlines International Lounge Atlanta is worth visiting.
The Delta lounge located on the first floor is big and divided into five spaces. The right side relaxation area, the left side with a view of the gate, the bar, the mezzanine and the terrace. It's one of the few lounges around the world with an open terrace but beware, smoking is not allowed.
It has a low ceiling indeed without being claustrophobic, a pub-like bar with draft beer and soft drinks, a business center and a fax machine, as well as the sofas and lounges. Red, blue and beige, many sizes and many designs each with a USB and electricity plug next to it.
There is a mezzanine as well hosting a couple of sofas where you can relax even more. I like the carpet, the separators and lights with and the music, a series of international jazz tunes to relax all your senses.
On the menu today were two towers of cereals and nuts, pasta and meatballs, a salad bar, cheese rolled with salami, biscuits, a fruit tower, a chicken salad and pasta salad, bread and biscuits with Starbucks coffee. It was enough for me to have lunch and enjoy it. It was tasty food.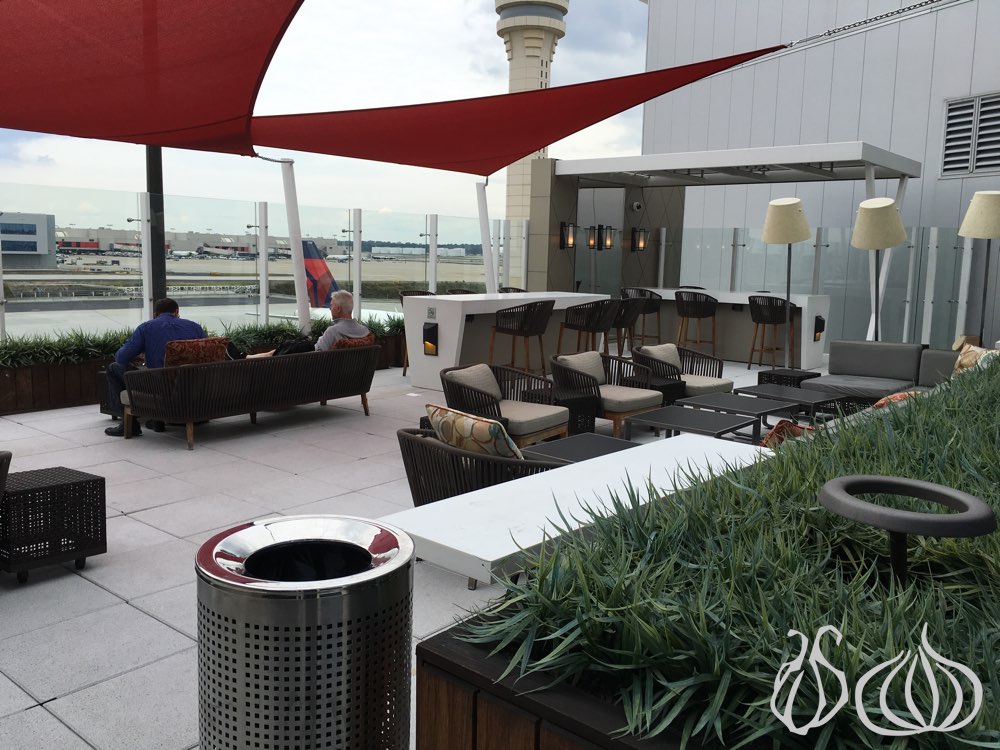 I enjoyed the vibes around here and the movement of people going out and it, touring around the buffet and using their complementary speedy Internet.
A beautiful terminal and a beautiful lounge, you are surely pampered at Delta headquarters.