The Wall Street Journal by Vanessa Mock
Love him or loathe him, the chichi world of French cinema would be a less colorful place without Gérard Depardieu, and same goes for the western Belgian province where he's made his home.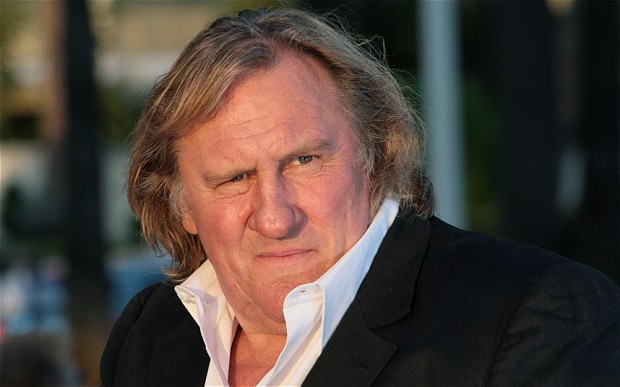 The larger-than-life French actor is as famous for films such a "Green Card" as for his outré, headline-grabbing antics, such urinating into a bottle during a Paris-to-Dublin flight and taking Russian citizenship after a bitter row with the French government over high tax rates. Just last week, he was back in the limelight after allegedly throwing water over festive revelers in a bar beneath the apartment he owns in southern Italy. So it's all the more interesting when the French star does things quietly, in a quiet village in quiet Wallonia, a Belgian region bordering France. He gradually has been amassing a string of businesses in Estaimpuis, where he's an honorary resident, and now he's reportedly registered his very own airline, Cyran'R, romantically named after his first major screen character, Cyrano de Bergerac. Perhaps we should expect jets with elongated noses, boarding on horseback, flight attendants in capes.
According to Belgian business daily, L'Echo,
 the star of "Asterix and Obelix"registered Cyran'R last November as a private limited liability company at the same address as the upmarket, Depardieu-owned bed and breakfast, 
Villa White Cloud
. It's not clear what his ambitions are for Cyran'R, but the paper speculates that it will likely only serve to shuttle around the actor himself. Despite the endless potential for a swashbuckling, themed airline, that's probably a good thing: a highly unscientific poll of the Wall Street Journal's Brussels bureau showed that most respondents would be wary of setting foot on a Depardieu-operated aircraft, with many fearing it would lack essentials such as a washroom (see first paragraph). For the lucky people of Estaimpuis, population 10,066, Mr. Depardieu is making his presence felt in other ways than with the whirr of a private jet.  He recently opened "La Cave de Gérard," a shop stocking wines made by celebrity vintners. Aside from Mr. Depardieu's own vintages, wine fans can scoop up a 
cépage
 by French rocker Johnny Hallyday or a bouquet by Brad Pitt and Angelina Jolie. When he's not on set or dousing revelers, Mr. Depardieu is clearly a busy man. He's set up another Belgian company, Holding 2712, and recently snapped up a large stake in the real-estate firm Cogimmo. In the nearby cathedral city of Tournai, Cogimmo agents are busily looking for a site for a gourmet Depardieu restaurant, L'Echo reports.
It may be true that Mr. Depardieu's adopted country has a far lower tax rate for millionaires than his native France, but he's suggested that's not the sole source of his affection. The actor said on Belgian TV last year that he simply loves the place. The feeling's mutual. Estaimpuis municipal mayor Daniel Senesael last year told the actor, "Gérard, Estaimpuis loves you."