Duo restaurant is a fusion of two successful concepts, "Ciao", which started as an Italian restaurant and "Le Monot", which was originally a French bistro. It has been a long time since I last ate at DUO. Now that it has opened in Dbayeh, it has become more accessible to where I live. I had been to the one in Downtown a while ago.
Duo offers a diverse experience where one can enjoy an abundant menu, full of tasty choices, while enjoying the buzz and energy of the place. Warmly yet tastefully designed with a variety of rich materials, Duo is a favorite among many of the Lebanese trend setters. We wanted to try the new food courtyard at ABC Dbayeh, we started by having lunch at DUO. DUO is a nice and cozy restaurant where wood and ceramic details make the place comfortable trendy at the same time. The bar, french bistro style adds a certain warmth, while the live sushi station in the middle (handled by Shogun) adds a wide selection of Japanese cuisine to the French and Italian selection that DUO has always been known for.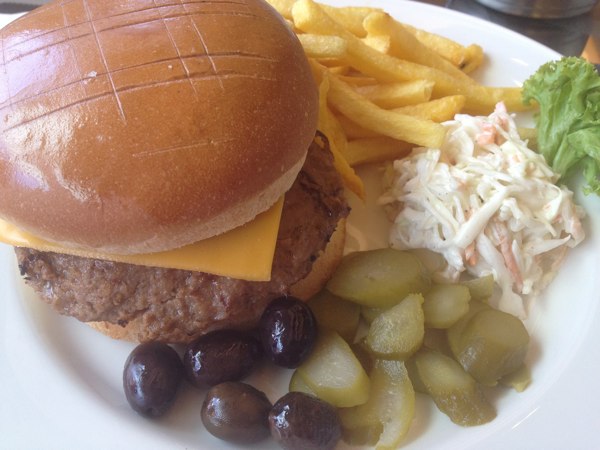 The details I always look after:
A fine selection of bread and tapenade is offered to start. They are both tasty.
The staff is jolly and welcoming. - I liked the leather menu printed on one double sided A3 paper.
The leather place mats are classy and pleasant to eat on.
The restaurant smells fresh.
The salad bar choice is mouthwatering.
We Ordered:
A Japanese selection to start (Crunchy maki, shogun maki, special shake maki, ebi tempura maki, crunchy california maki, california temaki, crunchy temaki)
Edamame
Penne All Arabiata
Risotto ai Funghi
Duo Cheese Burger
The Japanese experience:
Sushi and Maki are extraordinary! WOW! didn't expect that much. The pieces decoration, professional wrapping, size, freshness, crunch and taste are perfect. I would like to congratulate DUO on choosing Shogun as their Japanese provider.
On the other hand the original DUO menu needs some fixing:
The risotto we ordered is too salty and too creamy even thought the dish presentation and rice cooking time are great. Just fine tune the taste.
The burger is a simple failure. I am sorry to say it bluntly but it is really, and urgently needs to be completely changed from the menu: especially that the competition of good burgers out there is increasing. The meat color is not appetising and it is inedible (chewy, salty, watery, sticks to the knife while cutting and has a bizarre look). The bread is too thick and too hard to cut like if it was microwave heated from last night. In a single bite the bread is dominant on the other tastes followed by a sticky feel of the meat.
The Penne Arabiata is over cooked. It's far from being al dente. Its a cooking time my 1 year old daughter appreciates.
The waiters and service positive experience:
That day, we were served by Wissam. Wissam did his job perfectly well making sure that every detail is taken care off to perfection. I ordered a small San Pelligrino water but was offered Perrier with a smiling apology (others would have just put it on the table without making any mention, since they believe that all sparkling water taste the same. Which is not the case.
Seeing my plate untouched, I was asked to choose something else from the menu and served very quickly.
The manager knew about the burger incident and took the matter into consideration accepting the mistake and promising a change.
The desserts:
Chocolate brownies (a huge thick and spongy piece of dark chocolate, that's tasty but too heavy after lunch. The portions reminded me of those available at American diners. I would honestly make it smaller to fit the DUO concept.
Profiteroles au Chocolat (four big pieces filled with ice-cream - It's a success)
Chocolat Mou (served with whipped cream and a rice crispy bar)
DUO is a nice place, a casual and relaxing restaurant but urgently needs some fine tunings. I would surely come back, having a feeling that the improvements will be fixed soon.