The story is all wrong! Check their website and you will be welcomed with this statement: "In 1952, Lovie Yancey created something unique. A culture. A phenomenon, if you will. She created the biggest, juiciest hamburgers anyone had ever seen. So obviously, there was only one name for them – Fatburger." Biggest? Juiciest? Phenomenon? This is not what I experienced at all.
Fatburger which is one of USA's famous international burger chains has landed in Lebanon opening its first branch in Beirut City Centre. I personally never felt like trying it maybe its name scared me and was not sure what they meant by it... FatBurger? "eat and get fat?" I happened to be at the mall, my friend and I decided to give it a try. Nestled in the food court of the BCC, Fat Burger has a window, like all the others around, to order and have a seat in the common middle area.
The place:
The restaurant has an overall black finish
The logo is printed on a long black wall behind a row of red sofas and individual square tables
The menu is displayed over the counter
The open kitchen is clean allowing you to see what's cooking inside
A coke draft dispenser stands behind the cashier
So we approached the cashier to learn more about the concept; I asked: "Good evening Miss, why is it named FatBurger? Is it because it wwill make me gain weight?" Not knowing much about the company's history, she replied by saying that they have the biggest meat, this is why they are called fat. "Fine," I replied, "what's the meat weight?" "I don't know," she answered. Anyway, we continued browsing the menu to understand what's it all about. The menu is divided into a couple of simple sections displayed in a complicated way. A double cheese burger is prices at 14,000L.L without any fries or coke.
The menu:
Single, double, triple or quad
Chicken sandwich
Turkey burger
Veggie Burger
Add-ons
Sides and more
Speciality burgers
Make it a meal
Kid's meal
Milkshakes and drinks
The burgers, even though are pictured with two thick and juicy pieces of cheese, actually come without the cheese. You can add egg, cheese, "beef" bacon or chili for 1,500L.L each
We ordered, tasted and couldn't eat:
Double Fatburger (Double meat, bun, mayo, lettuce, tomato, pickles, onions, relish, mustard). Inside a stale bun is a dry non juicy piece of meat with an unpleasant commercial aftertaste. The overall dryness of the burger makes it hard to swallow. Imagine a dry sponge fitted with a super dry meat and decorated with crunchy vegetables. The sauce is not even felt to add taste to the mix. Inedible!
Western BBQ Fatburger (Meat, bun, mayo, lettuce, tomato, onion ring, BBQ sauce, relish, mustard). This one is even worse. The same dry and stale bun that's at least 3 days old. The dry meat with barbecue sauce leaves an unpleasant taste and aftertaste that sticks to your palate for more than 20 minutes. This is all you feel and taste - BBQ Sauce! To make things even worse, is the sticky, chewy beef bacon that is disgusting. I don't even want to remember the feeling if this cheap condiment
Mushroom Cheddar Fatburger (mushroom and cheddar sauce) - a joke. I would love to propose a game: Buy one of these, close your eyes and eat it. You won't know what you're really chewing. A neutral piece of a dry mix of something supposed to be food. Again, dry meat, dry bun and tasteless filling. It doesn't even look appetizing
Fatfries: Nothing to write home about.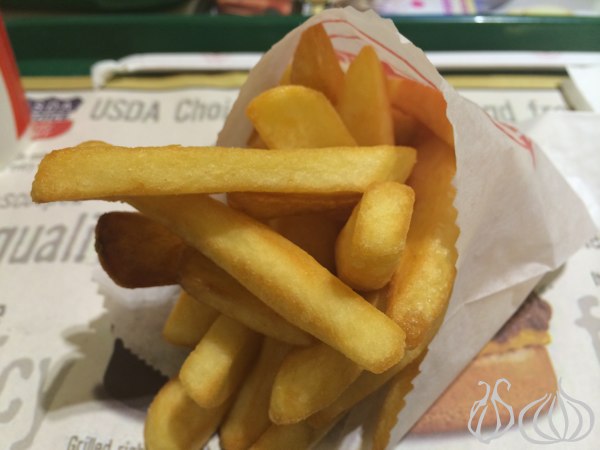 Skinny fries: Some pieces are cold, others are warm. Some are overcooked and others are undercooked. Unacceptable
We left the tray as is, looking for something to eat elsewhere...
I liked:
The bad:
The staff doesn't seem to know much about the brand
The pictures are wrong
The menu displayed on the international website has nothing to do with what our local franchise is offering. On the website, burgers are S,M,L,XL,XXL and the BBQ and Mushroom don't exist
The food is unacceptable and tasteless
After today's experience, I realized how proud I am of our local diners. This is an opportunity for me to congratulate our local diners and other burger joints for giving Lebanon some of the best burgers the world can offer. PS: I wonder if the mother company of Fat Burger knows about the quality their branch is serving in our country. I've heard good feedback about it in the states.