Enjoy a fine dinner in a pleasant lounge atmosphere on the roof.
Fly, located on the rooftop of the Virgin Megastore in Downtown Beirut, is more than a simple lounge with nice music and drinks but also a fine dining restaurant serving a large variety of salads and starters, risottos and pasta, plates and desserts. A simple yet varied menu.
The food choices:
- Salade Verte, Salade de Chevre, Salade Cesar au Poulet, Salade de Burratta et gelee de tomates, Salade de Crabe, Tartare de Crevettes et Avocat, Tartare de Saumon et Petite Salade, Tartare de Thon et Petite Salade, Panache de Taratre et Petite Salade, Carpaccio de Boeuf Black Angus, Rocca et Parmesan, Carpaccio de Pieuvre et Salade, Tartine de Rouget. - Risotto Milanaise, Risotto aux Crevettes, Raviolis aux Epinards, Penne Arabiata. - Filet de Boeuf Black Angus, Cote de Boeuf Black Angus, Poulet Grille, Confit de Canard, Saumon mi0cuit, Thon Mi0cuit, Daurade Royale Poelee. - Profiteroles, Fondant au Chocolat, Tiramissu, Cheese Cake aux Fruits Rouges, Pannacotta aux Framboises, Glaces et Sorbets.
The Place:
The minute you walk into the restaurant, everything inside is beautiful. Nice music - one of the best I've listened to in a lounge, restaurant - a cozy atmosphere, wood flooring, relaxing chairs, adequate lighting and a pleasant bar to enjoy a drink calmly. But the problem lies before entering the lounge. The entrance is a huge problem. You go up an old elevator and when you open the door you're welcome with the lovely site of water bottles and boxes. It is really unacceptable. It's like entering a storage depot of a cheap and unhygienic sandwich spot. For a place with an average check of $60 per person that is a shame and a reason preventing me from visiting back.
The dining experience:
Before going into the culinary part I will state that I really appreciated their use of Glass water bottles, Badoit and Evian, and the presentation of warm crunchy bread with butter before the meal. The waiter attending our table was professional and seemed to know every detail of the menu, but what I didn't understand was that in the middle of the night he disappeared and another one took his place. Weird. What I also didn't like were the place matts. Overused and old. It's time to change them.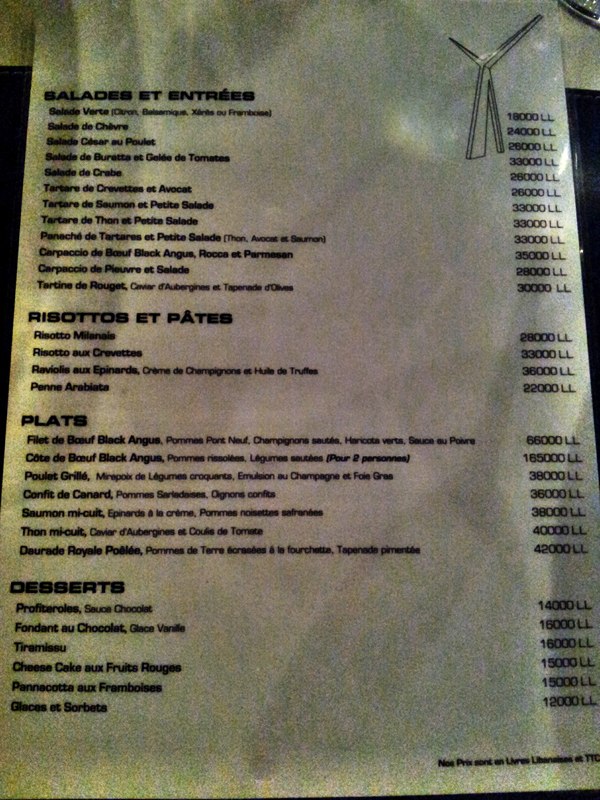 Food is good, correct and tasty:
- I liked the Crab salad that reminded me of the Crazy salad we order at Japanese restaurants and specially its sweet dressing. - Their specialties are their Tartare, since Michel Jabbour owner of the the Tartare restaurant on Monot street is the kitchen's boss. I tried the shrimp tartare that was served with six half pieces of prawns on a bed of fresh avocado, a mix that is perfectly seasoned: Great dish. - The Filet de Boeuf Black Angus served with potato cubes and green beans with its pepper sauce was very good. - The risotto Milanese could have been better. It was simple yet needed some mastering of the thickness of the sauce and the cooking time of the rice: made with beef stock, beef bone marrow, lard (instead of butter) and cheese, flavored and colored with saffron. The Fly's risotto was under cooked yet too aldente and a bit dry. The dish was changed and cooked more but still it needed more sauce to my taste. But I appreciated the gesture. The best Milanese risotto I've ever had was the one of the Armani Cafe in Milan followed by the Armani cafe in Istanbul (Look at the color and the consistency).
The combination of a Lounge-Restaurant is what you need this summer - visit the Fly soon especially to try the tartare.