My friends and I, decided to book a table at White Beirut, I took the initiative and reserved. I was informed; it's fully booked for the next three weeks. We said what the hell, since we had so much fun last summer, we accepted and reserved on Friday June 14 .
They usually call you to confirm your reservation on the same day. Since I was so excited, I gave them a call on my lunch break to confirm the table. The reservation line was closed. A while later I received a message stating:
"Please confirm your reservation before 4 pm or it will be cancelled. Thank you, white"
So I called back and the line kept on busy for more than two hours. No kidding. How do you expect us to call you back if your line stays busy? Uh ?
Finally I got a line through and the reservation girl goes like:
"Maximum eleven be there or it will be cancelled, (btw i saw many table empty, even after eleven). Oh i almost forgot, the Valet parking, one of my friends owns a Porsches and hates to wait 30 min to get his car back, which is always the case by the way. So he asked to park the car himself and pay the usual fe of 10,000L.L. The valet guy told him: "If u wanted to park it in the front you have to pay a 100$" I don't want to park it in front but in the normal parking and pay you the fee: "Yes, the fee is 100$, take it or leave it". Excuse me but in MONACO it s not that much!!!! We ended up paying 80,000L.L, to park the car ourselves. When we arrived with my friends, I gave them my name which is supposed to be the reservation name, she goes I don't have any reservation under that name, hopefully my friend knows Elie the guy at the door so he let us in. I wonder what's the purpose of reserving if you won't put us on the reservation list? Anyways we went into the elevator and to my surprise, we received that small high table, near the bar, where we could barely fit all six of us, where the table only fits four initially. We were all very disappointed even the tables next to us.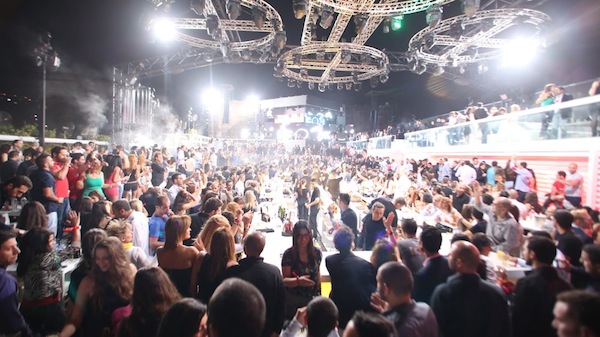 By the way the crowd changed it's all a bunch of kids!!!
We found our self in a school prom or in a first year university party and the music was nothing compared to last year!!
Who the hell do you think you are treating people like that !!! I don't understand i have to be X or Y or the daughter of X or Y to have a perfect service!!!! You should treat all people the same way!!!
I hope anyone will read this and take into consideration my complaint and comment maybe next time, if I plan on reserving again, I will receive a larger table, a better service and experience!!! Thank you.