Last week when the whole country seemed to be on hold due to the situation, all malls were empty, streets were deserted and the whole circulation was on slow motion- all thanks to Layla Abdel Latif who scared us all with her readings... Some of us won't take no for an answer and knowing that we may be taking a huge risk, my sister, mom and I headed down to Le Mall Dbayeh - some shopping and good food was just the thing we needed to sooth our worry souls 'as they say'.
Of course the mall was empty but we stayed and shopped and now it was time to eat. We followed the chicken feet prints that were printed near the escalators from one floor to another until we reached Deek Duke. I liked the idea a lot and thought it was a cute way to grab your attention and unconsciously lead you to their newly opened premises.
To our happy surprise, it was like a whole different world in there. The place was packed with families, friends, business meetings all happening in this uniquely beautiful interior which the new Deek Duke boasts. It's as if this restaurant is not a part of the mall on that day. Whoever was at the mall was at Deek Duke. I truly felt like I was in a different country. I loved the interior, the design details, the busy and smiling faces of the staff that were happy to serve.
I loved this place:
Everything is personalized with Deek Duke's logo and graffiti style messages
Their menu is fresh, big, colorful and makes your drool with hunger
The moving hen on the wall that looks like a huge clock ticking
Books and shelves all around
White and black ceiling
Red and white modern wall details
Pending yellow industrial style lights
The overall dimmed feeling at the place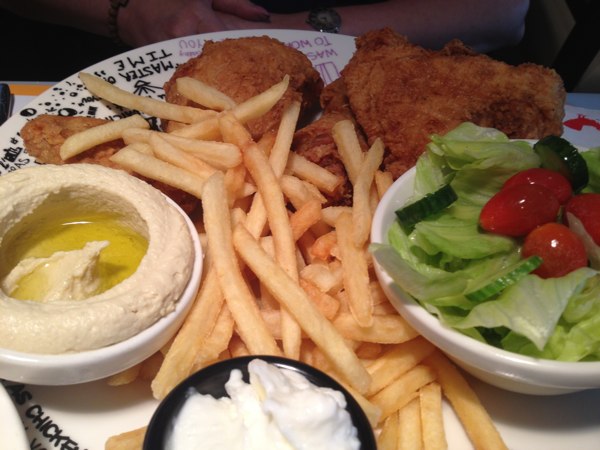 Menu Sections: Starters, Wings, Pasta, Salads and Soups, Sandwiches, Burgers, Platters, Deserts, Hot Beverages
We ordered:
Breaded Halloumi: Large breaded halloumi slices, served with thousand island dip
Herb Potatoes: Potato cubes with garlic and coriander
Steaky: Prime grilled beef filet slices with sauteed onions and mushrooms, lettuce, mayo and DD steak sauce topped with melted cheddar cheese
Chicken Caesar: Romane lettuce, Parmesan, black olives, croutons served with char-grilled chicken breast, served with Ceasar dressing
Chick n'Co: Half broasted chicken with your choice of baked potato, french fries or mashed potatoes, with house salad and hummus.
One thing I would advise them is that they use a little less oil in their preparations as well as make sure that the plates served are clean from the oil residues on the sides... We enjoyed the food, their generosity of portions served and the staff were truly over attentive. I hope they stay this way, especially, like you mentioned Anthony in your last article, waiters have become a true nuisance in our hospitality sector. I hope the management of Deek Duke will read this and make sure that they stay like they started...
Good luck guys, your new place is attractive and different... Good Luck.