Gilt... Come to think of it I am surprised that I still don't have a review about it on NGNO. Passing by for lunch or dinner has been difficult, but since I am looking for the best pain perdu in town, I have heard a lot of positive things about the one served at Gilt. I came in for some Pain Perdu yet left eating the whole list of desserts...
Located in the heart of the capital, next to Burgundy and the Ferrari showroom, is Gilt. Leave your car in the parking up front and walk a few meters to reach a huge glass facade where a mountain of chairs hangs from the ceiling. I'm sure you've passed and wondered what's inside. Before we start, it's worth going into some decor details at Gilt. What a lovely space where natural light fills the space during the day…relaxing and enjoyable. What an architectural marvel; Inside this long rectangular space with a very high ceiling, you will feel the power of wood. It's the "piece de résistance", as it covers the floors and walls… round and squared tables, a variety of different beautifully designed chairs, the bar… which is lit with many metallic lanterns pending from the ceiling.
Gilt has a choice of many mouthwatering desserts described in details on the menu. You will get that urge to order them all. Crunchy hazelnut orange cream, exotic baba, fondant chocolate tart, banana speculoos, profiterole, caramelized brioche perdue, sea salt caramel and a selection of sorbet ice cream...
I honestly came here for the pain perdu, when Sahar, an NGNO reader, suggested I try it before publishing my list, but unfortunately the Caramelised Brioche Perdue with vanilla ice cream was not available that day. Unfortunately for me, but complete respect to the chef, since he preferred not to serve it that day as he was not happy with the quality of bread. I will be back for it another time. Never the less, the choice of other desserts extravagant.
We ordered:
Crunchy Hazelnut Orange Cream (fresh orange segments, hazelnut biscuit filled with anorange cremeux, meringue, homemade candied orange peel top). Served in a bowl, a long finger of hazelnut biscuit lay majestically. Cut into this biscuit and enjoy the aromas that will fill the room. A line of soft meringue, a round piece of biscuit with cream lay on a bed of orange peel. A crunch and explosion of flavors follows…from sweet to savory and fruity all at once. Few orange quarters on the side add some finesse and freshness to the creation. This is simply love in a plate.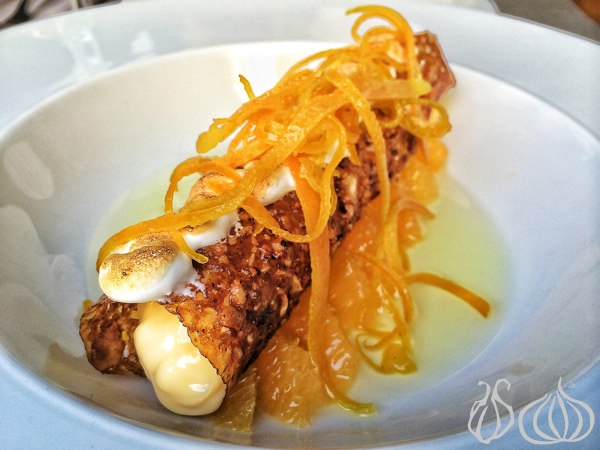 Fondant Chocolate Tart (crispy tart, melted chocolate filling, praline crisp top, and chocolate ice cream). Take a minute and enjoy the aromas before indulging into those piece of wonders. A thick piece of biscuit at the bottom, topped with a scoop of melted dark chocolate ice cream, Valrhona 80% and milk chocolate crispy biscuit. Praline with light crisps, a crunchy biscuit, smooth baked chocolate topping, melting chocolate heart... A cocktail of textures and enjoyable feelings and emotions. Two thumbs up for the creator.
Banana Speculoos (banana biscuit, fresh bananas and cream filling, vanilla Chantilly topping, cinnamon ice cream). A round piece of tart topped with whipped cream, decorated with crunchy wafers. A super crunchy, tasty and enjoyable biscuit filled with debs el kharroub and bananas. Topped with soft banana cream and a couple of banana slices while a small portion of whipped cream add this airy feel. Wow! The cinnamon ice cream on the side is awesome! Crunch, smoothness, softness, finesse... Love.
Sea Salt Caramel (crispy biscuit, chocolate mousse, caramelized peanut twill, passion fruit sorbet). On a round plate, three squares of biscuits topped with caramel are covered with chocolate mousse. One surprise follows the other... Soft biscuit that's crunchy and spongy crumbles while you enjoy the caramel taste. The chocolate mousse was marvelous, but there was more to come. Bam! An explosion happens in your mouth while the salted crunchy caramel breaks into a hundred pieces of passion and sumptuousness... then comes the passion fruit sorbet served on the side with dark chocolate couli at the bottom... Take a bite and make sure to include all of the above ingredients in one... And all you have to do is close your eyes and enjoy one surprise after the other...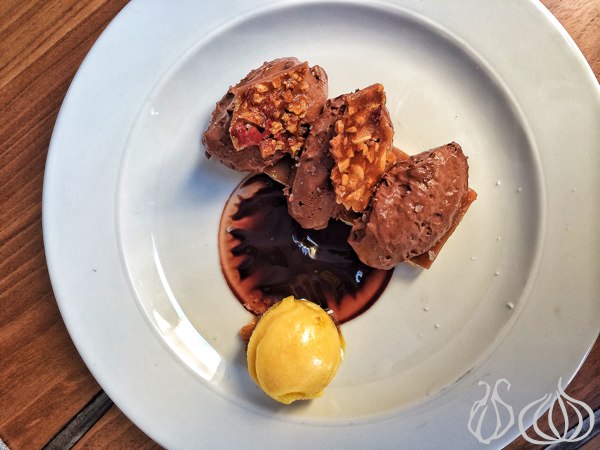 Exotic Baba (traditionally made baba dome, spiced pineapple syrup, and exotic fruit carpaccio). Fruit salad (slices of pineapple, kiwi and mango bathing in juice), topped with a round spongy cake and whipped cream served in a bowl. To be honest, this was my least favorite. I was expecting to feel the rum, the sponginess of the cake and the natural sweetness of the fruits but it was not the case. The sponge cake was hard with a sandy texture, the mix was a bit too sweet, too soggy and the whole thing lacked the required flavors. I'm happy that it was left for last.
Created by Chef Pierre Abi-Haila, prepare yourself to be amazed. I never imagined that Gilt offers something that good. I would like to congratulate Karim, our waiter for his professionalism and thorough knowledge of the menu.
Desserts cost an average of LBP17,000 each.
Everything today was great, an experience I seriously encourage to try if you haven't done so yet... so book ahead and go...