At the end of the Hamra street, and just before reaching Kaiten is Gino's. A nice looking funky small ice cream parlor on the corner of the street, Gino's serves freshly prepared Italian ice cream. Check their website and read Gino's story. It's an interesting and funny story behind importing the Italian traditions into the Middle East.
Stand in front of the fridge and ask for your favorite flavor. Today I've tasted different propositions that include Melon, Cheese Cake and Strawberry.
I loved about Gino's:
The special mixes like RedBull and Ferrero Rocher with strong and tasty flavors
The big and generous portions
The temperature and proper consistency of the ice cream
The minus:
The prices are a bit too expensive. It's unaffordable for a father with a big family to come feed his family ice cream in these during the hot summer days. One medium and another small for $10.
The ice cream is too creamy and heavy and I couldn't finish my medium sized portion, although we were promised a sorbet.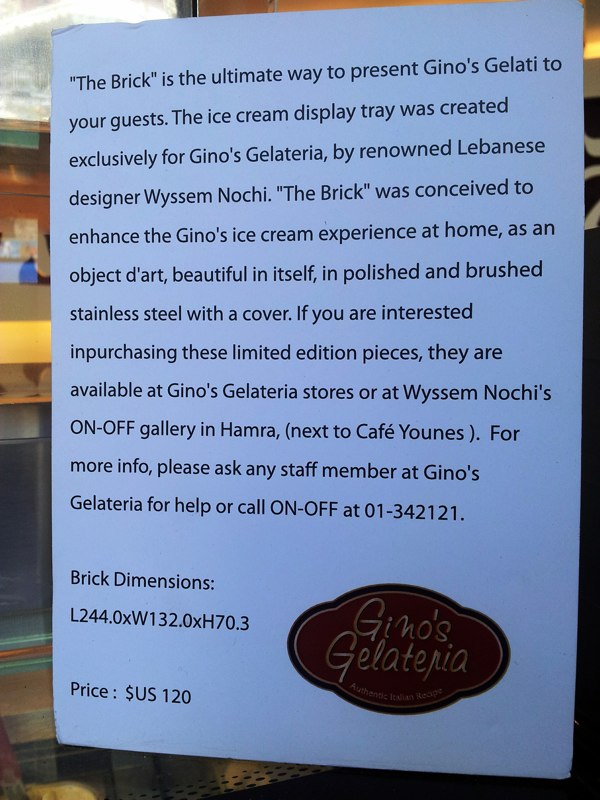 A List Of Gino's Most Common Flavors:
CHOCOLATE (A smooth milk-based chocolate gelato marinated in a special Lindt chocolate paste)
VANILLA (An antique vanilla milk-base)
STRAWBERRY (Fresh strawberry water base gelato crushed with fresh plain strawberries)
FERRERO ROCHER (Chef Gino's specialty and our best seller ever. This is an intense hazelnut flavor mixed with chunks of Donatella rock decorated with pieces of Ferrero Rocher chocolates)
YOGURT STRAWBERRY (Yogurt base mixed with strawberry flavor chunks)
AMERENA CHERRY FUDGE (Milk base vanilla with dark cherry topping)
DOLCE DE LECHE (An intense caramel flavor with toffee swirl throughout)
COOKIES (Gino's version of an Italian old favorite. Only milk, cream and pieces of cookies all mixed for another best seller)
KINDER CHOCOLATE (Very basic, sweet flavor. Used more frequently in Italy than vanilla. Delicious with fruit flavors, topped with Kinder chocolate)
COFFEE CRUNCH (Tre Vaniglie gelato paired with white chocolate espresso swirl & hazelnut praline)
PISTACHIO (We like to combine freshly roasted Sicilian and Californian pistachios for the perfect balance of sweetness and flavor. 100% pistachio)
TOBLERONE (Toblerone chocolate bar flavor)
BACIO (This is referred to as chocolate hazelnut with whole roasted hazelnuts; it is gianduja with whole roasted hazelnuts in the mixture. There is an Italian chocolate candy by the same name; the word bacio translates as kiss)
PANNACOTTA (Wedding Cake; Based on a cooked cream dessert from the region of Piedmont. Rich double cream flavor similar to white cake)
CRÈME BRULEE (Tre Vaniglie gelato with Sugar Caramel swirl, dark amber with a slightly bitter burnt-sugar aftertaste)
BUBBLE GUM (A fun interpretation of a bubble gum flavor, made with bubble gum flavoring)
RASBERRY (Milk-based gelato made with fresh raspberries.)
BANANA CHOCOLATE (Based on a traditional Southern recipe, it's made with fresh bananas, vanilla beans, egg yolks and fresh smashed bananas)
COCONUT (Milk-based coconut gelato. One of the few fruit flavors made with milk, instead of water)
WAFER (A new very rich hazelnut variegate with wafers)
STRATACHELA (Plain white-Milk base, the bases of Gino's authentic Italian recipe)
WALLNUT (A milk-base flavor mixed with our special walnut paste)
MANGO (Freshly sliced Alfonso mango, pureed for our smoothest fruit gelato)
WATERMELON (Water-based flavor made with fresh, finely chopped and strained watermelons. Note: the black spots are pieces of seeds)
LIMETTA (Pungent lime flavor, enhanced by zest of key limes)
RED BULL (Water-base sorbet with Red Bull flavor)
LIMONCHELLO (It tastes just like a freshly squeezed lemon very tart and refreshing natural flavor, enhanced by fresh lemon pulp) MANDARINELLO (Mandarin Sorbet)
ROASTED ALMONDS (Roasted caremelized almonds in Tre Vanigle gelato)
CHEESE CAKE (Rich cheesecake made with real pieces of cheesecake)
TIRAMISU (Based on the Italian dessert composed of ladyfingers soaked in coffee and layered with mascarpone topped with powdered chocolate)
SNEAKERS (Milk-base sneakers chocolate bar flavor)
DONVITO (Under the dark and bitter chocolate character, Don Vito hides a charming and intriguing wild taste of Raspberry and a heart of sweet vanilla full of passion.)
GREEN TEA (Our new Labor Day flavor, green tea is refreshing and delicate. It's a great late summer flavor for a gelato frizzante. Try it with Coconut and Mango!) C
ARAMEL (Caramel flavor with caramel Giuso topping)
DOLCE LATTE (Caramel latte flavor with chocolate topping)
CARAPINO (A milk-based gelato made with a hint of pine nuts)
MINT (An intense flavor of fragrant mint creates a new twist on an Italian Favorite)
DONUTS (A smooth milk-based chocolate gelato with a hint of mouth washing Donuts flavor)
BLUE (Smurfs Up!! A blue flavored bubble gum taste)
MUFFIN BILBERRY (Gelato made with a unique muffin flavor with a bilberry topping throughout )
CHERRY (Smooth and velvety milk-based gelato made with a cherry base flavor)
BROWNIES (Gelato made with brownie cookies and crunchy pieces of chocolate)
GREEN APPLE (Delicious sorbet made with bitter sweet, juicy green apples.
MELON (very intense water-based flavor made with fresh melon)
BLUEBERRY (Very intense blueberry flavor "Toot" made with freshly chopped blueberries)