I was so excited to taste some Lebanese/Middle Eastern food in Jordan... We entered an old house that was fully booked with a lively international crowd. Everything seemed to be good around here: beautiful sunny spells, fresh smells, white parasols, stone flooring, an old pavement, thick blocks covering the walls... You will feel like you're traveling back a hundred years, to the time when our ancestors used to call organic food; "food".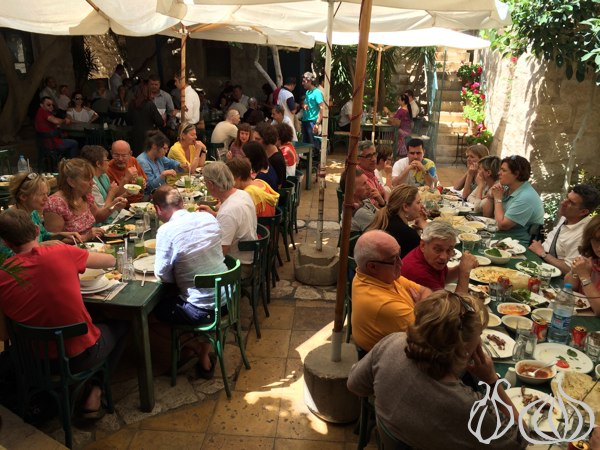 After the parking, enter an old house where a series of sofas welcome you. Enjoy a drink, a kind of refreshment after a long road and prepare yourself to enter the dining space. In the other court, a few meters away, is where everyone gathers for the feast. Green tables, old style chairs, white parasols and fun. Fun, love and life in a space that's so enchanting. Entertained by an Arabic musical background we awaited to be served.
From the moment it came to life, Haret Jdoudna was linked to Madaba, as was Madaba associated with Haret Jdoudna. Until our present day, it lives on to be a place where time seizes to exist, bringing together the past, present and future of an ancient city, Madaba. It is perceived as a well-known landmark and one of the best restaurants in Jordan.
Before the restaurant came to existence, the location was previously an ancient historical house located in Roman Madaba; the host of the unique and precious mosaics. Modern Madaba was then established by Christian Arab settlers who migrated in the early 19th century from Karak, a town south of Jordan. Today this landmark offers everything from amazing traditional food, to entertainment, to local crafts, mosaics and souvenirs. The restaurant is a 19th century house, with historical-like rooms and floors. Its menu is absolutely exquisite, offering local mezza dishes, oven-baked delicacies, and home-made meals.
How wonderful it is to watch an international crowd having fun. A Lebanese man in front of me was drinking arak, a Russian tourist was amazed by the locally baked bread which he was photo shooting like a star, a Korean to my right was appreciating every ingredient in the tabboule, while I hearing moaning sounds from the person behind me enjoying his hummos... I was hoping to enjoy my time as well.
Food turned out to be excellent!
Lunch started with a series of salads. Rocket and fresh mushrooms another of tomato and cheese and a third of fattouch. Cheese rakakat, kebbe, eggplant salad with diced vegetables, tabbouleh, grilled mushrooms, moutabal, fried tomatoes... The food here is excellent. Moutabal was really out of this world, the kebbe melted like butter, the cheese bites were incredible, hummus, decorated with green pepper, was tasty, and the tabboule was juicy and the meat was of good quality. Bravo. I was so happy to enjoy such a sumptuous meal created with love and passion.
Like Marisol, -a friend and member of the group- named it, "my coup de coeur" was the batenjen raheb plate or baba Ghannouj called locally. Served in a long bowl, the eggplant is mixed with crushed walnuts, diced tomatoes and green peppers, lemon and olive oil as well as a hint of finesse. All together on a piece of fresh lettuce... I enjoyed it to the max. Every bite oozes freshness. Water molecules explode under your teeth while the flavors erupt one after the other; amazing!
Just when I thought we were done, a tray, or saniya, landed on the table. Kafta and tahina. We enjoyed this plate the first night at
Sufra
, where I remembered loving it and was hoping to taste it again. I should have asked for a million dollars as the silver metal tray loaded with Kafta covered in tahina, topped with grilled potatoes. Soft Kafta and rich tahina. Yum, full of flavors.
I enjoyed my lunch a lot. The experience, from the minute I walked in up until I left, was great. I had a happy experience that left me smiling all afternoon.
Located in the town of Ma2daba, just a few kilometres away from Ma3in, Haret Jdoudna is a fine restaurant that serves good food. Come here for the ambiance, enjoy the soothing moments, the Arguile and good food, of course. I was so happy to eat Lebanese food that good outside my country.