Jimy's Beyrouth is the latest pastry shop to open in Mtayleb area in Lebanon. I pass by it daily, to and from work, as I live near by... Of course my curiosity to know more about this place and what it has to offer was killing me. One sunny day, I just parked my car and went in to discover something new to share...
Jimy's
opened around 9 months ago on the Mtayleb internal main road near Jesus and Mary school. Owned and managed by Mrs. Elsa Mousallem, this pastry chef has one and main motto: "Use the best ingredients to reproduce the classics of pastry". Without any sophistication, and without following any trends, the fridge is filled with classic pastries: Eclair, baba au rhum, sable, boule au chocolat, cheese cake, tart and many others.
Elsa Mousallem, the pastry chef behind the concept studied at the Lebanese American Univeristy (LAU) before leaving to Paris for a master in pastry at the Ritz Carlton Hotel. She decided to create her own brand using the best of ingredients without any synthetic colorants.
The place in few lines:
I love the logo: Jimy, in handwritten form in classy gold fonts on the main wall
Take a couple of steps down, Jimy's is a small place that hosts a display fridge to the left and an ice cream tower on the right
Chocolates and candies fill the space. A variety of designs are available depending on your needs and special events
Pain au Lait and olive bread are packed in small nylon bags and displayed next to daily made croissants
Manny large cakes are always on display and ready for take away
Adequately lit, the space is soothing and relaxing
On display today:
Chocolate, coffee and rose eclairs 4,000L.L
Apple tart 4,000L.L
Chocolate sable, apricot and strawberry 4,000L.L
Baba au Rhum 4,500L.L
Lemon tart 4,000L.L
Boule au chocolat 4,000L.L
Biscuit au chocolat 4,000L.L
Blueberry cheesecake 5,000L.L
Gateau a la rose 5,000L.L
Succes chocolat 4,500L.L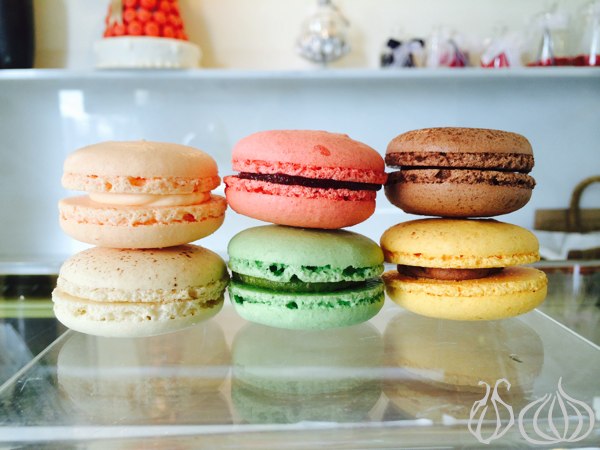 I've tried to have a general idea:
Macarons: I tried the Pistachio one, which I found a bit too sweet and creamy for my taste, as well as while the chocolate one which was crunchy from the outside and filled with dense chocolate filling. It leaves a pleasant aftertaste in your mouth
Eclair Chocolat: I like the chocolate filling and consistency and its shape. The dough is a bit too thick and chewy though. I would have preferred it more airy with a lighter feel
Tarte au Pomme: This one is excellent. A crunchy and fresh dough filled with apple filling. Thin layers of cooked apple that melt under your teeth like butter
Baba au Rhum: This is the best I've had. 2cm of spongy and moist dough enriched with rum covered with whipped cream and pineapple slices. I love how it's all homogeneously consistent. The strong rum flavor makes it unique and enjoyable
Chocolate Sable: An interesting piece, crunchy, fresh and using a fine chocolate despite

the fact that it can be less buttery
What I would improve:
The temperature set in the fridge should be lowered. The cakes are too cold, masking the original flavors
The labels on fridge display and the website should include an English version: Not everyone understands French
The sweetness of the cakes must be lessened
Macarons are empty from the inside: I tried to cut them in half for a picture but it was impossible. The dough should be more consistent
The Chocolat "Moelleux" was not melted. It should be cooked less
The ingredients are here as well as the known how, but in order to compete with the many good places in town, they must add some fine tuning to their creations.
I was promised an interesting selection of ice cream for the summer season. Will surely be passing by soon for more.
Meanwhile, I am curious to know what you think of Jimy's creations? Share your experience with us.
+961 3 871827