The last time I tried Johnny Rockets was in March 2012 during a visit to Riyadh. Back then, the experience was exactly as I had expected it to be - juicy fatty and oily. A burger exactly like the ones we have at typical American diners; and Johnny Rockets is an American spot, after all. Remembering the experience while I was in Dubai, I started craving for some junk food. I headed down to Johnny Rockets located on the Marina walk… and what an experience it was!
This is what Johnny Rockets should be, but it was not:
Johnny Rockets is an international restaurant chain that provides the food, fun and friendliness reminiscent of feel-good Americana. On June 6, 1986, the first Johnny Rockets opened on Melrose Avenue in Los Angeles, offering guests friendly service and great food in a fun and nostalgic atmosphere. Every original Johnny Rockets restaurant boasts great tasting food from a menu of favorites including juicy hamburgers, classic sandwiches, and hand-dipped shakes and malts. Guests also enjoy an all-American look and feel, tabletop jukeboxes and authentic decor.
What I can say in few words: The bun was hard and dry. It's like it was produced a week earlier, the meat was over oily and not too tasty, and the overall presentation looked cheap and stingy.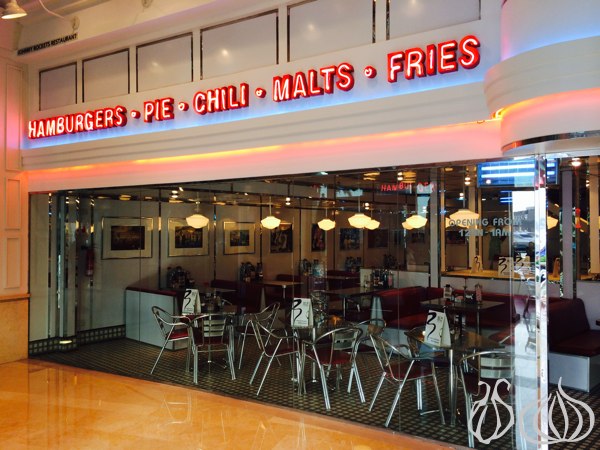 We ordered:
PHILLY CHEESE STEAK: Thinly sliced sirloin steak, grilled & topped with grilled onions & cheese. Served on an authentic hearth-baked Amoroso roll. A chewy meat that takes too much to cut and eat that you forget about all the other ingredients. As for the cheese... too much! Overwhelming! I didn't enjoy it at all.
ROUTE 66: This favorite is named after the iconic, carefree, American Highway. Swiss cheese, grilled mushrooms, grilled onions & mayonnaise. Acceptable but not great; I expected much better. I expected a better meat, juicier and more consistent. The bun on another hand was too dry, produced the day before.
BACON CHEESE FRIES: American fries topped with melted cheddar cheese and chopped smoked bacon. Good enough to eat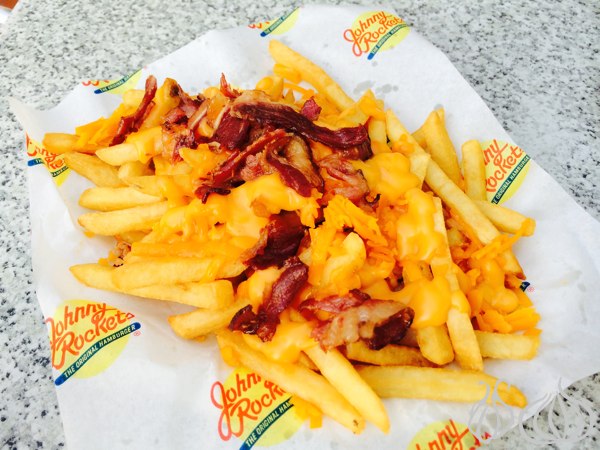 THREE MINI BURGERS: The plate looked weird and stingy. I was expecting to taste three different choices but that wasn't the case. I couldn't feel the ingredients, the bread covered over all the other ingredients. The proportionality of the burgers is incorrect. A tiny meat for a thick tomato, too much lettuce and a thick dry bun. This is not something I recommend.
The place's felt weird. I didn't enjoy the American hospitality and the authentic American diner experience. I ate a bite of everything and stopped. It was not worth the fat and calories. It was pure unwanted cholesterol. I wished I had kept the last memory I had at Johnny Rockets. The Johnny Rocket's experience on a cruise ship around the Mediterranean was better and we were in the middle of the sea.