What was the hype all about. Everyone told me, it's weird you haven't tried Kampai yet - its one of the best sushi restaurants in town. I thought... "is that possible, better than Sushi Bar which I rate as the number one?"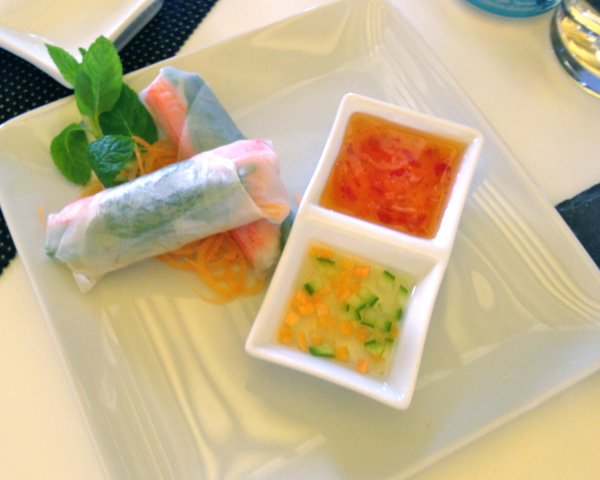 For some time, people have been talking about Kampai, located in Beirut Central District, serving a wide choice of Japanese specials to the Lebanese, who love this type of cuisine. Many have compared it to The Sushi Bar placing Kampai in the high end category of restaurants in Lebanon, maybe they say so for its expensive decoration or its hefty bill or is it for the good... I decided to try it out for myself once and for all, and I thought when better than on my wedding anniversary should I try a fancy place that everyone is talking about.
Before even starting and just by entering the restaurant, I was disappointed. The lighting is very bad, the waiters need much more training and know how and to be honest the food is not that extraordinary.
The architecture and design:
Indirect lighting, giving a dull dimmed yellowish ambiance
Three wine coolers facing the entrance
A drink bar and a sushi bar with high stools
Rectangular long tables with only one single round one hosting six guests sitting tightly
A lot of reflection from the mirrors over viewing the streets and the mirrors covering the walls giving the place a larger feel
Individual leather chairs wrapped with white wood
The menu sections: Appetizers, Soups, Tempura, Salads, Breaded, Dimsum, Stir Fru Wokky Wok, Hot Spots, From The Grill, Special Treats, Sushi, Hozo Maki, Temaki, Ura Maki, Fried Maki, Dessert
We ordered:
Edamame
Veggie Fresh Rolls
Shrimp Fresh Rolls
Crazy Craze Salad
Kampai Honey
Green Atlant Salad
Siu Mai Shrimp
Ira Maki: Crispy Crazy, Panko Shrimp, Shrimp Jalapeño, Salmon Skin, Spicy Salmon Roll, Twin Roll, Fresh Vietnam, Caterpillar, Grilled Salmon, Rainbow, Morning Glory, Cheesy
Snow White
Black And White
Red Snow
Tutti Fruity
Angel Maki
Nested Maki
Halloumi Maki
Temaki: Crazy, Salmon Skin, Spicy Salmon
Chocolate Tart
Mochi Japanese Ice Cream: Melon, Caramel, Strawberry, Custard
The Food: Shocking! I really don't understand what the fuss has been about. The food presentation is very cheap. I was expecting something classier and more mouthwatering. The pieces are very average, nothing extraordinary that makes me want to come again. The wraps are too watery and fluffy. They mix everything all together, putting all the tastes that do not fit on the same plates. Kampai, in a nutshell, serves less than average food in an non-enjoyable atmosphere... it's far from being a competitor to Sushi Bar and can't even be compared to it...
So why is it that expensive and always fully booked? I have no idea.
The things I liked:
Chopsticks are presented in a triangular shaped closed boxe - very nice. But just the box, see why below...
The wine glasses are nice, thin and professional
The seaweed salad and its crunchy vermicelli is one of my favourite creations tonight
The staff is joyful, happy and welcoming. All remarks are accepted with a smile - although like I said they need much more training
The minuses:
Ura Maki and Fried Maki are the only items with pictures on the menu. I didn't understand why since all items should have pictures for customers to know what to order. A very few people understand Japanese food and can imagine how each piece will look like
When you receive such beautifully shaped chopsticks boxes, you expect to find something classy and special inside, and not the average low quality bamboo sticks
The yellow dimmed light makes your eyes uncomfortable and the pieces actually look weird and ridiculous in color. Check the pictures, you'll understand - and compare them to other images which were taken during the day. It was uncomfortable to my eyes while taking pictures. Without going too much into the technicalities of photography, it makes you want to sleep. I'm not a fan.
The place is too loud and too noisy and add to it a musical beat background which will drive your nerves to want to leave the place
The wine list is not up to Kampai's standard
Waiters need more training. It's Shocking!
They serve water in cheap plastic bottles and not glass ones like they do or should do in higher-end restaurants
Am I too negative? No! Cause I was expecting much better. I was simply shocked. To be very honest, Kampai is not even in the same ball park as The Sushi Bar... It's far from being the best and far from being number one in Lebanon. Much much more needs to be done and improved to reach perfection.