How can you spend two hours at an airport without getting bored? I'll tell you how a whole hour passed-by in a split of a second when I found a little piece of paradise in Paris Charles de Gaulle, Terminal C. La Maison du Chocolat's shop made me spend a full hour, tasting, taking pictures and enjoying a sweet discussion with the saleswoman.
Nestled in the heart of Terminal C to the left after security control,
La Maison du Chocolat
- a little shop selling premium chocolates, macarons and ice creams. Yes, ice creams filled in little cups. If you're traveling through Terminal A or C, his place is a must stop. What started as a simple curiosity turned out to be the highlight of my trip back to Lebanon.
The welcoming and super professional shop manager welcomed me with a huge smile, making sure that my experience in her store will be a pleasant one. Asking what my preferences were, she toured me around the place pointing out the things that match my desires.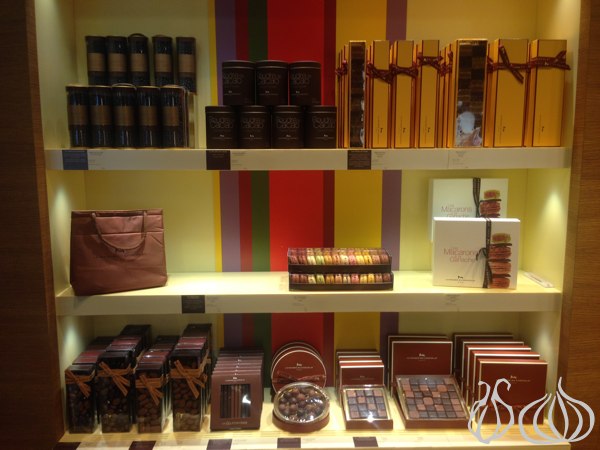 We started with "Tamanaco", La Maison du Chocolat special dark selection from around the world. After having selected five cacao crus from around the world, La Maison du Chocolat crafts recipes with distinct and elegant ganaches for chocolate lovers to discover all the subtleties of this brown colored «gold»:
Dark anache from Venezuela (69%): This Venezuelan ganache pronounced notes of red fruits and reveal an acidulous side
Dark ganache from Madagascar (64%): This ganache from Madagascar has intense cocoa and Vanilla unveils itself late on the palate
Dark ganache from Brazil (62%): This dark ganache begins with an intense rush of chocolate with notes of dried yellow fruits while lingering woody, smoky notes invigorate the taste buds
Dark ganache from Dominican Republic (64%): This dark ganache will transport you to sunny lands with flavors of nuts: almonds, walnuts, and hazelnuts
Dark ganache from Ghana (68%): This dark ganache awakens the palate with robust notes of chocolate, then reveals presences of roasted nuts and roasted coffee at the end of the tasting
Recommendation for tasting:
Cut your chocolate in two, smell it, and taste the first half to acclimate your palate. Taste the second half to feel the sensations. Drink a sip of water between chocolates to rinse away any lingering flavors. Chocolate reveals its flavors best at a temperature close to 20°C. If you have stored your coffret at the recommended temperatures of 12 to 15°C, place your coffret at room temperature 30 minutes before embarking on your Cacao journey.
More was yet to come. The gentle lady offered me a small square to taste:
Salvador a la Pulpe de Framboise
"Salvador" is a dark chocolate ganache made with fresh raspberry pulp. It was the first "fruited" chocolate bonbon created by La Maison du Chocolat founder Robert Linxe. This classic ganache features three distinct sensations: the crunchiness of dark chocolate couverture, followed by the delicate tanginess of raspberry, rounded out by velvety smooth chocolate.
For purist and dark chocolate lover, this bouchee is filled with a plain semi-sweet dark chocolate ganache. A real and pure chocolate taste. I really enjoyed it.
I really couldn't stop. I was so happy and enjoying the aromas, beautiful smells and mouthwatering flavors.
A bit later, the corner of my eye spotted a dark chocolate ice cream. So, why not try the dark chocolate sorbet: Chocolat Corsé (extra dark chocolate). White milk, cocoa butter (11%), sugar, skimmed milk... Oups! I was until now so happy. WHy is this ice cream so bad? 11% and they call it a dark chocolate? What is really dark about it? I'm sorry to tell you that this ice cream, for a dark chocolate lover and connoisseurs is bad, really bad. It tastes milk so much that I couldn't eat more than two spoons. The label name has to be changed!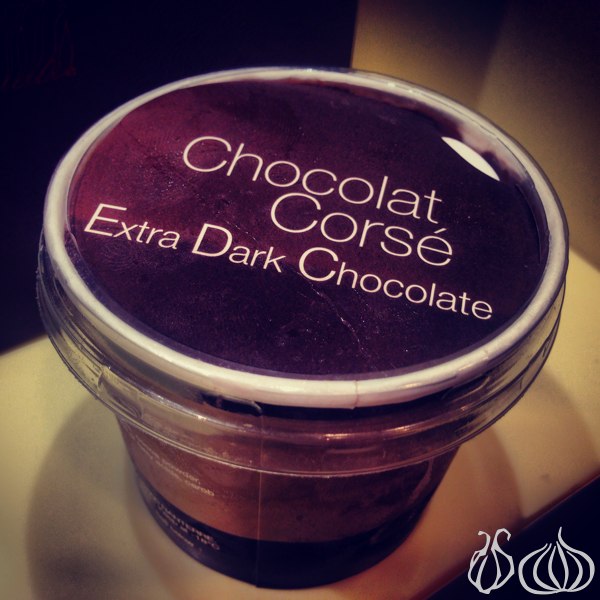 I enjoyed the chocolates so much and the shop even more; but surely not the ice cream flavor I tried. I'm sure that the fruit flavored ice cream are better. I will be passing by again on my next trip to try the ganache macarons and fruit flavoured ice cream.
Keep this place in mind the next time you are passing along the Terminal C of Paris Charles De Gaulle airport. It's a gem!