Enter into a world of a hundred aromas and colors that activates all your senses. A place where, when you enter you won't feel like leaving... it is a place rich in ingredients and flavors as well as products to enjoy. Although smaller than Le Grande Epicerie de Paris, this site is different mainly for its unique and ultimate wine haven - I am talking about Lafayette Gourmet - a wonderland for foodies located in Galeries Lafayette.
A bit of history to refresh our knowledge. The Galeries Lafayette is an upmarket French department store company located on Boulevard Haussmann in the 9th arrondissement of Paris. In 2009, Galeries Lafayette recorded earnings of over one billion euro. It is a part of the company Groupe Galeries Lafayette. In 1895, Théophile Bader and his cousin Alphonse Kahn opened a fashion store in a small haberdasher's shop at the corner of rue La Fayette and the Chaussée d'Antin, in Paris. In 1896, their company purchased the entire building at n°1 rue La Fayette; in 1905 they acquired the buildings at n°38, 40 and 42, boulevard Haussmann and n°15 rue de la Chaussée d'Antin. Bader commissioned the architect Georges Chedanne and his pupil Ferdinand Chanut to design the store at the Haussmann location, where glass and steel dome and Art Nouveau staircases were finished in 1912. The Haussmann location, which serves as the flagship store of Galeries Lafayette, is a 10-story structure located at 40, boulevard Haussmann, in the IXe arrondissement of Paris. Galeries Lafayette in Paris hosts a favorite weekly free fashion show for visitors.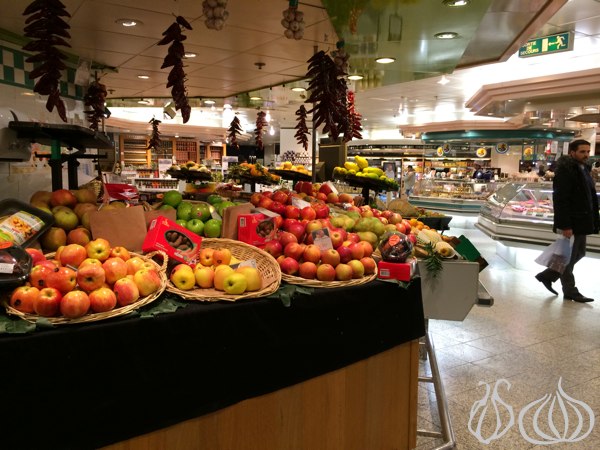 Lafayette Gourmet occupies an area spanning 3,000m² bringing you the very best in fine food for your daily grocery shopping as well as serving up great gift ideas. A home delivery service is also available. A feast for the eyes and the taste buds, this mouth-watering delicatessen offers up simple and gourmet foodstuffs, delicious French produce and specialties from the best food brands around. Foodies will be in heaven here as they get to sample different cuisines and flavors from all four corners of the globe at the various tasting bars. Discover the most prestigious brands at Lafayette Gourmet as well as regional specialties, international specialties, a spice counter selling in bulk and an organic deli.
Explore the food hall offering foie gras, truffles, fishmongers with a live fish tank, oyster bar, seafood platters, Italian produce and delicacies, fruit and vegetables, cold meats from the Alsace, aged raw milk cheeses, a traditional butcher's counter and poultry from Méral. You will find all the major brands at the fine for delicatessen:
Fauchon, Ritz, Maxim's, Comtesse du Barry, Costes
Chocolates: Valrhona, Cluizel, Pralus, Chapon, Jean-Paul Hévin, Dalloyau, Aoki
Ferber preserves, Château d'Estoublon oils, Maille mustards and Leonardi balsamic vinegar
Teas: Marriages Frères, Kusmi, Dammann…
For the true foodies amongst you, take time out to sample some of the specialties on offer at one of Lafayette Gourmet's many outlets:
5 Jotas with its famous Iberian Pata Negra ham
the "Grill Poissons" fish grill and oyster bar
Petrossian caviar, salmon and foie gras
Mediterranean specialties courtesy of Mavrommatis
The Sushi Shop
Laura Todd Cookies
And don't forget Le Barouge restaurant, offering a varied menu of local dishes, complemented by a selection of our sommeliers' favorite wines.
Galeries Lafayette also regularly hosts special events, inviting famous chefs such as Michel Guérard and prestigious wine châteaux (Montrose, Cheval Blanc) to come along and create exceptional dining experiences. A must visit if you're passing by the French capital...