Nestled in the heart of Tabaris, a busy neighborhood of Achrafieh, L'Atelier du Miel boutique is fully dedicated to honey and honey products. Founded by three young people from different backgrounds - all with a common passion for nature, beekeeping and artisanal work. Committed to producing pure honey through natural methods, Marc and Ralph Abi Nassif along with Rabih Traboulsi joined venture opening a unique piece of design setup selling premium honey products.
Facing "Les Caves Du Taillevent" in Tabaris, a single door shop cannot be missed. Wooden doors decorate a large glass facade showing the activity inside. Hundreds of honey jars just waiting to be discovered.
The concept is simple yet innovative:
The main architectural challenge faced when designing the boutique was to be able to display the largest variety of honey types that come in three jar sizes each, and to stock the largest quantity of honey in a small space of 30 sqm. L'Atelier du Miel is a result of a joint effort between architectural design and graphic design, and proposes a solution that unifies display and storage in custom designed modules that would fit the three jar sizes. Today, the 30 sqm boutique can fit more than 3 tons of honey simultaneously, and display more than 30 kinds of honey and honey products while giving each kind its importance in the overall design.
"We carefully chose the galvanized metal grating as material for our modules, because its lightness and reflectiveness give emphasis to the products rather than just creating storage space. Much more than only proposing a solution, the design also tells a story – one that reflects nature's cycle and the seasonal work of the bees. In fact, given each honey kind is branded with a different color, the dominant color of the boutique changes according to the season and the honey we harvest – for example in the spring the dominant color in the boutique is red reflecting cherry blossom honey harvest, while in the summer, the color of the boutique tends towards green reflecting the oak honey harvest." Marc tells me.
The 2 tons harvest is displayed in small jars, each in its own module, exactly the way bees store nectar of flowers in the hexagons of their hives. The continuity of modularity in the metal grating itself, repeating the modularity of the jar cubicles at a smaller scale, also opens up a window to sends us back to where it all began – in the fields
Wanting to look into the details of honey, I went to L'Atelier Du Miel where Marc welcomed me for few hours where I learned a lot. I don't remember the hundreds of questions I asked, but I can assure you, that since that day, my perception about honey and bees has changed drastically. I can honestly tell you that I have been reading about bees and tasting honey every single day since.
The place is superb... A great piece of architecture:
Everything is perfectly displayed on the hundredth of shelves
Galvanized steel is used all the way with a white background of wood
Real wood covers the floor
Only earth materials are used to remember the origins of the bees work
A long bar, in the middle, constituted of wood as well, serves as a tasting counter
Wooden doors differentiate the shop from all other shops on the same street
88 lamps light the shop in style
Honey constitutes 98% of the shops products, as well as candies, jams and and a fridge
The details of architecture are so perfect that the Air Conditioning is also covered
To produce natural, rich and a unique set of honey, L'Atelier du Miel carefully selects its natural sites to fully benefit of the richness of the Lebanese territory, unique in its position, mountains and diversity of climatic conditions. The company is characterized by a unique production method that consists of repositioning beehives every three months to follow seasonal flower blossoms, allowing bees to feed only on nectar of flowers and on honeydew of trees, and to produce natural honey with diverse tastes and countless virtues.
Thereby, bees harvest nectar and honeydew from Cedars in Barouk forests, Oak trees in Keserouan forests, from fields of cherry in Zahle, peach and apricot trees in Rechmaya, hawthorn in Kab Elias, thorns in Ain Dara, Medlar trees in Saida, and orange trees in Tyre and Akkar.
The continuous and complicated process takes no break. The bees are moved from one location to the another all year long depending on the seasons. The beehives that are now in Barouk to feed from Kharroub trees are moved in December to another region. February is the nuts season, March the lemon season and so on. Moving the bees from one field to another allows the producers to be able to offer more than 13 different kinds of honey from Lebanon alone.
The interesting things I learned:
The physical properties of honey vary, depending on water content, the type of flora used to produce it (pasturage), temperature, and the proportion of the specific sugars it contains. Fresh honey is a supersaturated liquid, containing more sugar than the water can typically dissolve at ambient temperatures. At room temperature, honey is a supercooled liquid, in which the glucose will precipitate into solid granules. This forms a semisolid solution of precipitated glucose crystals in a solution of fructose and other ingredients
Honey is a mixture of sugars and other compounds. With respect to carbohydrates, honey is mainly fructose and glucose, making it similar to the synthetically produced inverted sugar syrup, which is approximately 48% fructose, 47% glucose, and 5% sucrose. Honey's remaining carbohydrates include maltose, sucrose, and other complex carbohydrates.

As with all nutritive sweeteners, honey is mostly sugars and contains only trace amounts of vitamins or minerals.

Honey also contains tiny amounts of several compounds thought to function as antioxidants, including chrysin, pinobanksin, vitamin C, catalase, and pinocembrin.

The specific composition of any batch of honey depends on the flowers available to the bees that produced the honey
Royal Jelly is a honey bee secretion that is used in the nutrition of larvae, as well as adult queens. It is secreted from the glands in the hypopharynx of worker bees, and fed to all larvae in the colony, regardless of sex or caste. When worker bees decide to make a new queen, either because the old one is weakening, or died, they choose several small larvae and feed them with copious amounts of royal jelly in specially constructed queen cells. This type of feeding triggers the development of queen morphology, including the fully developed ovaries needed to lay eggs. Royal jelly is filled with vitamins and great for the body
Generally, honey is classified by the floral source of the nectar from which it was made. Honeys can be from specific types of flower nectars or can be blended after collection. The pollen in honey is traceable to floral source and therefore region of origin. The rheological & mellisopalynological properties of honey can be used to identify the major plant nectar source used in its production.
The Local Honey produced by L'Atelier du Miel:
1‐Cerisier et fleurs de printemps (Wadi el Arayesh, Bekaa)
2‐Eucalyptus et fleurs de printemps (Kanater Zbeideh, Mount Lebanon)
3‐Aubepine (Zaarour) et fleurs de Printemps (Kab Elias, Bekaa)
4‐Fleur d'oranger (Akkar, North Lebanon)
5‐Neflier et fleurs d'automne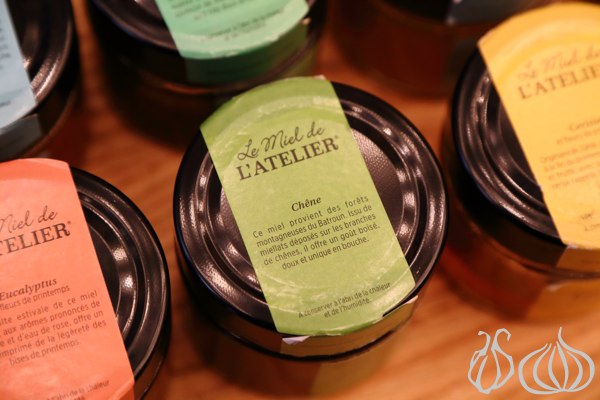 8‐Chene en Rayon (with Honeycomb) (Ghbeleh) 9‐ Cèdre et fleurs d'été (Barouk)
10‐Cèdre et fleurs d'été (Tannourine)
11‐ Epines et fleurs d'été
12‐Néflier et fleurs d'automne (Alman, South Lebanon)
Honey with Nuts :
2‐Amandes et Miel d'Acacia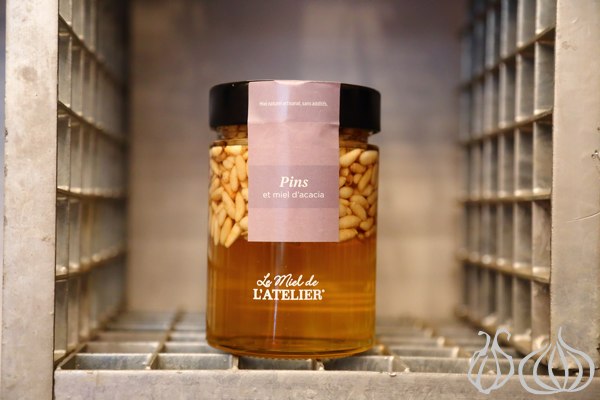 4‐Fruits secs et Miel d'Acacia
International Honey :
1‐Bruyere (Landes, France)
2‐Framboisier (Vancouver, Canada)
3‐Amandier (Valencia, Spain)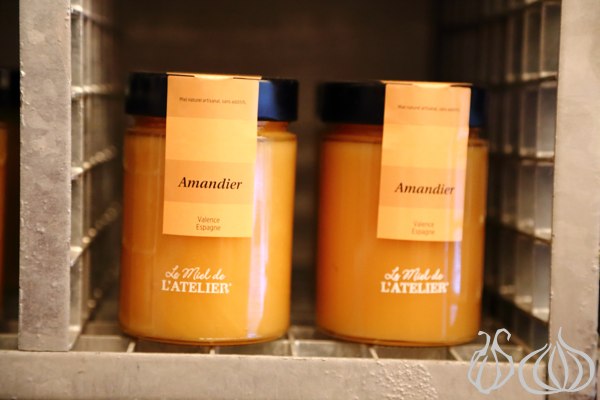 5‐Tilleul (Nievre, France)
6‐Citronnier (Valencia, Spain)
7‐Romarin (Narbonne, Espagne)
8‐Prairies Naturelles (Jura, France)
9‐Acacia (Bassin Parisien, France)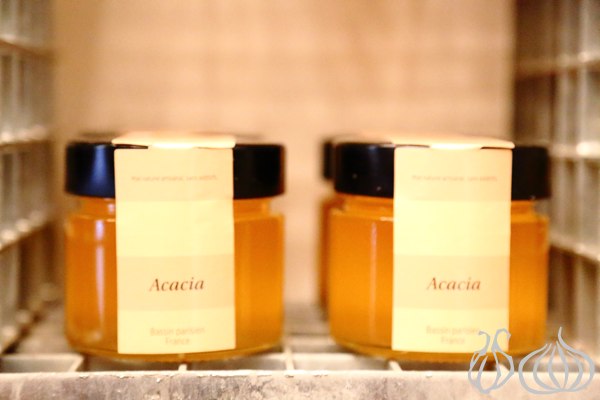 10‐Montagne (Alpes de haute provence, France)
11‐Foret (Haute Loire, France)
12‐Lavandes Sauvages (Valence, Spain)
Les Confitures de L'Atelier :
Les Gourmandises de l'Atelier:
Bonbon dur au miel
Bonbon Fourree au miel Vinaigre au miel Moutarde au miel
Pain d'epices
Financiers
Nougat
Bouquet de miel et confiserie (Box of 8 different kind of honey 30g)
Maamouls au miel
Maamouls au miel et cannelle
Glaces with ND (Nathalie Dimas): Honey based Ice cream with yellow fruits
What is the difference between Lebanese and French honey, I ask:
Bees can travel up to 5kms in a single day. In France, fields are vast up to 10kms, so bees eat from the same product all the time. In Lebanon, on another hand, Bees are brought up in forests where a large variety of trees and flowers live one next to the other. The end product is richer and has more flavors, colors and tastes.
Good to know:
The most popular honey in Lebanon is the oak tree
The Medlar tree (Neflier) is the least available and rare to find
Known as "3asal bishahdo" is Honey with its honeycomb
The average prices are as follows: (35$ for the 850g). (11$ for the 230g). (19,5$ for the 450g)
The tasting session:
Lebanon:
Oak tree: One of the darkest colours. Lightly sweet with one single aroma. It's a honey to taste alone without bread. Can be enjoyed with a spoon. Unifloral. It's consistency is harder than the eucalyptus
Eucalyptus: Many flavors. Sweeter. Many after tastes follow. This honey has a reddish colour. Takes you to trip around the mountains
Hawthorn (Zaarour) aubepine: Lightly yellow. Multifloral. Great benefits (2 seasons) includes honey dew as well. Light flavour.
Neflier: Different consistency. Crystallized. One of the most famous and the rarest. No aftertaste
Orange blossom: Considered as a digestive. Strong concentration of sugar
Figs Jam: Aromas caress your nostrils before even crunching into the natural figs mixed with honey
Blackberries: Crunching bites, a bit too sweet but rich
French: Clear and simple. One flavor and one texture. Slight yellowish colors
Prairies naturelles: close to the supermarket taste
Accacia: too sweet and enjoyed by children
Tilleul: One of my favorite among the imported range
The day spent at L'Atelier du Miel is a day I will remember. A day where I learned about bees and their majestic life. A day where I got introduced to the empire of honey, its different aromas and flavors. Until today, I wasn't a fan of what I considered simply sugar. I can assure you, that after visiting L'Atelier Du Miel, you will be amazed to the extent that you will start eating honey every single day, just like I do now.