L'Hôtel Albergo Relais & Châteaux a le plaisir de vous annoncer l'organisation du onzième anniversaire du Festival de la Gastronomie Française qui aura lieu du 24 au 28 octobre 2012 sous le Haut Patronage de Son Excellence Monsieur Patrice Paoli, Ambassadeur de la République Française au Liban.
Au Programme: Mercredi 24 Octobre: Jean-Jacques Noguier, La Ferme de l'Hospital, Bossey
Chef Jean-Jacques Noguier was born in Orange, in le Midi (Mediterranean part of France in the South East). Before creating his own recipes, Chef Noguier worked in various areas from charcuterie to pastries. He really enhanced his culinary know-how at "La Reserve de Beaulieu" (in the city of Villeneuve-les Avignon) and "La Bonne Auberge Chez Rostang" in Antibes. He continues his career as Head Chef at the "Golf-Club" of Bossey until 1994. In the same year, Chef Noguier decided, with his wife, to open their own restaurant and purchased a historical farmhouse named «La Ferme de l'Hospital» in Bossey, France. Jeudi 25 Octobre: Fabrice Vulin, Chateau de la Chevre d'Or, Relais & Chateaux, Eze
Fabrice Vulin, a member of the Culinary Academy of France and Compagnon des Devoirs du Tour de France, joined the Château de la Chèvre d'Or in 2010. This outstanding, generous chef had managed to win 2 Michelin stars in 14 months as Chef at the Parc des Eaux-Vives in Geneva. Between 2006 and 2010, Fabrice Vulin succeeded in turning 'Dar Ennassim Fabrice Vulin', his gourmet restaurant at the five-star Palmeraie Golf Palace Hotel in Marrakesh, into the best restaurant in the city. Fabrice Vulin, a man of action and a seasoned traveler, and also a rigorous and warm-hearted man draws his inspiration from this legendary Relais & Châteaux property poised between surf and turf to please the most discerning of palates. Vendredi 26 Octobre: Jean- Christophe Lebascle, Manufacture, Issy-les-Moulineaux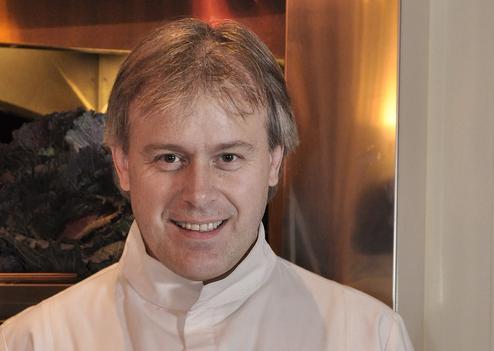 Originaire de la région d'Angers Jean-Christophe Lesbascle fait partie de ces restaurateurs autodidactes, dont la seule école fût celle de l'expérience. Et quelle expérience ! Formé dans de prestigieuses maisons (Le Fouquet's, Apicius et l'Appart, entres autres). Jean-Christophe avait eu par le passé la lourde responsabilité de diriger le restaurant français lors de l'exposition universelle de Séville en 1992. C'est en 1994 qu'il prend la direction de la « Manufacture » en s'attelant à remettre au goût du jour des recettes traditionnelles. Veillant à la qualité de ses produits, de ses fournisseurs, de son travail comme au bien être de ses clients. Samedi 27 Octobre: Patrice hardy, La Truffe Noire, Neuilly-Sur-Seine
Just a stone's throw from Porte Maillot, in a smart and elegant setting, Patrice Hardy has made a name for himself as a virtuoso of the noble truffle. His extensive culinary repertoire brings out the full glory of the ingredient. His exclusive recipes feature on every part of the menu, from starters through to dessert. White or black, in autumn or spring, truffles play a new kind of starring role every season, adding a special touch to both traditional recipes and signature dishes such as the toasted "croque truffe". The excellence of this new take on local cuisine will delight anyone who loves fine food. Dimanche 28 Octobre: Diner des 4 chefs a 8 mains
Tous les diners seront accompagnes de Champagne Laurent Perrier et d'une selection de Grands Crus soigneusement choisie en fonction du menu du chef.
Read More About My Last Year's Experience