After their huge success in the French capital Les Caves de Taillevent opened in Lebanon a couple of months ago. Acknowledged as one of the most important showcases for French viticulture, Les Caves de Taillevent offers a unique choice of more than 900 wines, from the most famous appellations to the most discreet. Over an area of 500sqm, 6000 bottles span over three floors, offering original, uniquely found bottles scouted around the world from vineyards you would have never imaged to exist...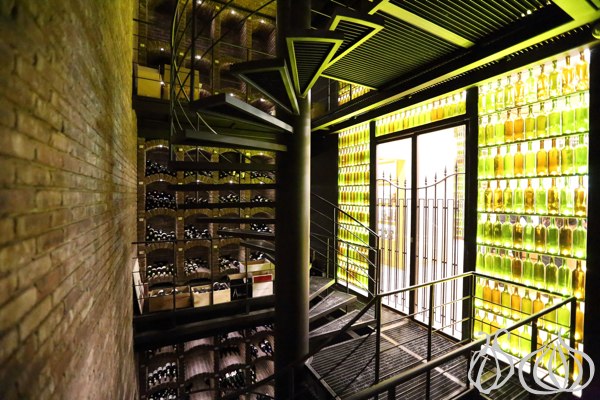 You can't be a wine lover and not know about  Le Taillevent's one of Paris' most renowned restaurants.
To recap a bit on the name:
Le Taillevent is a famous Michelin Stared restaurant in Paris. The restaurant was named in a tribute to Guillaume Tirel, called Taillevent, a cook in the 14th century known to have written the first cuisine book in French, 
Le Viandier
, ordered by Charles V of France "the wise". In 1987, Taillevent opened a wine shop, 
Les Caves Taillevent
, at 199, Faubourg Saint-Honoré street in Paris. This wine shop is under the direction of Valérine Vrinat, who began to work for Taillevent the same year. The renowned name has found it's way to Beirut, opening another wine store in Achrafieh in 2013.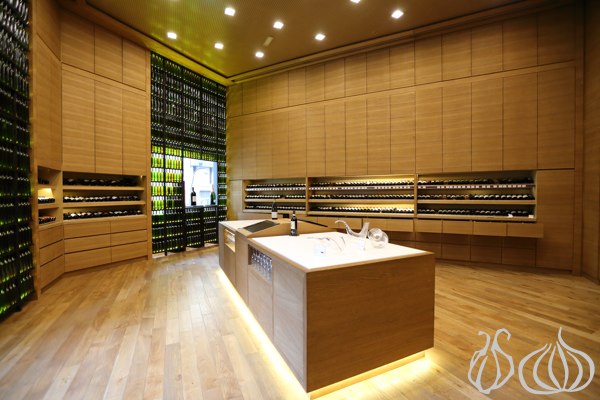 One sunny afternoon I decided to head down to Achrafieh and discover what's behind those high black facades and I'm happy I did so. You enter into a wide cubical with its high ceiling and reflective walls that really soothes your senses. Warm yellow lighting coupled with spells of green shades enter the air-conditioned space that's filled with rich aromas of purity. I stood mesmerized as I appreciated each and every single architectural detail.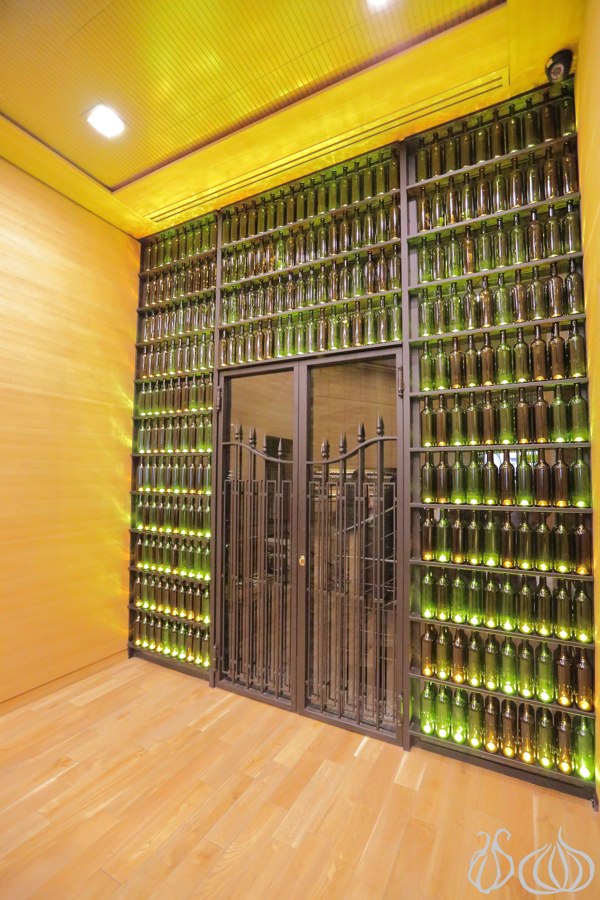 Beirut's grand wine connoisseurs heaven of Les Caves de Taillevent is stretched on a 500sqm surface divided into four distinctive spaces. All guests have to access through the main boutique then have a choice to continue to the bar or access the three-story wine cellar that leads to the academy on the first floor.
The boutique:
A high ceiling that relaxes all your senses
Empty green wine bottles are perfectly setup around the walls, decorating the space and adding a hint of green all around. All are lit in both yellow and white lamps emphasizing on their color
Wood, pure light wood is what constitutes the rest of the space where shelves display the complete wine collection
To the left, a hidden corner offers a wide selection of liquors, whisky, calvados, eau de vie, Arak, cognac and malts to complete the collection
A wine shop is not perfect without the fine wine accessories which are all found in here as well
A metallic door protects the rich treasure of the three floors cave
In the center, a large square tables is used to display the latest arrivals and wrap the customers buy outs. Two screens add a hint of technology
The place blends with the neighborhood with its high glass facades giving a view of the busy street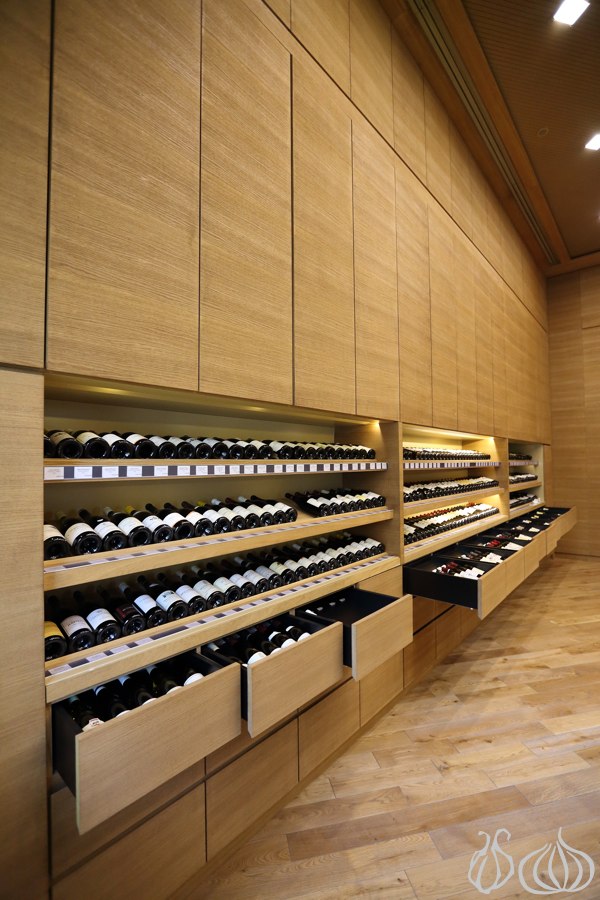 The Academy:
A space for you to receive, learn and organize your private meetings
A low ceiling illuminated with white spot lights
A large room with its private restroom to organize corporate workshops of 12 persons or more
A large sink at the right end accommodates the unneeded wine after every bottle tasted
Three wine barrels remind you that you are in a wine cellar
Real wood parquet covers all the floor
A light wood classy ambiance
Brick and wood walls decorates the space with a refined touch of French flair
Leather high chairs these are my favorite, surrounding the oval table where each turns around a middle support allowing you to interact with your neighbors
A large 60inch screen is centered in the middle of the brick wall
Facing the brick wall, the wooden one is covered with white cartons to write down the courses legend
A glass facade, shows the restaurant underneath
The main piece is an oval table that can host 12 guests and having a lit glass center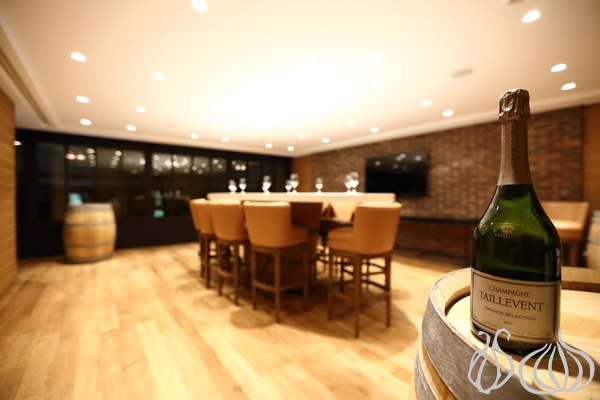 The bar: A Cozy Space
Wood round tables with relaxing light brown sofas
The main seating area, just at the entrance is constituted of green sofas and a square table
A view of the back garden makes you relax and feel like sitting outside
Three wine barrels display the already opened fine bottles of wine
Big, huge bottles look like pieces of art and decorate the space
Lamps, add a soothing fine touch that make you feel at home
A long stainless bar with a large display of alcoholic beverages has green high chairs, the same as the ones found in the academy
The bar proposes a light food menu to couple your desired wines
Individual roses decorate every table
Beautiful thin wine glasses are used for this fine experience to be unique
Peugeot salt and pepper decorate all the tables
You can enjoy more than 12 different bottles by the glass or choose any bottles from the cellar and have it consumed with an additional $25charge
With premium bread from Prunelle and Charcuterie from Jean-Charles in Achrafieh, you will definitely give your taste buds an ultimate pleasure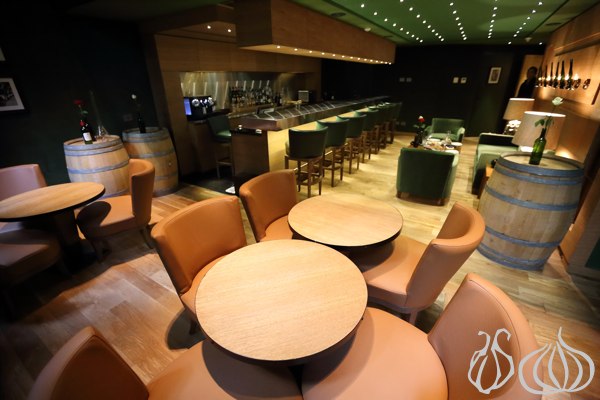 The Team:
Les Caves de Taillevent has a team of motivated people with experience in the field. A good example would be Paul Choueiry who's an Enologue from Dijon (burgundy) and has worked in France's Chateauneuf du Pap and Chateau de Movin to name a few renowned chateaus, where he has worked in the wine production field and then moved to retail with an experience in Monaco, Beirut Duty Free as well as Fattal Group (where he developed a foreign wine category within their liquor distribution network) and now he's the manger and sommelier of Taillevent Beirut.
The main area: A fine wine Boutique:
900 different wine bottles
Mostly French wines
Three Lebanese references and an international selection
The wines are divided by region: Burgundy, Bordeaux and some fine but unknown producers
Each region's wines are classified by alphabetical order of appellation
Les Caves de Taillevent brings you a large selection of small wineries from all over France which produces a couple of thousands of bottles yearly. Passionate wine artists is what they call them can now be found at the Beirut's shop. France has a rich climate that differs according to the geography of the region. Wines are more that Burgundy and Bordeaux. With prices starting  at $29, the selection is worth having a look at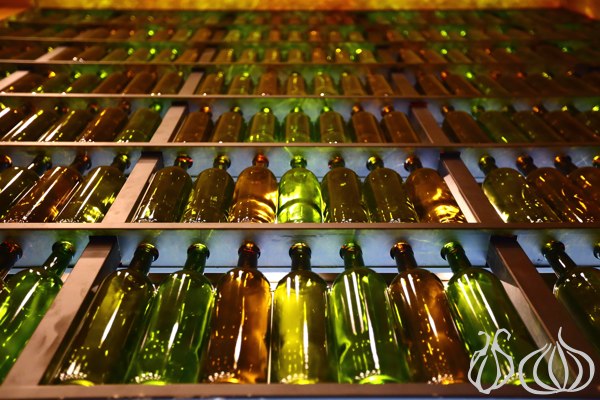 Did you know:
You can associate wine and vines to human beings. They have a life of around eighty years with a productive peak around the age of 40 (Courbe en cloche)
Eighty years the vine becomes lazy
After fifty years vines are removed. Five percent are renewed every year.
"Les vins ne vieillissent pas tous pareillement"
Lebanon pays only 35% tax on European wines making them more affordable on the market
Lebanese wineries have increased from 5 to more than 44 in the last ten years
The three floors wine cellar is constantly preserved at 18degrees with a humidity of 70%
You can rent your own space to keep your wines. Les Caves de Taillevent offers you to possibility of having a safe (Wine Banking) where your collection is taken care off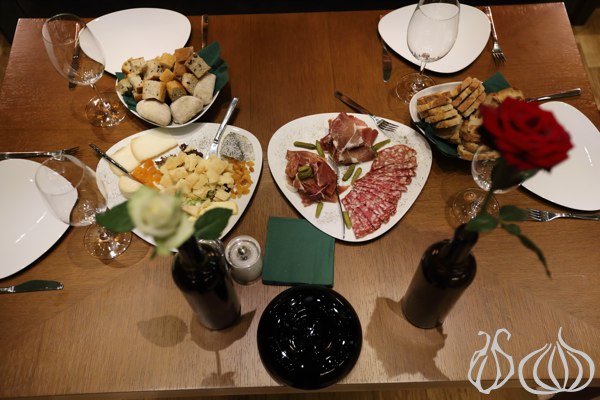 In few words: This is definitely a place to check out. A paradise for wine lovers.