Parisian style brasserie meets old Lebanese house on popular Mar Mikhael with Les Fenêtres. Go up the stairs and step back in time: the dark wood marble-topped tables, leather banquette, lace net curtains that adorn the imposing windows, grand wood and marble bar and mellow lighting are evocative of mid-20th Century Paris. Interesting first impression at Les Fenêtres... But sadly the culinary experience didn't trigger any of my other senses!
Hearing about Les Fenêtres' early brunch, we decided to head down
with a bunch of friends and our kids to take advantage of the last sunny Sundays of the season. Les Fenêtres proposes a brunch menu every Sunday starting 10am until 4pm; where large choices of breakfast and lunch items are proposed. There's no doubt that the setup and interior of the place is unique... The sculpted balcony that hangs over the main road has an ambiance that is influenced by the mood of the numerous little bars that line the street below; to the rear of the brasserie, a back garden terrace, lined with bushes and dotted with trees, is an urban escape, quiet but for the chatter and of customers and clatter of cutlery.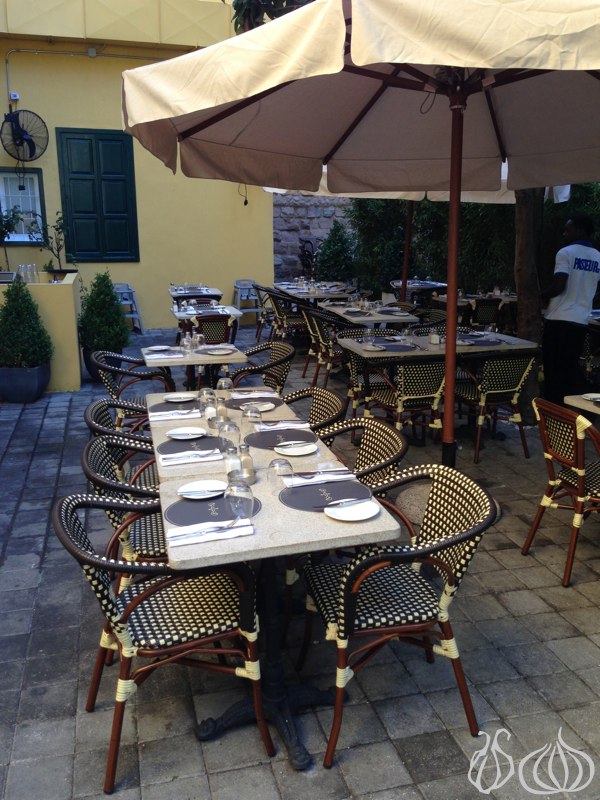 An unique corner in Beirut:
In the middle of Mar Mikhael's strip, take the stairs up to the first floor of an old yellow building
A large terrace welcomes you with trees that can give shade on Sunny days
A rectangular space covered with square stones and decorated with dozens of green trees
Marble square tables fill the restaurant surrounded with Parisian style chairs
Parasols block strong sun spells
Facing the terrace is the main restaurant with its white doors and green windows
Inside, an old Lebanese house transformed into a restaurant. Three distinct rooms one hosting the bar, another private seating and the main hall
The floor is constructed of old tiles that add a touch of finesse
Walls decorated with French style paintings
White fabrics placemats cover the dark wooden tables inside and other round paper ones do so outside
...and it stops here.
The menu sections and choices:
Boulangerie (Panier Du Boulanger, Croissant, Pain Au Chocolat)
Oeufs (Omelette, Oeuf Benedictine, Oeuf A La Royale, Oeufs Et Epinards Au Four, Oeufs Brouilles Et Saumon Fume, Full English Breakfast)
Salades (Nicoise, Frisees Aux Lardons, Fruits Rouges, Capitale)
Plats Principaux (Croissant Croque Monsieur, Croissant Au Chèvre Et Tomate Sechee, Breakfast Burger, Foie Gras, Crevettes Marie-Rose, Steak Tartare, Fish And Chips, Saumon, Huitres)
Accompagnements (Salade Verte, Frites)
Les Boissons
Les Boissons Chaudes
Les Desserts (Creme Caramel, Ile Flottante, Tarte Tatin, Sticky Toffee Pudding, Souffle, Creme Brûlée, Tarte Aux Fruits Rouges, Cannele Bordelais
The Square Of Choices (Pancakes, Frutis Secs, Yaourt Au Miel, French Toast Au Chocolat Et Banane, Sorbet Citron, Glace Vanille Et Chocolate)
The food:
Le Panier du Boulanger 9,000L.L: A small basket which contains a brown toasted slice of bread, a mini croissant, a mini chocolate croissant, a raisin roll and couple of white sliced bread; served with red fruits jam and butter. This is a good and tasty combination even though the lemony jam needs more sweetness.
Green salad with red fruits 18,000L.L: A simple green salad with two strawberries and two berries. Good enough
The Eggs with Spinach in the Oven 18,000L.L: This is a good creation. Served in a circular porcelain bowl filled with sautéed spinach with a cooked egg on top. Even though it's tasty, I found this plate over priced like almost everything on the menu. The presentation can be better and more appetizing
Eggs Benedict 22,000L.L: Two thick pieces of dry and breaking bread don't taste or look like English muffin pieces. Two slices served cold and covered with ham slices and minuscule poached eggs on top all seasoned with Hollandaise sauce. Not great! The English muffins should be softer, the egg portion bigger, the ham better presented and the overall mix should contain less oil
Breakfast Burger 28,000L.L: The first impression is just great, especially when you see this French baguette stuffed with bacon, an egg and a thick piece of meat. I really loved the idea of creating a rich burger in French bread, making it adaptable for breakfast...But unfortunately the good experience stops as soon as you touch the sandwich. An unpleasant smell of eggs blocks your nostrils as the burger approaches your mouth followed by the discovery of the extremely dry and super fatty meat that is over spicy. And here, you ask yourself: Is this Kafta or a burger? 28,000L.L for such a thing? Nope!
Fish and Chips 39,000L.L: This dish is considered a popular street food in England and doesn't cost much. When I read the price, a feeling of interrogation traveled around my head. For 39,000LL, I expected to eat a magical piece of creation with not a single mistake. Served with a green peas puree and a tartare sauce, the chewy breaded fish feels like a chewy corn flakes "Special K" chocolate bar. This is a big NO!
Pancakes with Maple Syrup 14,000L.L: Two thick pieces of pancakes with a hint of maple syrup on top. I found these over spongy and lacking taste and sweetness. More maple syrup should be served on the side
Pain Perdu 20,000L.L: A simple piece of bread covered with caramelized bananas and a sweet milk chocolate sauce. I would have enjoyed it much better if its name was changed to Milky cake with chocolate and bananas. This is not a pain perdu!
Croissant Croque Monsieur 19,000L.L: Wow! No don't get your hopes high. My wow is an ironic one... One single bite that shocked me with its bitterness so I stopped. I don't recommend this sandwich.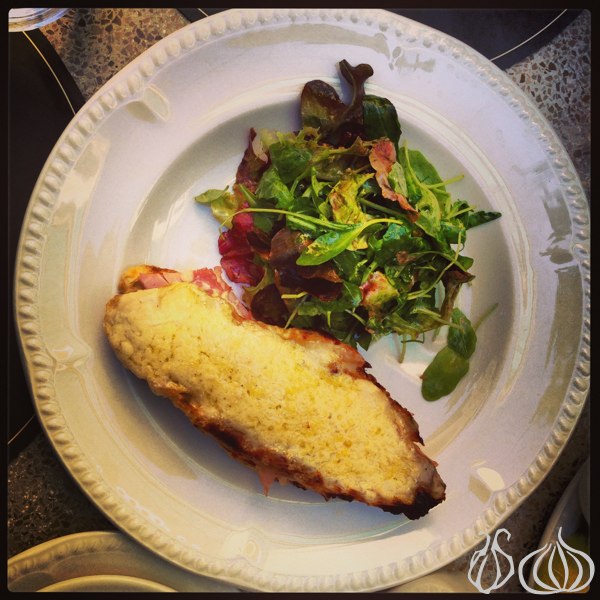 Omelette with Herbs 14,000L.L: A dry circular UFO-like cooked eggs filling the whole plate. Unappetizing.
Canelé de Bordeaux 13,000L.L: Let me stop a few minutes on this one...
Let me share with you the definition of a
canelé
(A canelé is a small French pastry with a soft and tender custard center and a dark, thick caramelized crust. The dessert, which is in the shape of small, striated cylinder approximately two inches in height, is a specialty of the Bordeaux region of France but can often be found in Parisian pâtisseries as well. Made from egg, sugar, milk and flour flavored with rum and vanilla, the custard batter is baked in a mold, giving the canelé a caramelized crust and custard-like inside.) We received a tasty juicy sponge cake that doesn't even look, feel or taste like a canelé, floating in caramel sauce. The inner part of the canelé should be white, what we received was dark grey. I think the name must be changed the soonest. Another thing... 13,000L.L? Why? This is too pretentious.
Unfortunately, the culinary experience was shocking! Almost nothing seems to be tasty!
The things I liked:
The place is nice to pass by for coffee
Glass Sohat water bottles are used
Thick white table napkins add a touch of finesse
Special circular placemats, a change from the competition
Chocolates by Patchi are served with your espresso
The plates look nice
The waitress proposed to take care of the kids while we eat
The minuses:
Only two baby chairs are available in this restaurant. Excuse me, are only two babies allowed here?
Menu is not clear and too complicated
The prices are way too expensive and pretentious
Service should be close to perfect, especially for the prices proposed
Service is not what I expected at all:
Our waiter was not as happy as he should be on a Sunday morning
They forgot to ask us about drinks: Guys, we are coming for breakfast = Coffee
Standing in the middle talking with each other, their attitude was not the best you would expect
The waiters don't know the origin and ingredients of the plates. Many questions were left unanswered
Is it expensive? Over

Is it tasty? Far from it

Would I come back again for brunch? No
I hope Les Fenêtres is not that bad for lunch or dinner... I will visit soon enough, hopefully after forgetting today's experience.