Lina's has a new menu, well maybe it's not so new but it was for me, since I haven't been there in a while... The menu, printed with a hard cover, hosts 12 glossy pages with beautiful mouthwatering images of their best sellers.
The menu offers 15 choices of salads followed by 25 choices of sandwiches and 4 light sandwiches... You'll be lost: Five choices of bread (olives, nature, grains, pavé and complete) followed by the starters and salads, the sandwiches, the light sandwiches, desserts and beverages. And don't skip the frozen cocktails part which is important to look into. Mind you, there's a choice of 7 sauces to add to your salads... so the choices are endless and will please everyone.
On the same week, I went to three of their branches - Jal El Dib branch, ABC Achrafieh and
Rabieh
and the three served the same quality of tasty food and generous portions. But sadly the service in all three was not so good. They need to attend to this problem... After all, Lina's a renowned international name made famous for their sandwiches, specialty coffees and casual ambiance, that has found its way into Lebanon and branched out strong and fast throughout the years.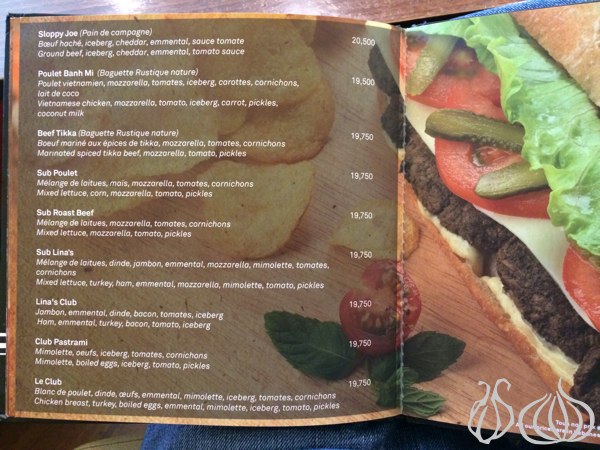 Let's enjoy some tasty food:
I personally went for the Greek salad which I enjoyed a lot. A large portion of rocket leaves filled in a round plate decorated by a circle of tomatoes, slices of cucumbers and feta cubs on top. A fresh salad I ordered with mustard vinegar sauce. The salads at Lina's are very good, fresh, generous and enjoyable.
My friends had the goat cheese salad which comes with strawberries, figs, walnuts, lettuce and maple syrup topped with goat cheese crumbs. An all time favorite which managed to transform a classic into a sweet and sour creation where cheese, fruits, vegetables and sweet syrup can put a smile on your face. The avocado and chicken salad was as well excellent. A tender chicken, mature avocado, a boiled egg, Parmesan and lettuce.
Halloumi light sandwich served in whole grain bread satisfied my hunger. A fresh and crunchy bun filled with unsalted halloumi cheese, avocado, avocado paste, tomato, iceberg and cucumbers all for 335 kcalories only. I loved it.
In another branch, I went for the light tuna sandwich in fresh and crunchy whole grain baguette filled with a mix of tuna in lemon sauce and topped with tomatoes, pickles and the crunch of a thick iceberg at the end that introduces an enjoyable texture to the sandwich.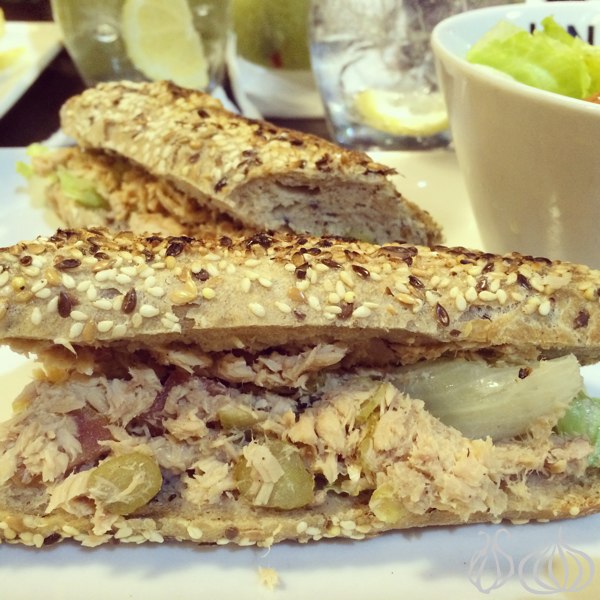 I tasted the club sandwich from my wife's plate which I found to be just perfect. Its textures, its feel, juiciness, subtle sweetness and ingredients, all prepared to perfection. The sandwich size is fulfilling, perfect for lunch or dinner.
Our friends had the meat wrap, a special edition as well as the grilled meat sandwich topped with melted cheese and filled with corn and mushrooms. They both were amazed by the quality and taste of the food as much as us.
On our third visit, I went for the salmon in ciabbata bread. A generous quantity of fine salmon layered on white cheese. Nothing could be said about this sandwich.
The only minus is the service which seems to be inconsistent. Sometimes it's slow while other times it's unprofessional. The staff at their Jal El Dib branch is rude, the ones in Rabieh were not attentive while the service in ABC Achrafieh was slow - but all was forgotten as I bit into the sandwich.
The food was exceptional during the three visits although the service needs to be attended to. But generally I never had a bad experience at Lina's and have always left fulfilled and happy to have enjoyed some good salads and tasty sandwiches.