As Easter approaches, the quest to find the best maamoul in town becomes harder. I have tasted many, went to three different places and received a dozen different kinds by various makers in town... so far nothing has captured the attention of my taste buds. It's true what they say. Making good maamoul is art by its own right.
The challenge is to master the making of the dough. Like French sable, the dough should crumble into a hundred pieces as you bite in. But of course that's not all. The inner filling that plays an important factor here must be fresh and clean from any side residue. The mix should be mixed perfectly to create a tasty marriage that's not chewy, not too hard and not too sweet.
Every bite should be perfect. We eat maamoul once every 365 days a year... They must be amazingly tasty.
I was reaching a point of desperation until I was told that
Nicolas Audi
is producing some fine maamoul. I thought why not try them. They must be good since they are made by one of this country's renowned chefs. Nicolas Audi's maamoul are indeed unique on all fronts. In a long rectangular box you will find 12 bites. Two lines of maamoul, six on each layer, beautifully and neatly packed in double-decker plastic fillers. I didn't know that maamoul could be ordered by a set of six pieces. I made sure to try the traditional flavors before venturing into Nicolas Audi's special creations flavors like  "wared", "3asal" and "bosfere". What was supposed to be a tasting session turned out to be a wondrous moment of appreciation, where I ended up eating 12 pieces all by myself.
Pistachio Filling:  Finger shaped and covered with powder sugar, the Pistachio maamoul is the longest one in shape. I enjoyed its intense green pistachio purée filling, completely cleaned from any skin or shell residues. Adequately sweet,  soft dough that crumbles into a hundred pieces at the touch of your teeth and an enjoyable pistachio flavor... If this one was so good, so simple and so majestic, what was coming next should be marvelous, I said to myself...
Dates or Tamer Filling: You can believe me when I say that these tamer maamoul are like no other in town. All of the tamer maamoul I've tried in the past decade are intense on all levels. They are filled with ingredients that are sticky, chewy, dark in color, which normally ignites unpleasant acid burns. Totally the opposite, Nicolas Audi's tamer maamoul are soft, tender, light and with an interesting purée-like consistency. A subtle flavor of dates filled into fingers of a brown crunchy dough.
Rose or Wared Filling: Just imagine eating real rose petals, caramelized and sweetened. Stuffed into round shaped maamoul dough, these unique creations are beautiful in texture. With a subtle touch of sweetness, these are pure enjoyment in every bite. Excellent to say the least.
Walnuts Filling: None of the walnuts filling maamoul I've tried this season were any good. I was close to breaking my tooth a couple of times, they were so hard.  In a round semi circular shape, these maamoul are covered with powdered sugar and stuffed with walnuts that are half mashed and half minced with shiny sugar bits embracing them. Beautiful texture and again, a dough like no other that makes it a fine appreciated maamoul.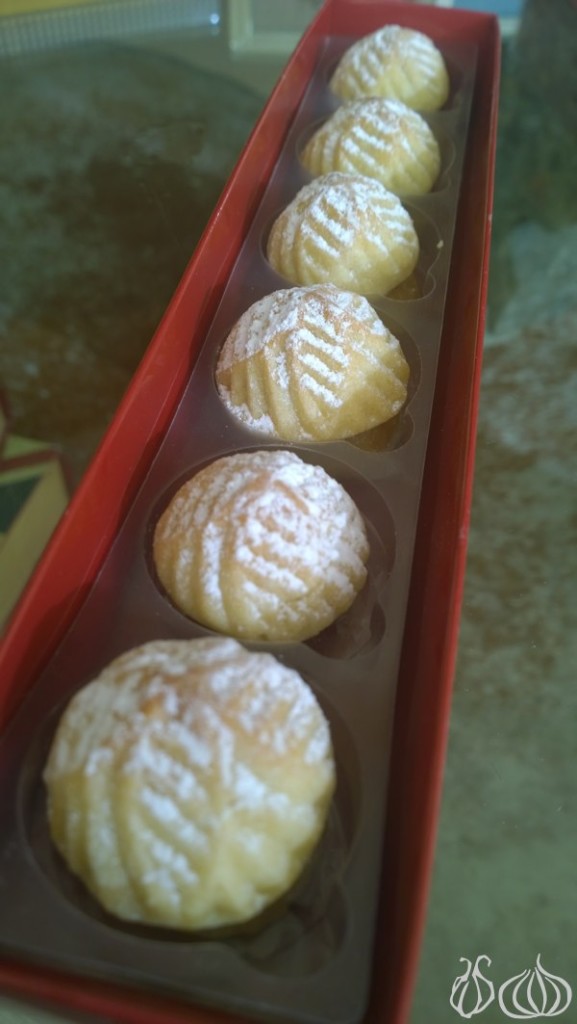 Bitter Orange or Bosfere Filing:
T
hese are
simply wow: It's amazing how the taste of real fresh oranges puts a smile on your face... An enjoyable bitter aftertaste and here you are looking at this maamoul and understanding its yellow filling before putting the other half in your mouth.
Honey Filling: Please allow me to introduce you to a unique dessert – something that can be enjoyed all year long. Round in shape and filled with the best honey this country has to offer, these bites are out of this world. An elastic consistency flows onto your tongue and will amaze you while you try to understand what's happening to your taste buds. Crumbling in style, the dough, lighter than the others, is covered with powder sugar. How majestic! This is truly a creation of a Grand Chef.
Don't miss the chance to try them... They are absolutely worth it. Believe me.