I went to Mario e Mario when they first opened a few months ago. Of course trying it out sometime after the opening was a must. A small recap about the place... a joint venture between dad and his son...Mario Jr. and Mario Sr. - hence the name "Mario & Mario". Mario Jr. wanted to pay tribute to his father, a man with great passion and appreciation for Italy and Italian food... and has been the President of the Italian Academy of Cooking in Lebanon for the last 12 years...
The restaurant has a seating capacity of 38 people indoors and 38 on the terrace, and employs 13 people with Italian executive chef Walter Benenati who officiated in the kitchens of Sartoria restaurant in London. The average price tag per person is $60. The cuisine is "authentic" and based on what the Italians eat on a daily basis and not on traditional dishes seen at restaurants in Lebanon.
Good to know before we start:
Mario e Mario are Mario Haddad Senior and Mario Haddad Junior, both of whom are Italian food aficionados
The menu is changed every day depending on the day's fresh catch and chef's mood
Chef Walter Benenati, with a rich baggage and experience in Italy, New York and London for the last 15 years, has a lot to offer to our country
The restaurant opens for lunch and dinner
Choose to sit inside or up on the terrace
The place transports you to Italy:
Taking over the place where Restaurant Fiore used to, this individual house painted in yellow is catchy
Fun and fresh, all large windows are decorated with colorful flower pots
Take the few stairs to land in a cozy space where old -black and white- Lebanese tiles cover the floor
Be careful not to bump into the wine boxes piled up next to the door
An impressive chandelier pends from the ceiling – made from cutlery
The high ceiling is relaxing and simply painted in white
At the entrance, to the left is the bar where reservations are taken and drinks are served
Square or round, many tables, covered with neat tablecloths fill in the space, surrounded with relaxing wood chairs, more like sofas
The tables are beautifully decorated with small white plates, tomatoes, fresh lemon, flower pots as well as Marlux salt and pepper mills
Walls are all painted in light yellow in a soothing dimmed ambiance
Two old-style chandeliers add the needed light to the corners
Look around, a couple of light squares show the white light reflection of the kitchen behind the wall
The entrance wall is decorated with pictures of Mario Sr. and Mario Jr.
Up the stairs is the terrace with its colorful ambiance and joyful vibes. A bar and metallic tables surrounded by greenery and flowers will transport you out of Beirut's chaotic ambiance
Dinner started with bread, real pure and homemade Italian bread, served in a paper bag. Tasty, soft, tender and airy bread produced in house. Take a plate, pour some olive oil from Ardouna, Mechmech produce, add to that balsamic vinegar – also made in house by the chef- and start appreciating. This is pure torture for anyone on a diet! Awesome bread, exquisite balsamic vinegar and I was actually contemplating whether to continue eating those sumptuous bites, or leave some space for what's coming… Olive oil focaccia, onion bread, tomato bread, normal bread and brioche… I wish I could take some home with me.
I enjoyed a relaxed lunch up on the terrace:
Insalata di mare classica: Fresh Seafood Salad with Lemon Dressing: I liked this one… I really liked it. In a large plate, a white mountain of seafood mixed with greenery is served. A mix of seafood full of taste, embracing interesting textures and flavors. White fish, calamari, mussels... I recommend it. This was one of today's most refined plates. I loved the strong lemon feel that caresses your palate after every bite.
Spada alla palermitana: Charcoal Fresh Swordfish with rocket and cherry tomatoes: Swordfish is one of my favorite type of fish which I tend to order in almost all fish restaurants. I've had it in Tunis, in Algeria and in France. Found in our waters, the swordfish is fresh. Some serve it as is in slices and others open it for better seasoning. Today's is opened and covered with fried bread crumbs. Well seasoned and well cooked, all you'll have to do is poor some olive oil and lemon on top to enjoy it even more.
Panzanella classica: Mixed vegetable salad with croutons and rockets: How lovely it is to eat something super simple yet extraordinary tasty at the same time. This fresh salad was perfect to start lunch and open our appetite for the best to come. I loved the croutons that are usually enjoyed in Caesar salads. An interesting mix.
Crocchette di palate con pomodoro arrostito basilica Pecorino and Parmesan potato croquettes with roasted tomato

: The experience startes when this plate lands on your table. A mouthwatering plate with beautiful colors. Three fingers of potato and Parmesan, battered and fried, served with basil leaves and roasted tomatoes. Non oily, you'll enjoy biting into a finger after the other, feeling the freshness and the crunch before reaching the inner filling that's exquisite. Don't forget to add lemon on top before enjoying.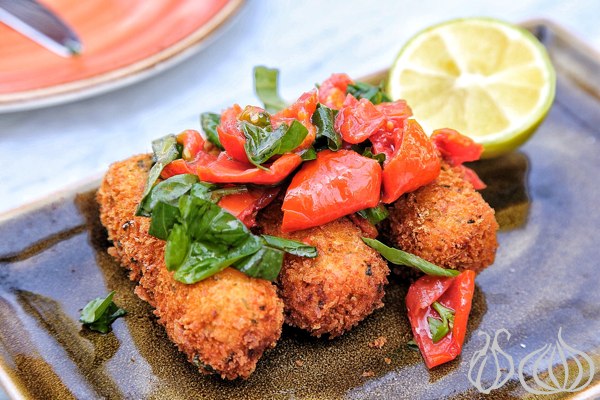 Fritto mist: What should have been the best today didn't impress me much. A simple plate of fried fish prepared the same way they do in Lebanese restaurants... and the fish was undercooked. I'll stick to the real Italian specialties next time.
Trofie con zucchine e limone: Home-made trofie pasta with courgettes and lemon sauce: This was a masterpiece. Handmade pasta fingers mixed with slices of zucchini, cherry tomatoes and greenery seasoned in a lemon sauce. Cooked al dente, followed by the crunch of the veggies, a subtle taste of sweetness provided by the tomatoes, ending the experience with a hint of lemon, this plate is a real reflection of Italian culture.
Paccheri Napoletani al ragu bolognese: Paccheri pasta with beef bolognaise sauce:

Yum! I simply loved it. The thick pasta mixed with a rich tomato ragu sauce... Uff! I loved it. I have to say that meat ragu are my favorite and this one was a success.
The things I loved and enjoyed:
Sohat glass water bottles are served here
San Pellegrino, my favorite sparkling water landed on the table as soon as we arrived
Serving tomatoes and lemon in the middle of the tables is fun. Served on a white plate in front of us we were driven to try them and not just look at them like they do at La Petite Maison
The plates are creative and innovative
The prices are reasonable
I didn't like much:
The idea of changing the menu everyday is not too recommended in our country. I prefer to have the same with minor updates on a daily basis
My second visit to Mario e Mario was better than the first one. I appreciated further the efforts put into every plate. I enjoyed the ambiance on this sunny day.
I came in with no expectations and without doing any comparisons. This is not your average Italian restaurant where risotto, pasta and pizza are served. It's a place that cannot be compared to any other in town. Mario e Mario is what Italians eat with their families.
But I have to make a small comment here and hope you understand what I am trying to say...Although all was great and what I experienced was tasty, I was still expecting more... Maybe it's because I think of them as masters of what they do best... Mario sr. is the master of Italian cuisine along side Mario jr. who is the master of new concepts and good food ... I was expecting amazement. I didn't get that. Something was missing... It is the same feeling I've had at the first visit.
I do recommend you try Mario e Mario. It is a special Italian restaurant indeed. Go and enjoy some special homemade bread, followed by some innovative culinary creations and much more – all in an original and cozy setting. If anything, I would come back just for the bread.