Miyou by Guy Martin is a place I have been meaning to try for some time now. Checking-in Terminal E-K of the French capital, you can't but notice the only restaurant or let's say more of a sandwicheria, called Miyou: Fine sandwiches, salads, bites and desserts created with a certain touch of luxury.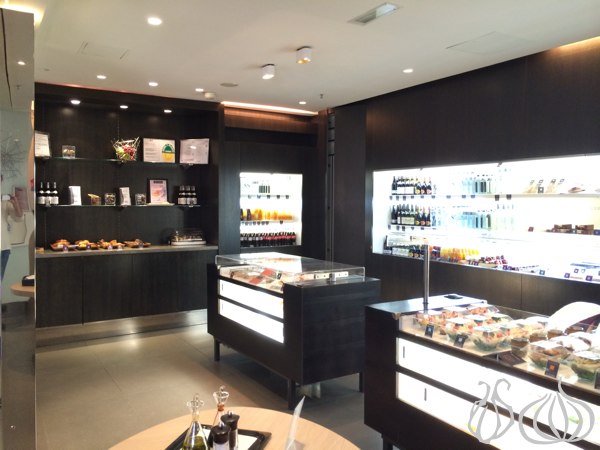 Guy Martin (born February 3, 1957) is a French chef, three stars at the Guide Michelin and one of the most important chefs in the country. He is currently the chef of the restaurant Le Grand Véfour in Paris. Guy Martin had the idea of creating an upscaled version of the normal fast food place what I see as a copy of "Pret A Manger" with a luxury touch. Guy Martin wanted to offer food aficionados something tasty, creative and light at the same time.
The place described:
Reach the restaurant where orange benches create a natural border separating it from the rest of the airport
Black relaxing chairs surround the many triangular tables constituted of light wood
Black and white are the two main colors: Simplicity redefined

The place is all

surrounded

by self service fridges as well as a middle table displaying the salads

The left side is dedicated to the drinks, juices and alcoholic beverages. The middle part is for sandwiches and the right side for fruits and yogurt
Choose your cravings and take a right to where the two cashiers await
Three welcoming staff take care of the space, displaying, cleaning and explaining
On the wall, you can read: Miyou, Spicy, Vegeterian, Fish, Meat, Sweet
The innovation behind the concept:
Sandwiches are sold in individual bags with a tight reusable sealing
The salads are filled in square boxes, maximizing the use of space and better shelving
Everything is prepared with style and fashion and decorated with passion
On the middle table, salt, pepper, balsamic vinegar and olive oil are complementary
Every order is delivered with wrapped plastic cutlery
The packaging is innovative
We ordered for lunch:
The pineapple and chicken sandwich 8,95€; is indeed in innovation filled with rich ingredients and flavors, but unfortunately it is covered by thick and chewy bread. This sandwich has an interesting addictive flavor of sweetness and chewiness while the sesame tickle your taste buds. The quality of the chicken is unique
Wrap gambas 12.95€: The soya leaves filled inside color the wrap, transforming it into green bread. A thick chewy bread followed by fresh crunchy soya leaves before reaching the well cooked shrimps. To top it all, a hint of sweetness provided by the mango add this touch of innovation and finesse. I personally loved it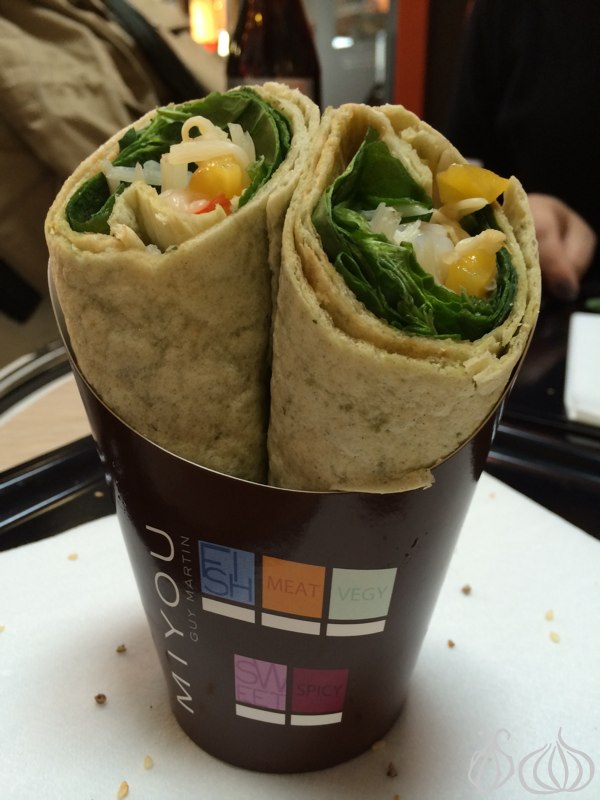 The Foccacia's bread is overwhelming 10,20€; Too much bread, unpleasantly chewy. Inside two thick slices of olive oil bread are stuffed some salmon, crunchy green apples and rocket leaves juiced up with some cream cheese. What should be a perfect mix of premium ingredients is forgotten about by the the thick unpleasant bread. I couldn't but remove the upper layer to feel the ingredients
The Orechiette salad12,30€ is fresh and tasty
Chocolate eclair 5,95€: This is a very good one. A mouth watering dessert that made my day. Thin crusty dough filled with dark chocolate cream and covered with a dark chocolate frosting. Mmmm... A must try, even though it is too expensive
Pecan, Chocolate tart 6,30€: Awesome! A crunchy dough filled with a soothing chocolate cream and pecan nuts.
To be honest, this place is way too expensive and not worth the investment. We paid 30€ per person and left hungry. Innovation is good when simple rules are respected: We eat to satisfy our hunger and not pay money to continue lunch elsewhere, expecting to eat more of magic then simple food. Was personally disappointed.
Le Miyou, un concept de restauration rapide. 2009. from Pauline de Chassey on Vimeo.