I still remember my favourite reward, as a child, was when I went to Mr. Crepe for some crepes. The famous Mr. Crepe serves delicious round preparations from a simple container. I don't think anybody living in Keserwan area, between Jeita and Faraya is not familiar with Mr. Crepe. A small container with a few tables upfront, opens daily for dinner from 5pm till 1am. Come rain or shine, Mr. Crepe never takes a day off.
The story all began in 1983 when Jean launched this new idea in the village of Kleiat and stayed there until 1987 when they decided to move, together with his two siblings Adel and Jeanne D'arc to Feytroun. They have served crepes in the region until 1991 where they then settled next to Supermarket Bou Khalil on the Feytroun highway leading to Mzaar Skiing Resort. An innovative idea in the region, 80% of their daily income came from crepes, while the rest came from sales of pizzas, submarine sandwiches and burger for those who wanted to try something else. They have been serving the same quality crepe mix for the past 30 years. It was every child's ultimate satisfaction to eat a crepe from Mr. Crepe.
We used to anxiously wait to go to Mr. Crepe at least once a week.
This year, and for the first time, Mr. Crepe has opened a second branch in Kleiat catering to a larger clientele.
The menu:
Italienne (cheese, Ham) 8,000 L.L
Chez Nous (cheese, ham, mushrooms) 8,500 L.L
Mexicaine (cheese, hotdog, mushrooms) 8,500 L.L
Appétissante (eggs, cheese, ham) 8,500 L.L
Tonata (egg, cheese, tuna) 9,500 L.L
Poulette (chicken, cheese, mushrooms, special sauce) 12,000 L.L
Thyma (cheese, ham, mushroom, thyme, ketchup) 9,000 L.L
Paysanna (sugar, butter, banana) 6,500 L.L
Chocolate 7,000 L.L
Coconuts (chocolate, coconuts)
Negrette (chocolate, nuts) 8,000 L.L
Chobano (chocolate, banana, nuts) 8,500 L.L
Choco sheese (Chocolate, cheese) 8,500 L.L
Delicieuse (jam, banana, nuts) 8,500 L.L
Chobano extra (chocolate, nuts, banana, pineapple, creme) 10,500 L.L
If it's your first time and want to taste something special, order one of each of the belows:
Poulette: Crepe dough, a slice of Gruyere cheese covered with the signature Poulette sauce that contains mayonnaise and garlic. Shredded chicken breast follows, salt, pepper and mushrooms to finish the rich mix. A mix of crunchiness from the outside and juiciness from the inside make together an ultimate satisfaction. I recommend this crepe.
Chobano: Commercial chocolate, not Nutella but definitely better for a crepe; less sweetness with harder consistency. The dough absorbs the chocolate making it crunchy and full of taste. Inside, the softness of the hot chocolate and mature bananas coupled with crunched almonds; makes this a unique piece of heaven. Mr. Crepe uses crushed almonds, which adds better taste than regular nuts.
My latest discovery:
Tonata: Eggs, cheese and a special tuna mix marinated in lemon sauce. The eggs cooked without oil are amazing. That's a good one even though I would have preferred it with less lemon.
Next to Bou Khalil Feytroun, inside the container, the family works like a beehive. Behind the crepe grill they help each other, working at an impressive speed. A crepe, prepared, toasted and ready to eat only takes around three minutes or less.
Watching them at work is something! I always stay mesmerised in front of Jeanne D'Arc while she cuts the bananas, very original: Remove half of the banana skin then put the banana in your hand. Consider the covered half as a protective layer for your skin from the knife. Start cutting from top to bottom, one slice after another in a synchronized movement until all is on, placed on the chocolate. I went back home and tried it a few time, until it worked…
Two grills one on low fire to prepare the crepe and another with a higher temperature to toast and cook the inner ingredients. The minuses: The Cheese&Ham crepe has to be improved
We ordered and unfortunately did not eat the cheese and ham crepe, which was too dry. The cheese doesn't have time to melt, and the inner filling is not enough for the thickness of the dough. This crepe has to be filled with wrapped cheese, which will have a tastier feel, melts more and adds more flavors. As it is, since the slices of cheese and ham are too thin and the quantity minimal, the dough's sweetness overpowers all other ingredients making it unpleasant to eat. I won't order it if I were you.
What I can't understand though is why it's so expensive. It's illogical to charge 8,000L.L for a single slice of ham and a single slice of cheese as well as the same price for bananas, chocolate and nuts? If you insist on keeping the price, at least add more ingredients that will make each bite richer and worth every penny.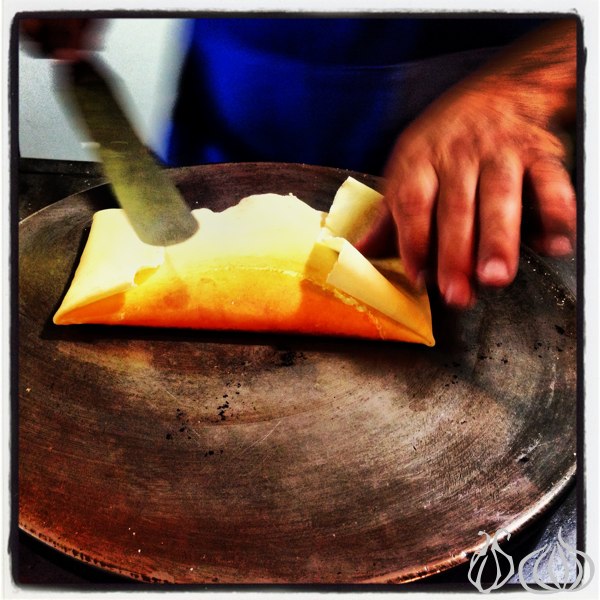 Tonight, I asked Jeanne D'Arc to try something new: A Crepe, like I always eat it at my favourite shop in Paris. We did it together and it was just awesome. I hope they start producing it. They will surely be the first to do so in Lebanon. While passing through Faraya highway, stop by Mr. Crepe for a considerable dinner you won't regret. My personal suggestion: Don't take your crepe as a take away. It will loose its crunchiness. Enjoy it live on the spot after its preparation. Go and indulge in Poulette or Chobano, these two unique crepes I highly recommend.