If you haven't done so yet, this little piece of heaven is a must try. The Meat or Chicken Ouzi available at Abdul Rahman Hallab Tripoli and now Jounieh is an indulgence that can be enjoyed for lunch or dinner.
For only 6,000L.L you can enjoy a decent and healthy meal only a few people master around the country. Maybe some of you already know it, or maybe make it at home, but I personally discovered it at the castle of sweets. A ball of baked bread is delivered to your table. White with brown toasted areas, this ball is filled with a complete meal. A mix of rice colored with saffron, green and red sweet peppers cut in small cubes, cooked minced meat and crunchy fried almonds. This plate reminds me of the Italian Calzone Pizza, prepared the Lebanese way. Just imagine the aromas that fill the air. The smell travels through your nostrils to activate more than one of your senses...
Cut it in half to reduce its heat then start appreciating each and every ingredient:
Cooked rice with saffron
An envelop of baked dough! Not chewy and not crunchy but adequately cooked with a perfect consistency
Crunchy almonds
Cooked meat
Green and red pepper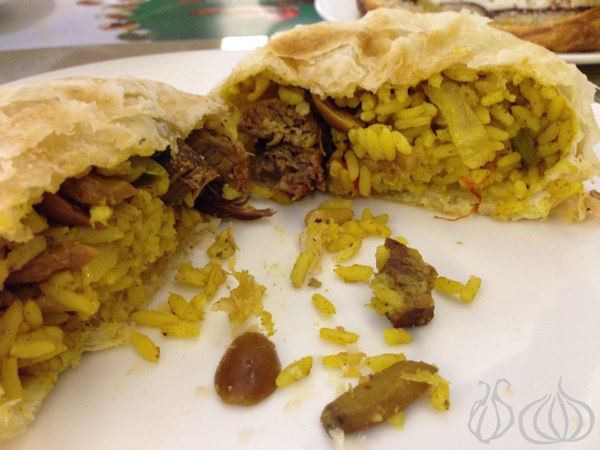 A rich and generous portion at a reasonable price served with a side dish of fresh vegetables, this ouzi can be enjoyed as complete meal. Nowadays, a normal cheese man2oushe costs 3,000 L.L. and if you add to it some vegetables, its around 4,000L.L. and it's not even a decent meal... So I suggest you try this Ouzi.
Today, I enjoyed the meat version and looking forward to trying the chicken one sometime soon. I'll surely keep you posted.