Last week I was invited to a wedding and spotted some original looking chips I couldn't but talk about them. Vegetable chips, mixed in a bowl, creating a beautiful choice of colors and flavors.
The mixed vegetable chips offer a wonderful better-snacking experience! The mix is consisted of carrot, string bean, sweet potato and purple sweet potato. The vegetable chips are actual pieces of real vegetable, low-temperature vacuum fried to best preserve the original color, shape and taste with minimal loss of nutrients. They are crispy, naturally sweet, and true to their own tastes; without any greasy feel or taste; all natural, with the simplest ingredients: vegetable, palm oil and maltose; trans-fat free and cholesterol free!
Not only are Veggie Chips munchy, crunchy, salty, and good for you, they're also gluten-free, grain-free, soy-free, dairy-free, nut-free, and egg-free – which can be hard to come by in a snack food!
Asking around, I discovered that
the wedding was catered by Faqra catering
which is known to introduce new and innovative ideas in Lebanon. I am sorry to have to let you know that if you're looking to taste these special chips, you would have to call Faqra Catering or maybe have the chance to come across them at one of the summer's weddings. I was lucky to get a hold a bag of these unique bites. Each is so simple that you won't be able to stop once you start eating. As soon as you put those vegetables under your teeth, they will crumble into tiny little pieces, exploding the concentrated flavor of vegetables. Without any oil or salt flavour, the taste is just pure vegetable chips. After each round of chewing, a sweet after-taste caresses your palatal buds. This invention is really great. I loved it.
Nutrition Facts 1 Portion: 75g
| | | | |
| --- | --- | --- | --- |
| Calories | 160 | Sodium | 50 mg |
| Total Fat | 4 g | Potassium | 0 mg |
| Saturated | 3 g | Total Carbs | 34 g |
| Polyunsaturated | 0 g | Dietary Fiber | 8 g |
| Monounsaturated | 0 g | Sugars | 6 g |
| Trans | 0 g | Protein | 2 g |
| Cholesterol | 0 mg | | |
| Vitamin A | 0% | Calcium | 0% |
| Vitamin C | 0% | Iron | 0% |
The mix consists of carrot, string bean, sweet potato and purple sweet potato: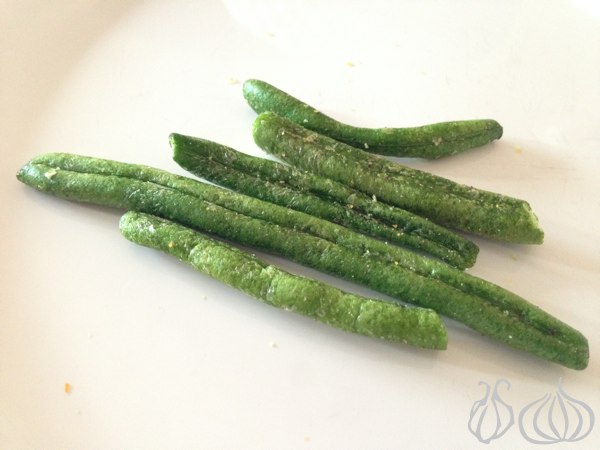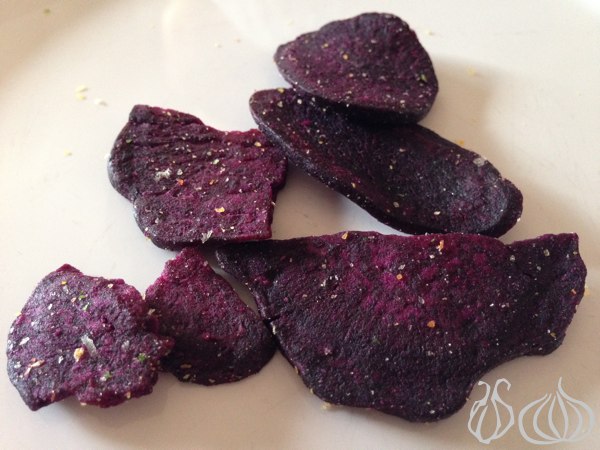 If you find any of these around the country, please let me know. I will be running to buy a year's worth of chips...