Have you heard of Orfali? It rings a bell yeah? It's impossible to miss the 3D colourful cow standing with pride on the green grass sign as you drive through Sodeco's main wide street... Many have been talking about this new concept which has recently opened in the heart of Achrafieh. Facing Classic Burger Joint, this place serves premium Lebanese sandwiches prepared in a special way - all in a clean and trendy ambiance.
You might expect to see a huge space, or a fully loaded restaurant, but this is not what Orfali is all about. A one door shop welcomes you in a unique setup which I promise will blow your mind away. Go and immediately look up, it is simply breathtaking...
The concept is so nice and worth looking into:
Behind the glass facade supported by light wood, is a long shop where every inch has been thought off wisely. Stand still and look around. Everything is built around meat, fresh meat, which comes straight from the farm to the consumer. The experience starts on the farm, where cows enjoy grazing on the green grass, then enter the barn where metal and wood cover the left wall, after that you arrive to the butchery with its utensils covering the right wall. Down below is the charcoal grill for you to enjoy those premium products imported directly from New Zealand in a nice Lebanese sandwich.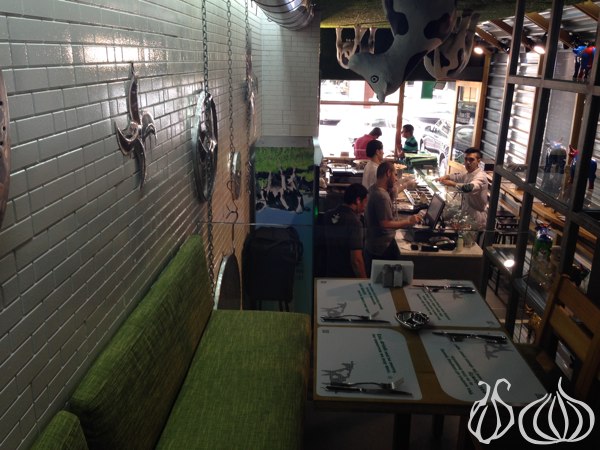 The place is interesting to be meticulously described:
An open vitrine facing a long bar with wooden high-chairs on both sides
On the right is the charcoal grill behind the fresh meat fridge
A full concept built around "The Cow". The meat provider. Patterns, lines, and colorful cows cover all the space
Facing that is a wide buffet displaying many appetizers of which Lahme Baajine, cheese loaf, and kebbe (sajiyeh, lebneniyeh, labneh, debs el remman, peanut butter, pistachio, tajen, la2tine, batata, lkarazieh...)
Facing the grill is a long wall covered with metal making it look like a hangar
Here and there, butcher's utensils decorate the space
The space is divided into three levels: the entrance, the seating area and the kitchen
Things are upside down around here, the ceiling is covered with grass and large Danish cows
Around the stairs is the main attraction. Dozens of painted cows sold at $50 or $60 are already in many homes around town
You can ask for your own custom made Orfali cow with your name or message
A manager, a floor manager, a waiter and a grill chef were all happy and welcoming. They helped me understand the concept in minutes, without having to ask them too many questions. Taking pictures was not an issue as well, as I felt pride in their eyes knowing someone's interested that much in their concept.
I ordered:
Laban with cucumber: This is something you have to try. Pure fresh yogurt, slightly sour and adequately salted and filled with shredded cucumbers making it easy to drink directly from the bottle. Bravo 3,500L.L
Grilled veal fillet with hummus and pickles: A little quantity of bread makes you feel the ingredients. Hot, toasted, crunchy from the outside and soft from the inside, the hummus adds the needed flavor to this wrap. I enjoyed it to the maximum. 7,500L.L
Kabab cheese with special avocado sauce: This is simply awesome. The taste of kabab, softness of the melted cheese and strength of the avocado and labneh aromas. How creative! This sandwich should win an award for sure 6,500L.L
Stuffed vine leave: Good, even better than the ones served at renowned Lebanese restaurants 7,000L.L
Arak bel tout: I think that this little drink deserves an article by itself. Imagine the beautiful violet color of tout (berries), with the light smell of Arak mixed with the enchanting taste of tout. Served with ice, this drink is a must try and I think that it will soon be copied by many and considered as a local Lebanese tradition 4,500L.L
Orfalino Dessert: Which I called on instagram, "The Dessert" is a real heavenly creation. A thick not chewy genoise cake, covered with pistachio and halawa paste with achta on top, then decorated with corn flakes and sweetened with sugar syrup. Softness, juiciness, crunchiness... An international creation with an oriental authentic taste, all perfectly created for the pleasure of your senses 6,000L.L
On the placemats you can read: "No man in the world has more courage than the man who can stop after eating one Orfali Sandwich!"
The sandwiches, wrapped in premium aluminium/paper foil are simple and appetizing. I love it when these little inventions proudly created by Lebanese are made simple and kept classy.
I cannot stand it when sandwiches are filled with a hundred things masking all the flavors which erases that added value your taste buds so deserve. This should be a priority and not just the aim of filling you up in an instant.
My experience was great from start to finish:
The staff is so welcoming making you feel right at home

I asked if they bake their bread in house and in minutes I had a complementary one to try
The sandwiches are exquisite
The decoration is worth publishing in an architecture magazine
The creativity involved in their drinks will just make you smile
The dessert: Ouf! Extraordinary.
The 11 Kebbe choices, make you want to order dozens for the night cravings at home: (sajiyeh, lebneniyeh, labneh, debs el remman, peanut butter, pistachio, tajen, la2tine, batata, lkarazieh...)
What's the best Kababa sandwich in Lebanon, you will ask? In my opinion, it is Kababji for many reasons some of which include premium meat, an unmatched softness of the filling and bread and a one single skewer that they cut in half making it easy and more pleasant to chew. At Orfali, the meat is great, the softness of the meat is perfect but the idea of toasting the bread messes everything up. Grilling the bread makes it too hot to eat, crunchy from the outside and automatically harder from the inside. The feeling of overall softness we seek disappears. And, if you decide to eat the sandwich 10 minutes later, it will become chewy. If I had to take a decision I would not toast the bread and this will leave Kababji with a new competitor to look out for.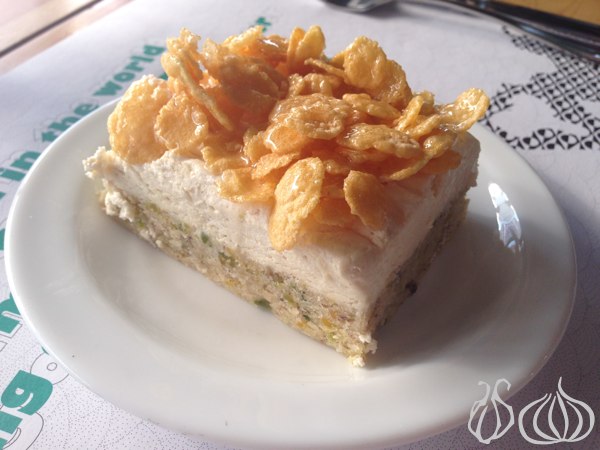 To tell you the truth, I should have discovered and tried Orfali earlier. I enjoyed today's experience so much to the extent I would definitely come back again and again, every time I crave for a tasty sandwich at a reasonable price. Everything was just perfect... the ambiance, food, staff, setup, details... Keep up the good work guys.