My quest to discover the Loiret region and visit as many castles as possible has started. I wanted this trip to be special by choosing fine hotels with the same spirit as the region's history. Relais & Chateaux was the best choice.
Established over half a century ago,
Relais & Châteaux
is an association of the world's finest hoteliers, chefs and restaurateurs that has set the standard for excellence in hospitality.
Relais & Châteaux
has redefined luxury hospitality by emphasizing holistic experiences that transport its guests, taking them on a sensual journey and introducing them to a deeper, truer understanding of the Art of Living.
The first stop after spending more than four days in London was at
the Grand Hotel du Lion d'Or
. A two hours drive South of Paris, this hotel
is an old aristocratic mansion, from the Renaissance time, located at
Romorantin-Lanthenay
, capital of
Sologne
, near the most beautiful
Loire Valley castles
, gardens, parks and
Loire vineyards
. This beautiful house is a hotel and a restaurant since 1774 where calm and peace transport you into another world.
The experience starts out in the parking where you are invited to keep your car in a cozy kind of parking all covered by fresh green grass. Here a kind gentleman helps you with your bags straight to the reception located on the other side of this historical mansion. We passed through three beautifully decorated reception areas around a middle courtyard enchanted by peaceful symphonies of birds and tree leaves friction.
Room1, this was our place of sleep for the night out of only 16 different others. We were shown to our cozy little room viewing directly on the middle courtyard. Everything is so calm and peaceful; it's now 7 in the morning, and I am writing my experience and hearing the sounds of doves whispers outside my window.
The beautiful details I loved:
A really heavy lion head key ring opens the room door the old times way
A lion head at the front door with a key in its mouth is the room's bell. Remove the key and no one will disturb you
All the architectural details are original, stone and wood, beautifully mixed into a fine renaissance style
Two huge stone fireplaces gather visitors around for chats
The middle courtyard is awesome. A place you just don't want to leave
Beds are facing the windows and not the TV, like hotels usually do
Rooms are simply beautifully decorated
The staff is welcoming and very professional
A free and fast Internet connection
The famous Hermes amenities: Founded by Frenchman Thierry Hermès in 1837, Hermès specialized in the highest quality saddles and leather goods during those early years. Hermès introduced its first perfume, Caleche, in 1961. The tradition of distinctive scents continues today with the introductions of new fragrances eagerly awaited by women throughout the world.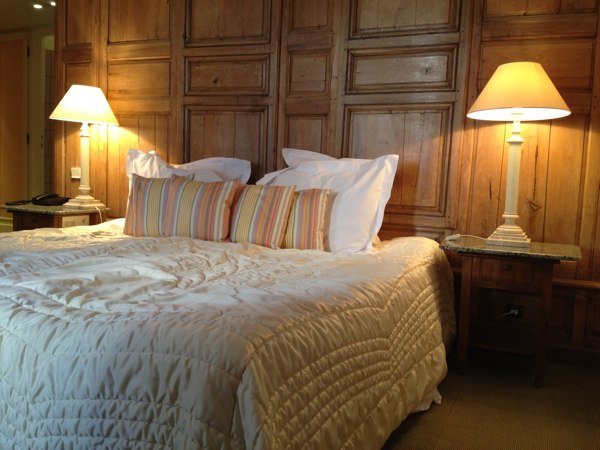 The dining experience:
The great dining experience with Grand Chef Relais & Châteaux, Didier Clement was simply perfect. Every single detail is mastered to perfection with plates that are succulent and beautifully decorated all by being too generous for a Grand Chef. Decoration, lighting, cutlery, service, bread, plates, food temperature, taste are really up to a Michelin starred restaurant.
I would change and add some minor things:
A newer redesigned and more modern bathroom
Thick bed blankets, the ones you feel diving into while sleeping instead of the old fleece ones they use
Focus a bit more and the room cleaning before guests arrive
A complementary water bottle next to the bed
A dark chocolate piece when preparing the room for the night
A great place, a wonderful mention and an amazing experience I would recommend. Just don't expect anything too fancy to do in the village as shops are closed and you won't find anyone around this calm area. Visit the castles and come relax here, you won't even need to go out.