Last year, I was happily impressed to discover what I called "the darkest chocolate ice cream in Lebanon." Back then, I didn't get much details about this invention but enjoyed its rich chocolate color and flavor. During my recent visit to InShape, the health and shape expo at BIEL, I passed in front of a stand with a catchy name: "Shockolat". Not only was the name catchy, what they served was just as impressive.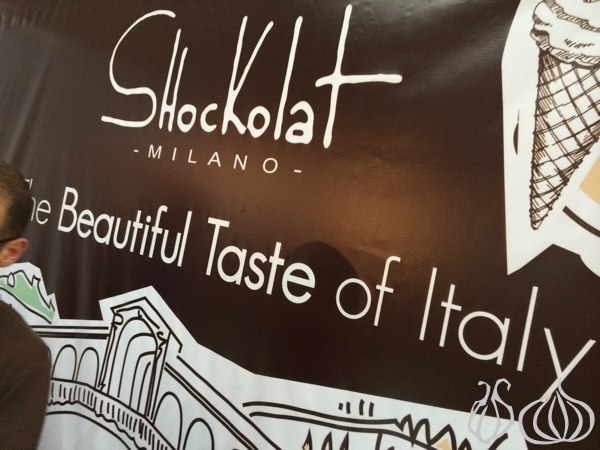 Shockolat Milano is an authentic Italian café & gelateria dedicated to bringing the big taste of Italian gelato ice cream lovers across the country. With more than 40 mouthwatering flavors to choose from, each gelato is freshly made daily on premises in Beirut Central District.
What caught my attention was the dark chocolate collection.
From the large variety of 40 blends of Italian gelatos, 8 are chocolate based and include hazelnut, orange, dark, sorbet, milk, rum, coconut, croquet, white, milk chocolate, cream and chili pepper.
Of course the darkest ice cream in the fridge caught my attention: The super dark and yet bright colored ice cream reveals a certain purity that is rare to find in gelatos. A 85%+ chocolate sorbet ice cream without milk and no additives but simply water, is delicious. If you're a fan of dark chocolate, this creation will put a smile on your face.
Next to that is a softer ice cream, 70% chocolate gelato with milk, mixed with chocolate chips. It is as good as the first one but the bitterness of the dark chocolate is felt less.
Every bite is pure and unique and rich making you want to close your eyes and appreciate the fine aromas twirling around your tongue.
With different textures and different feels, both ice creams are worth trying. I enjoyed both and invite you to try them when you can. But one thing, I'm not sure if their prices are always that expensive or that was only because they were selling at an event. I'll pay them a visit soon and let you know.