From the same people who brought us, "Meat the Fish", comes "Skirt"… Two long tables, a bar and an open kitchen - welcome to Skirt, a meat address now open in Downtown Beirut. Skirt is where meat is taken seriously, aged well and adorned with skill. The food here is handled with professionalism and ingredients are handpicked to satisfy each and every one of your taste buds.

In my opinion, it's a lovely concept but it's expensive and overrated!
It's one rectangular space where two heavy stone tables welcome you. Sitting customers right next to each other, Skirt has taken the "communal table" concept as core to its layout, inviting Lebanese to sit as close friends might when sharing a meal. Look at the street or sit facing the open kitchen and enjoy the live cooking show happening behind glass windows.
Skirt is inspired and supported by Chef Emre Mermer from Dukkan Burger, Istanbul.
Lunch starts with 'Marcona Almonds' - peeled and salted almonds from Catalonia, Spain. Crunchy and different from any other almond I've previously had in town. With that a glass of Prosecco - it seems like a trend around here - followed by potato buns served with salted butter and olives imported from Castellina Maritima, Italy. Superb potato bread: enjoyably crispy with a soft inner... again, a unique offering.
On the menu:
Snacks; starters; salads; burgers; large cuts; steaks; spuds; bone marrow; sides and the sweets.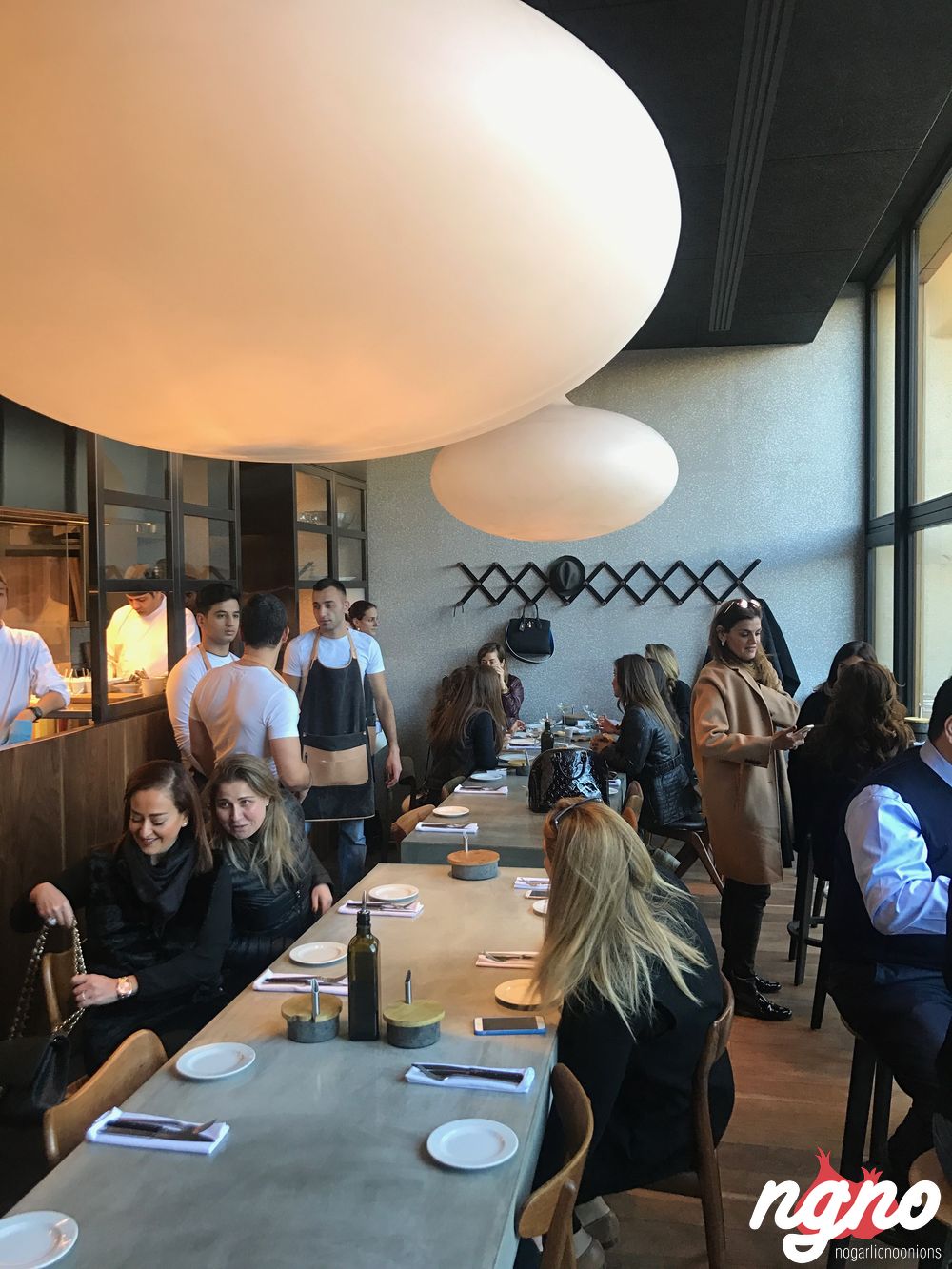 Details I liked:
Sohat glass water bottles.
They have Coca-Cola! Yes!!!!
Table napkins
Good quality knives and cutlery
Perfection is found in every detail: the architecture; overall design choices; menu offerings and much more.
I expected to be amazed, I expected to feel transported to another place… especially after checking their prices. It is good but still not really worth the hype.
Lunch:
One salad: baby gem leaves with radicchio and endives. As good as it should be, it's a fresh salad with crunchy lettuce and flavorful sauce. LBP21,000!!!!!
Twice baked potato, yes twice - I'm not sure how - with sour cream and chives. As good as it should be, this small potato is baked to perfection and has an enjoyable end note of spices that's kind of addictive. Enjoy "a small piece of potato" you'll be paying LBP15,000 for! Next time I'll just buy 15 kilos of potatoes for the same price and bake them at home.
The smoked salmon: what color, pleasing transparency, adequate fat... the famous Royal Gourmet quality supplying half the country's restaurants. But because Skirt smoke it, and supply it... you pay LBP35,000 for the plate!
Dukkan homemade beef sausage with fennel seeds and Dukkan style - as mentioned earlier Dukkan is the restaurant's original chef based in Istanbul. I loved the sausage skin, the meat texture and the flavor. It's a good - proudly prepared in-house - sausage which can easily compete with Eastern European ones. LBP20,000 for two tiny little sausages made in Lebanon.
The butter burger: 180 grams of grass fed patty, cheddar cheese and hand-churned English butter with fries on the side. I understand the word "butter", but this is too much! A butter burger where the butter and charcoal taste override everything else. Good quality meat - could handle more pepper and more smoothness however - that's overpowered by the butter and the milky bread. I have definitely had better burgers.
The fries on the other hand are exceptional. Amazing fries, state of the art, crispy and beautifully salted! Yummy! The best thing I've eaten so far at Skirt.
Now for the meat:
You come here for the meat, that expertly cared for meat - super tender, extremely tender, covered with a load of flavors and sauces. The Skirt steak bathes in a sauce - which overpowers the taste of the grass fed meat - and is served with a baked potato, some lettuce and other sauces. It contains garlic but I enjoyed it.
The sirloin has been aged for 25 days, real meat, my kind of ultimate pleasure. Red and a bit bloody, perfectly cooked, beautiful texture, 600 grams of sirloin. Good meat indeed but not worth the price paid. LBP135,000
My ultimate meat place remains Nusret Istanbul.
End the experience with dessert, a huge block of Callebaut chocolate passes from one table to the other; shared by everyone. It's a fun experience and the best part is that it is offered for free.
The good and bad:
I honestly wasn't impressed and was amazed at how expensive the place is. Because of the price, I expected something better. For the price tag, I expected to eat the best food ever.
The place is cramped, completely filled with people, chaotic and noisy. But one can't deny the fact that the service is professional and the decor innovative.
Skirt is an original concept, but I left unimpressed.